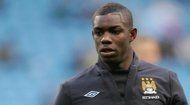 Defender Micah Richards accused Manchester City manager Manuel Pellegrini has made a scapegoat in the Citizens squad. As a result, Richards felt alienated at the Etihad Stadium.

Richards is a City player last season. He was then loaned out to Fiorentina in the transfer market, following the arrival of Bacary Sagna.

Richards reveals, Pellegrini never trusted with his ability. The proof, he rarely played last season.



"Lowest moment was against Watford in the FA Cup (City behind 0-2, before eventually come back and win 4-2.) In the first half we were behind 0-2. I really do not want to pass the blame to the other players and everyone I can see it's not a problem in the team, "said Richards told The Guardian.

"But, Pellegrini and Jack Rodwell pulled at the end of the first half I thought," I became the scapegoat here '. I do not always play well for City, but I've never scapegoats. I pulled in a period of rest, when I think my game is pretty good. "

"It was strange, unnatural, it never happened to me before. Feels anything done for the City, never enough," said Richards.