In the past, we saw many cases of rules being restricted on media due to some political issues, and the media was under the orders of corrupt government recently changed in Pakistan and some other countries. But now its the time that media can say truth without hurdles and nobody can stop it, because media got the authority to talk for the rights of poor, needy. And can also raise voice against the corrupt people regardless of their positions in government and private organizations.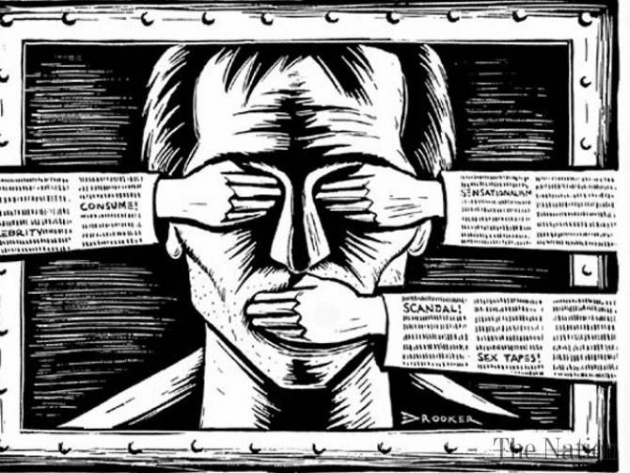 Congress shall make no law respecting an establishment of religion, or prohibiting the free exercise thereof; or abridging the freedom of speech, or of the press; or the right of the people peaceably to assemble, and to petition the Government for a redress of grievances .
We saw in Pakistan many of the corrupt politicians when feel that someone is snatching his seat , they use their powers to knock them down to dead. Politician in Pakistan is one of the corrupt field where there is negligible amount of honest people exist.
The only security of all is in a free press. The force of public opinion cannot be resisted, when permitted freely to be expressed. The agitation it produces must be submitted to. It is necessary, to keep the waters pure. ~Thomas Jefferson
Media can lead the whole nation by giving the right path and by showing what is wrong and what is right.
Once you started saying for the rights don't hesitate because of irritating people because nobody can hurt you if you strongly believe in God. I saw different cases, in some people change their aim, ideas just for the sack of some dollars.
In Pakistan there are a lot of TV channels working as privately and serving the nation the correct news and giving the right details of what is going on in our country and outside the country.
I am not gona mention the name of any TV channel here but I just wana praise them what are they doing for us is really appreciative.
"Media in Pakistan provides information on television, radio, cinema, newspapers, and magazines in Pakistan. Pakistan has a vibrant media landscape; among the most dynamic in South Asia. To a large extent the media enjoys freedom of expression in spite of political pressure and direct bans sometimes administered by political stake holders

sources : Wikipedia
Media has a really positive role because it can lead or lag any government through its activities.
...................................................................................................................................................
This blog is written by : Zeeshan Khan , Who is currently serving humanity through the Filmannex platform as a Translator and writer.