FRIED FISH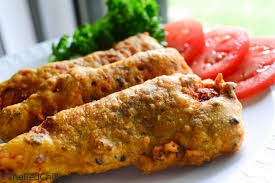 INGREDIENTS
Fish ½ kg
Corn flour 3 table spoons
Ginger garlic past 2 table spoons
Lemon juice 3-4 tablespoons
Red chillie powder 1 table spoon
Garam masala 2 table spoon
Dried coriender 1 table spoon
Termuric powder 1 table spoon
Salt 1 table spoon
Oil for frying
COOKING DIRECTIONS
Put the pieces of fish in a bowl ,add termuric powder,ginger garlic past and lemon juice and mix well and place it in fridge for 1 hour, in this way smell of fish will vanish and will soft.
After 1 hour add garam masla ,salt,red chlilie powder .dried coriender and corn flower and mix well so that this masla is absorbed.
You can leave it for half hour or fry it depneds on requiremnet,
Heat oil in a pan.
Now fry each piece of fish in oil till goldern brown.
Serve it with mint chatni.