Today was a great day for Afghanistan. You feel wonderful when you see people so much united, contributing and supporting with each other for the same purpose. After 30 years today was the first time that Afghanistan and Pakistan National Football teams played versus each other.
Afghanistan won the match with the result of 3-0. It feels great to see when two countries which have had some political issues and conflicts together, use sports as a source of delivering the message for peace and happiness.
since my teenage hood I got used to watch Football matches a lot. I remembered that I had to wake up during mid night to watch the important matches of UEFA Champions League. I loved A.C Milan and Bayern Munich.
It was little bit crazy to be the only girl who stays awake till 2:00 am to watch Football matches with your brothers but you know what, it feels amazing when you are passionate about anything you want to achieve, specially when your two favorite teams are playing against each other!
I studied Computer Science but it does not mean that all the graduates should be a computer scientist. One of my classmates during my undergraduate time is currently a Football player and the interesting point is that, he is a member of Afghanistan National Football team. He is Waheed Nadim. He is a player of Toofan Harirod which belongs to the West region of Afghanistan.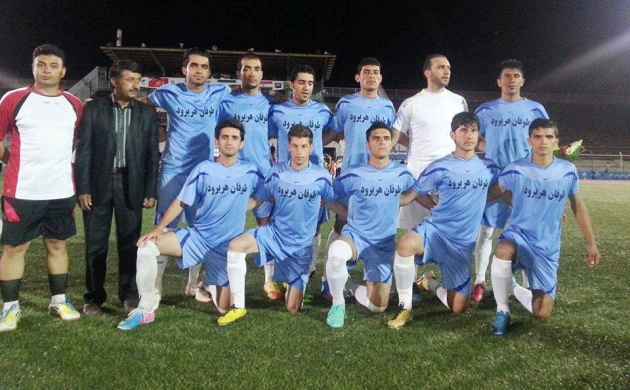 Waheed Nadim, Standing third from the left side, Toofan Harirod Team
Today he was also playing in the match against Pakistan.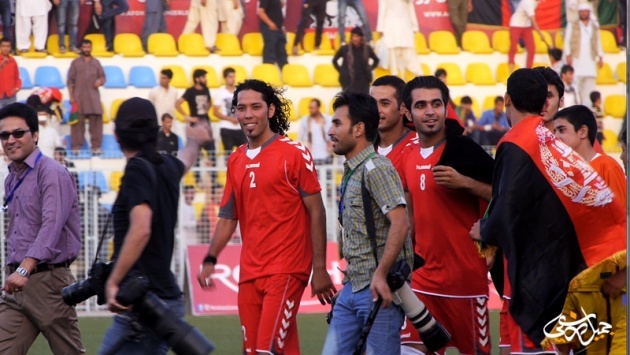 Waheed Nadim, Afghanistan National Football Team's Victory by Jamil Yosufi
If you want to see more pictures and nice shots, Jamil Yosufi, an Afghan Filmmaker and animator presented them in his blog.
But do not forget that, it is not only about men doing sports but Afghan girls are on the way to prepare themselves for the National and International matches.
Watch the courageous Afghan girls who are practicing and enjoy the peace :)