I guess we already know all about bitlanders' new feature which are in the form of gems. I personally, haven't purchased it yet 'cause I find it too costly plus I'm still in doubt if it could really make me earn more here. Anyhow, weeks ago, I came across bitlanders' blong entitlled Introducing bitLanders Gems: how to earn and use them. In the article, the last sentence talks about how we can earn gems without purchasing it and I quote "Soon, you will be able to receive Gems as rewards through games and quests." Yap! That's what's written in there so I really am looking forward for that.
Earlier, I clicked on the facebook invite on homepage and what caught my attention is what you will see in the photo below.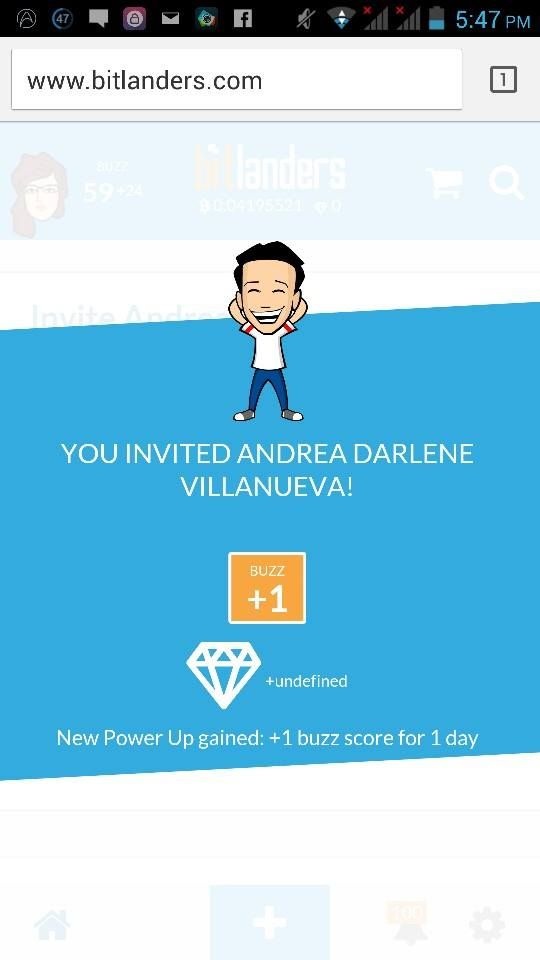 Got ya! Have you seen it too? That big gem together with the +undefined word above the +1 buzz score for 1 day. That really made me so excited! I'm sure few days from now, we'll already be receiving free gems just for clicking the facebook invite! Can't wait to see more about it!
Oh bitland, you make me go Gaga! :)
Footnote: Gaga (ˈɡɑːɡɑ)- slightly crazy