(ii) Static Cone Penetration Test (CPT): Used for soft clays, silts and fine-sands only.In this test, pressure, denoted as Q(CPT) (usually expressed in kgf /cm2) required to push the cone of this equipment into the soil, is measured. This test is also known as Dutch Cone Penetration Test (but not called as DCPT which is Dynamic Cone Penetration Test) è Number of blows = NQ
(iii) Dynamic Cone Penetration Test (DCPT):
Equipment consists of penetrating cone with Apical Angle of 60O
50 mm cone dia test without circulating bentonite, for simple investigation
65 mm cone dia test with circulating bentonite, for detailed investigation
50 mm cone dia test same as Standard Split Spoon Test i.e. SPT
65 kg hammer drops through 750 mm height
Number of blows for the cone to penetrate 300 mm is taken as Dynamic Cone Penetration Value: ND
Blows count is taken for every 100 mm penetration of the cone
(ii) Static Cone Penetration Test (CPT): Used for soft clays, silts and fine-sands only.In this test, pressure, denoted as Q(CPT) (usually expressed in kgf /cm2) required to push the cone of this equipment into the soil, is measured. This test is also known as Dutch Cone Penetration Test (but not called as DCPT which is Dynamic Cone Penetration Test) è Number of blows = NQ
(iii) Dynamic Cone Penetration Test (DCPT):
Equipment consists of penetrating cone with Apical Angle of 60O
50 mm cone dia test without circulating bentonite, for simple investigation
65 mm cone dia test with circulating bentonite, for detailed investigation
50 mm cone dia test same as Standard Split Spoon Test i.e. SPT
65 kg hammer drops through 750 mm height
Number of blows for the cone to penetrate 300 mm is taken as Dynamic Cone Penetration Value: ND
Blows count is taken for every 100 mm penetration of the cone
(ii) Static Cone Penetration Test (CPT) – Continued:
It doesn't need boring of any hole
Covers large area; used in addition to carrying out SPT
Cone is driven up to tip-refusal or desired depth, whichever is required
Mostly carried out in soils; doesn't work when there are any pieces of rock especially in 50 mm cone dia test i.e. in the absence of circulation of Bentonite slurry
Bentonite slurry circulation method was firstly introduced by Terzaghi
Depth (m) ND/N for 50 mm ND/N for 65 mm
3 1.5 1.65
4 1.85 1.75
> 6 2.00 1.85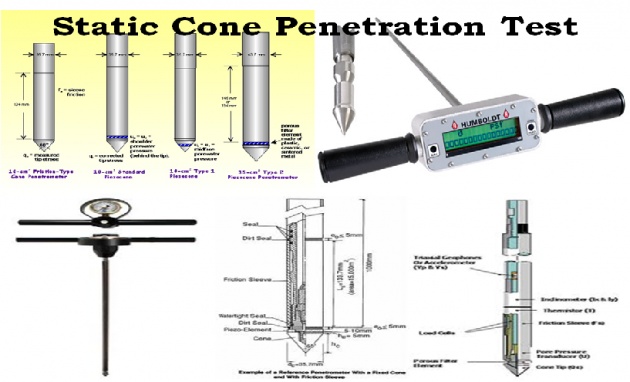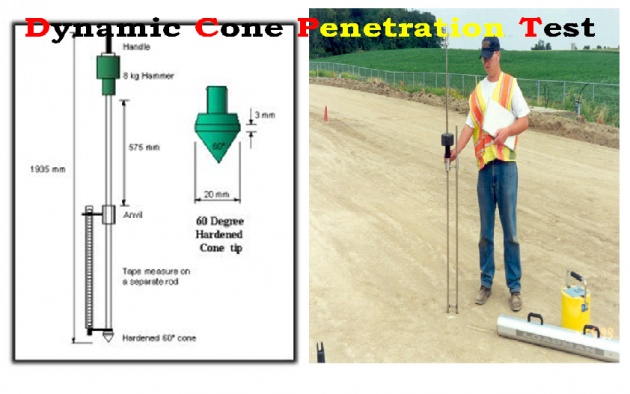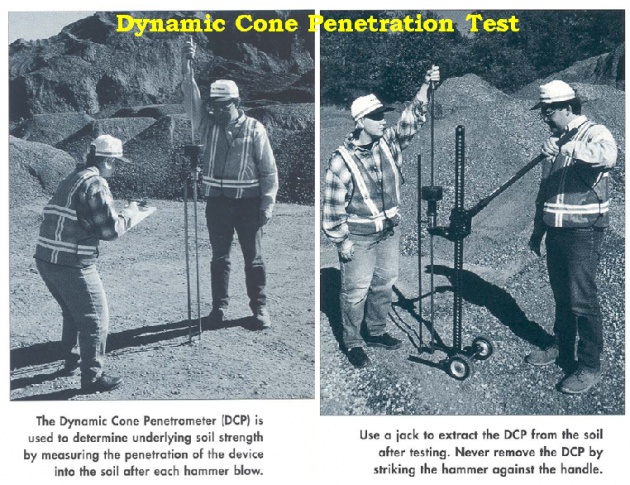 (iv) Cone Penetrometer using the Physical Phenomena:
Usually used for all types of the soils
The three following Physical Signals are mostly used in the three different types of Penetrometers: (i) Radio Waves (ii) Acoustics (iii) Electric Current
These types of physical signals are generated by the cone against its friction or pressure it encounters while penetrating the ground. The said signals are carried from the cone to the receiver at the top of the equipment and finally to transducer usually in the lab. Result is produced in form of log-graphs
(v) Vane Shear Test: Very useful for using in the soft to very soft and saturated soils
Equipment comprises four steel blades called Vanes which are joined together at right angle with a central rod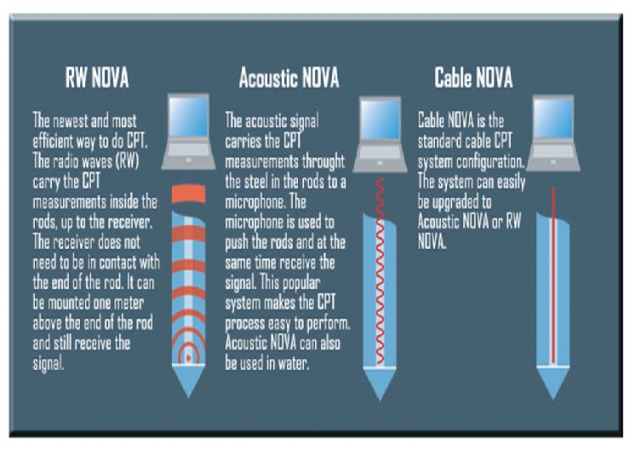 Test consists of pushing the vanes down into the (already bored) bore-hole and rotating the assembly by applying the torque at the top of the central rod.