Today I want to discuss about most important thing in any type of industry which is Geometric Tolerance. Anyone part can't be made in correct manner. Tolerance is used to control the variations that exist to all manufactured parts. Tolerance dimensions control he variations on each part of assembly.
One of the most points is that all parts of any kind should be in correct manner so that when all parts matched each other in any country of the world they should do proper function. This is the main requirement of any progressive industry.
Tolerance tells us that parts are in lower or upper limits; they manufactured and assembled in correct manner.
Tolerance is the amount of error permitted in making the products.
Tolerance can be specified in Drawing.
Direction Tolerancing Method
Geometric tolerance direct applied to features
Types of plus minus tolerancing method
Bilateral tolerance
Unilateral Tolerance
Bilateral Tolerance method
In this method tolerance dimension varies in both dimensions from basic size. If the variation equal in both sides then PLUS & MINUS symbol applied.
Unilateral Tolerance method
When the tolerance value is specified in only in one direction from the basic size then it is known as unilateral tolerance method.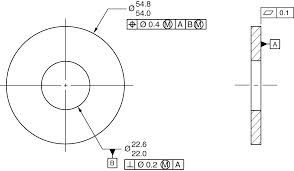 Other Important Terms
Basic Size
Nominal Size
Actual Size
Limits
Allowance
MMC(Most material condition)
LMC(Least material condition)
_______________________________________________________________________________________

Writer: Waleed Altaf

Friendz keep sharing and also buzz...Thanks...!

you can also follow me on twitter: https://twitter.com/waleedannex64

you can see mine previous blogs here: http://www.bitlanders.com/waleed-altaf