Two months ago, we introduced our Affiliate Program, so our content creators and users can generate more revenues. Today, we are raising the percentage of revenues you will get from your affiliates from 10% to 20%!
Example: If 10 people register through a user's registration page and generate 0.20 BTC/month each on the platform, the user will receive an affiliate commission of 0.4 BTC or 20% of 2 BTC/month.

We want to encourage our users to invite their friends on Film Annex so they both benefit from our BuzzScore system and generate even more revenues! The Affiliate Program comes in addition to the revenues generated by each user through their BuzzScore.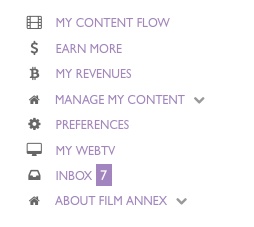 To invite friends to join through the Affiliate Program, click on 'Earn More' from the menu on the top right of your page (or click on 'My Referrals' if you are not using the beta yet). From there, you can directly add the emails of the people you want to invite and click on 'Send' or use your personal Registration Page URL. You will also see a list of all the people you invited and the revenues you get from their activity on Film Annex.
When you blog or share your content on social media, don't forget to add an invite to join the platform using your personal URL to gather even more affiliates and revenues!
Click here to subscribe to Film Annex so you don't miss the next updates.