Elon Musk on Climate Change and Sustainable Energy

With respect to some of the other elements for solar panels and EVs, the big issue we have is that in reality if you accept the scientific consensus every oil burning activity is subsidized, dramatically. If you believe there is a value to the CO2 capacity of the atmosphere and oceans and that CO2 capacity is not being paid for by the price at the gas pump or the coal that is being burned for electricity generation or whatever its use may be then every single fossil fuel burning activity is massively subsidized. This has become sort of an ideological issue because there are people who think that global warming is not true. So if you believe it is not true then it is a subsidy for sustainable energy. If you believe it is true then all we are doing is trying to match the inherent subsidy for fossil fuels, match that on the sustainable energy side."

- Elon Musk (July 29, 2016)
Probably, one of the most influential people today is Elon Musk. Not just because he is an billionaire mogul. Musk has been one of the dedicated people to fight against the worsening concern on Climate Change.
Through his technology business, Musk has since promoted the use of sustainable energy to lessen the bad effects of burning fossils on our environment. One of his businesses is the electric car company Tesla, Inc.
Technically, Musk was not the one who founded Tesla. Back in 2003, two engineers started the business and named it after the physicist Nikola Tesla. A year later, he joined the team and was given the right to call himself co-founder.
Elon Musk and Tesla, Inc.
Currently, Tesla and Elon Musk are two big names in the electric automotive industry. And not just that! They are also popular in the sustainable energy field, having also founded SolarCity. A subsidiary of Tesla, SolarCity aimed to manufacture solar panels, roofings and tiles to promote the utilization of solar energy in households, and even vehicles.
Chat with me below and get to know more about Tesla, Inc.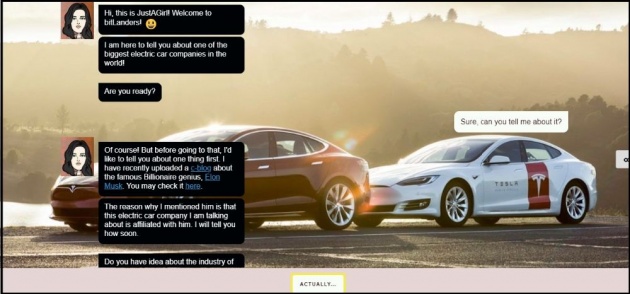 Photo Credit: Screenshot of My C-blog about Tesla, Inc.
Thank You For Reading!

Please share this blog to your friends via social media. You may also participate in the bitLanders c-blogging.


- ♥JustAGirl ♥-