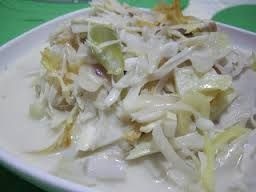 Ginataang Langka
Ingredients:
1/4 kg. Porkloin, sliced thinly
1/2 kg. Unripened Jackfruit or Breadfruit(Kamansi)
2 cups Coconut Milk
1 cup Coconut Cream
5 cloves Garlic, minced
1 medium Onion, diced
1 tablespoon Shrimp Paste
4 cloves Garlic, minced
1 medium Onion, chopped
2-3 Long Chili Peppers (Siling Pangsigang))
Salt and Ground Pepper to taste
Cooking Oil for Sauteing
Saute the garlic and onion in 1 tablespoon oil, then add the pork, cooking until slightly browned.
Mix in the shrimp paste and jackfruit or kamansi and cook for 1-2 minutes.
Add the coconut milk and bring to a boil then turn the heat down to simmer until the vegetable is slightly tender, about 10 - 15 minutes.
Stir in the coconut cream to thicken the sauce, together with the long chili peppers.
Season with salt (as needed) and ground pepper to taste.
Serve with rice.
-------------------------------