Last Aug 25 - 28, 2016 was the first ever History Convention in the Philippines held at the World Trade Center Manila. This was made possible by A+E Networks Asia (History Channel Asia) and boy was it an amazing event!
I say it's amazing even if I was only able to attend one of the talks and nothing else because I finally saw a celebrity I had long wanted to see. Haha. I did learn they had a lot of things going on at the site, like wall climbing, basic archery lessons etc, but heck I only had time for one person and no one or nothing else. :D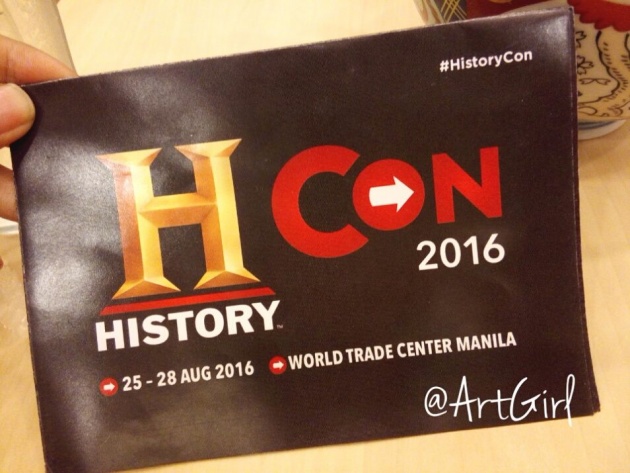 Who is Giorgio Tsoukalos?
If you're like me and you didn't have cable in 2010 you probably wouldn't know who he is back then. I didn't have access to any TV around that time except at work. One day, I was in the pantry and saw an interesting show commercial. It was of Ancient Aliens on History Channel.


It was something new and intriguing so when I got home I went online and looked it up. Turns out he's one of the first people who claims ancient alien astronauts interacted with ancient humans. Isn't that interesting? Since then I've watched several seasons and become familiar with the rest of the people in his show. Lucky for most of use there's the internet huh? :)
And what's really striking about him aside from his Greek last name is his big hair. Even in the episodes you will see all kinds of ways his wild hair looked. Doesn't bother me at all but it's kind of his "signature look" now.
(Image from Wikipedia)
If you've been seeing online memes of him it's always about aliens because, well, that's what he's known for: talking about ancient alien theories.
Inside the History Convention
There were a lot of History Channel show celebrities that came aside from Giorgio Tsoukalos of Ancient Aliens, like Brandi Passante and Jarrod Schultz of Storage Wars . Of course local celebrities were also there like KC Montero and Joey Mead. Each of the invited stars had their own activity/program during the 4 day event.
Guess which was the only event activity I went to? None other than Giorgio Tsoukalos' talk!!!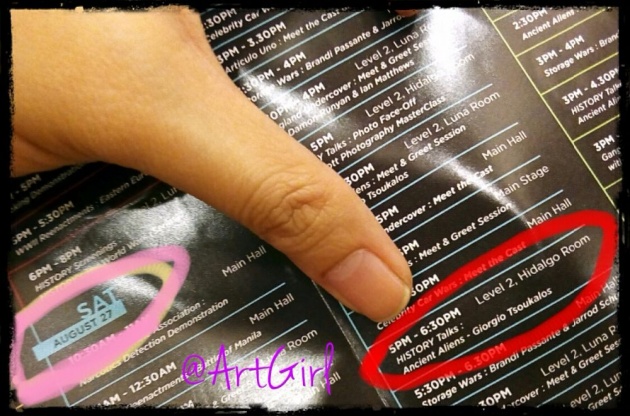 That was the only thing I went there for and thank God He let me experience this even though I got there just in time for Giorgio's last talk of the day.
When I came in after I bought a ticket, there was a very long line near the entrance already.
I excitedly fell in line with only my ticket in hand (which I forgot to take a picture of), then found out from the event bouncer that there wasn't gonna be any more people who'll be allowed to enter the event room.
Imagine the sky falling on you. That's how I felt when I heard it. I was thinking like, "What? I'm just in time!"
And I also thought, "Did I just waste 2 hours travel time, energy and my money for nothing? No way!" So I stuck around until eventually there was another line forming. Well hey I went in line again.
This time I happened to see a female event organizer roaming around so I asked her if the Ancient Aliens talk is still on for those of us in line. I showed her my ticket and she told me to exchange it for event stubs (*shock*) if there's still any (*shock*) to be able to get in the seminar room if it was still possible (*shock*).
Wow talk about being clueless on what to do. Good thing I asked her or else I would have wasted a lot of time in line.
So okay, I went to the inner ticket booth, got the stubs and went back at the very end of the line. :(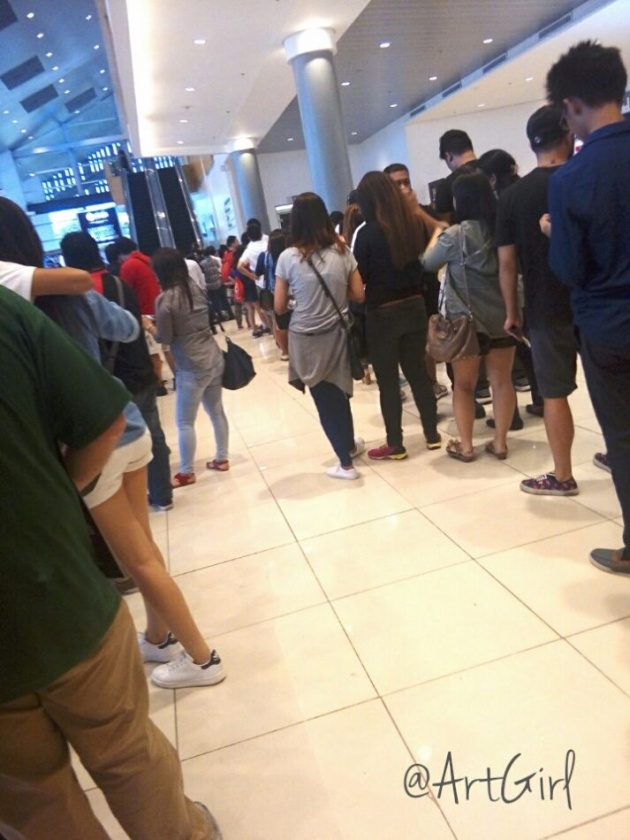 (The line starts at the foot of the elevator. Seminar room is at the 2nd floor.)
While waiting there were at least 3 times we were told no one's gonna be allowed in the room anymore or that there's already a cut off, or that there's no assurance the rest of us will get in etc etc. Every time we were told something, people would leave and others would scatter from the line.
During all of that I still hung on and prayed to God really really hard to let me and the rest of us in. I mean come on, this was a once in a lifetime experience! Ancient Aliens man, Giorgio Tsoukalos for God's sake! I didn't want to waste my time and hard earned money and come back to pay for the next day just to be in his talk!
Celebrity Sightings
While still waiting and praying in the "new" and "shorter" line (at least for me, or where I was in the line) I saw Heneral Luna (John Arcilla)! Oh yeah! Took a picture but it's blurry from the excitement. Haha.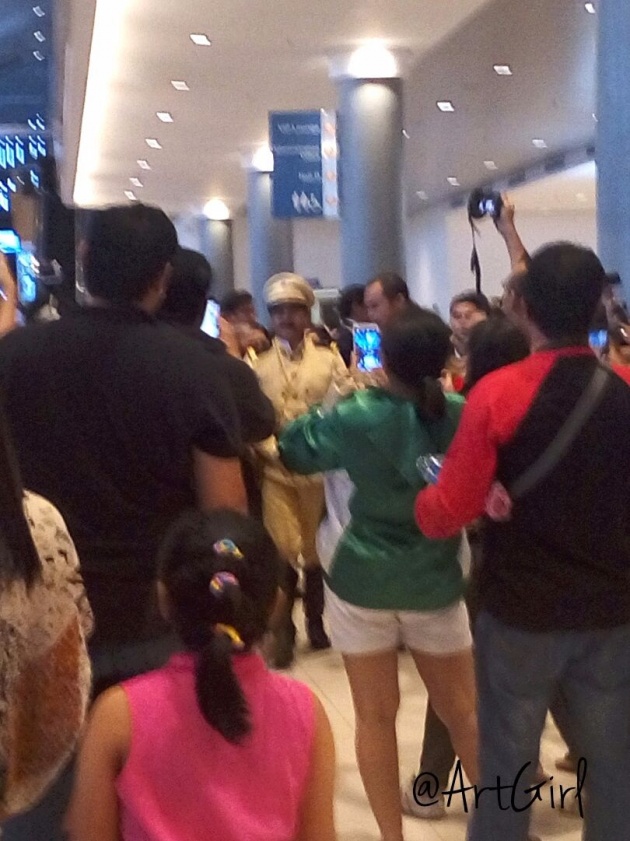 Next time he passed by I was able to take a selfie shot but I was in a hurry so wasn't able to pose well, but here's his close up pic.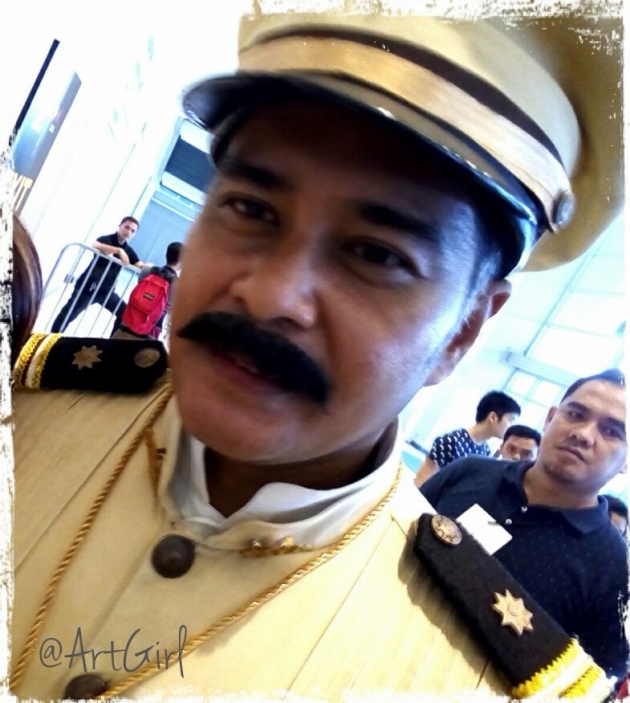 It was fun trying to take pics of celebrities at the event while I waited in line. Giorgio actually came down one time and had some quick pics with other fans. If you're a slow poke and a shorty like me, well no chance of getting a quick pic with him. (Too bad.)
The Talk
After an hour or so of waiting, thank God everyone still in line (as far as I know) got in to see Giorgio and listen to his talk. Hurray!!!
Of course the topic was all about... What else? ALIENS. And what else? The human race. Oh what fun.
It didn't matter that I and the rest of the last ones to get in were standing as long as I was there and I got what I paid for. Surprisingly, when we got in, the talk haven't even begun as scheduled. I was happy and thankful at the same time.
It was actually prohibited to take any pictures or videos of his talk but heck I wasn't gonna waste the only chance to take a picture and video of him. No sir. And I wasn't the only one who thought the same thing. Hehe.
So because media files of his talk are prohibited to share, I'll just share this YouTube video from FHM Philippines.
All in all it was an awesome experience. It pays to really never give up on something you really want because you get to have it. Oh and what sweet victory it is. :D
© Art x Stephanie Rue
All rights reserved.