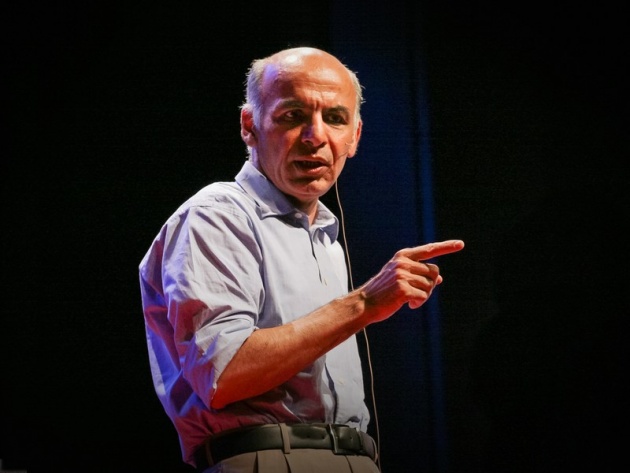 A picture of Dr Ashraf Ghani at Tedx event
With the stage set for two opponents, the battle among the top two contenders both with same ethnicity but different principles and teams was nothing less than a war; each candidate playing with his own Dr Ashraf Ghani on one side, a person who needs no introduction, has gained great popularity among all Afghans because of his soft-spoken intellectual abilities and his global persona. His presented goals for building a better Afghanistan has garnered him tremendous support from all ethnicity across the country. His globally acclaimed book, 'Fixing Failed States' is a masterpiece of such figure. In 2010, the Foreign Policy Magazine placed him in its annual list of top 100 thinkers.
Dr Ashraf Ghani's team for the Presidential election includes people from all major ethnicities such as General Rashed Dustom, an Uzbeg Chief and Muhammad Karim Khalili, a Hazara think-tank and he himself by ethnicity is a Pashtun from Ahmadzai tribe. His team selection though early criticized was highly cherished by all Afghan Nation and other Presidential candidates.
On the other side, once 2nd in Command to Ahmad Shah Massoud, a doctor by profession and an adviser to his leader, by ethnicity he calls himself a Pashtun but speaks Dari and calls himself a Tajik, Dr Abdullah Abdullah belongs to Panjshir and has got huge support from his people. In this election, he is known to have teamed up with the most corrupt officials who were responsible for the famous "Kabul Bank Corruption Scandal". Though he came out as the front-runner for the 2nd phase of the elections; however, his ideology brought him huge criticism across many local and foreign organizations, even today, he and his worshipers heavily criticized the Independent Elections Commission of Afghanistan and Elections Complaint Commission. Finally, ending his relationship with IEC, he finished his speech by not accepting any of the results of the elections and called them fraudulent.
The question however remains,

Is he a qualified candidate to overcome the crisis in a war-torn country such as Afghanistan?

Will he be a trusted President, even though; he violated all the laws of the constitution?

Does Afghanistan need a globally recognized thinker as Dr Ashraf Ghani who can bring Afghanistan together, provide a sustainable system, solve core issues and work for the betterment of the state?

OR
Does Afghanistan need a person who will only work for one province of the country and continue the "Corrupt" system with his "Corrupt" team?
Well, to these questions many Afghans have answered in the form of their votes and it is pretty much clear to the nation whom they selected.
Note: The story of 'Kabul Bank Corruption Scandal' is shared below
http://www.nytimes.com/2013/03/06/world/asia/afghanistan-convicts-21-in-kabul-bank-scandal.html?pagewanted=all&_r=0
http://www.tolonews.com/en/afghanistan/15422