The rate of glacier erosion (i.e. erosion caused by a glacier) is variable. Six factors control the said erosion rate:
Velocity of glacial movement.
Thickness of the ice Shape, abundance and hardness of rock fragments contained in the ice at the bottom of the glacier.
Ease of getting the surface under the glacier eroded.
Thermal conditions at the glacier base.
Strength and H2O pressure at the glacier base
Glacial Till: It is the material directly eroded, carried and deposited by the glacial ice.
Fluvial and Outwash Sediments: These are the sediments deposited by the melt-water. These deposits are stratified by size.
Glacial Erratics: These are large pieces of the rock which are encrusted (to cover or fill with different material) in till or deposited on the surface of the terrain.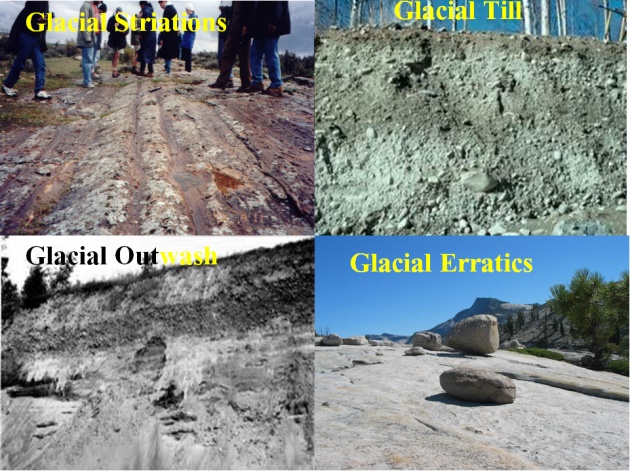 Products of Glaciers:
(i) Moraine: Already mentioned
(ii) Drumlin: These are canoe-shaped hills made up mainly of till. Till hieghts vary from upto 50 meters and sometimes reach about a kilometer or so in length
(iii) Glacier Valley (acquired U-like shape), Cirque (bowl-shaped space) and Arete (two glacial cirques form 'back to back' structure, their back-walls get eroded until only a narrow ridge-like structure is left; such the structure is called Arete: Aret – French word)
(iv) Roche (Rock) Moutonnée (Rounded like a sheep-back) (French wording): These are the rock formations sculpted into small hills in the path of a glacier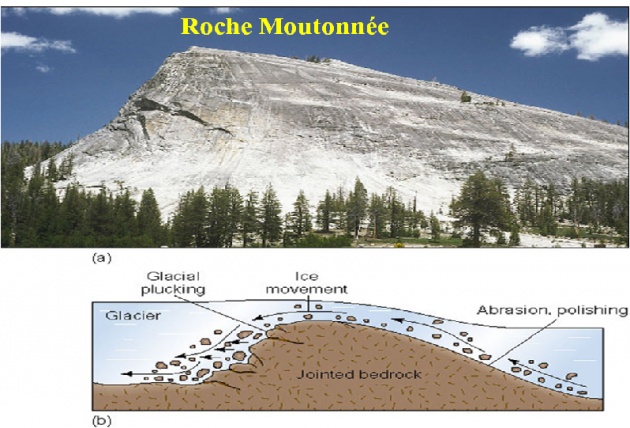 (v) Alluvial Stratification: Stratification formed from the sediments by the melt-water at the side of a glacier.
(vi) Glacial Deposit: Deposit formed by the glacial-melt.
(vi) Loess Deposit: Deposit formed from the Rock-Flour by the wind.
(vii) Isostatic Rebound: Subsidence of earth crust produced usually by the continental glaciers and rebounded by underlying mantle