Starstruck is one of the most popular reality talent competition show in the Philippine Television. It started on October 27, 2003 made by GMA network. This show seeks to discover new artists / stars - went through a series of auditions nationwide, and jumpstarting the career of some of the Top television and movie personalities nationwide and worldwide like Jennylyn Mercado and Megan Young.
Starstruck Season 6 started to air on September 7, 2015 and aired for 40 minutes before 24 Oras GMA news - Mondays to Thursdays and 50 minutes every Fridays.They decided to re-launch the show after 5 years hiatus. The winners will be determined through online votes and the average of the text plus the three members of StarStruck Council's decision.
All over the country, they went all through different regions to make a screening for the Hopeful contestants who will compete for the next Ultimate Starstruck Survivors. In this season, age bracket is from 15-20 years of age. They were being interviewed by the panelists when they showcase their talents. Of course the audition process is long and hard because they have to look for someone from thousands of participants, who has a human interest and star quality and has an acting talent or humorous potential.
Bootcamp
After a long period of audition, there were 35 Hopefuls selected that were given the chance to advance to the next round. They faced different stages in this round to see if they are qualified for the next round. First stage was Talent Showcase, where they can perform their talents they are most comfortable at. The Next Stage was Workshops, semi-finalists were again criticized and tested by different coaches. Ms. Gina Alajar is the Acting coach. Christian Bautista and Prof. Jai Sabas-Aracama as mentors in Singing and Douglas Nierras trained them in Dancing. Then, Screen Test is next after those workshops. And for the last challenge for Semifinal round, Director's Night, where the 35 semifinalists faced the well-known directors in industry to deliberate who's qualified for the next round.
The Door
It is the new added twist in Season 6. To determine if they can still continue to with their StarStruck journey. All contestants should place their hands in a Hand-shaped portal and will hear one of these:
"Congratulations" if s/he makes it to the next round;
"Thank You" if not; or
"Result will be announced on the live broadcast. Until then, good luck!"
Semifinals
Last September 11, just to make things more exciting, the hosts announced that in this season, there will be two sets of 14 Hopefuls(28), instead of having the traditional Final 14. First set of 14 Hopefuls were "Dream 14" and the other 14 Hopefuls were "Believe 14", who were expected to be eliminated initially. Those who survived the challenges became a part of "The Ultimate Final 14".
The Winner
The Male and Female Ultimate Survivors will each take home P1Million plus House and lot from Camella Homes and 5-year contract in GMA.
StarStruck Season 6 Hosts

The Main Hosts are Dingdong Dantes and Megan Young. From Starstruck season 1, Dingdong Dantes has been the host of this show up to present. He also joined the StarStruck Councils lately while Miss World 2013 Megan Young is a StarStruck Alumna from the second season of StarStruck.
Segment Hosts were also StarStruck graduates : 1.Mark Herras - The first ever Ultimate Male Survivor, 2.Miguel Tanfelix - StarStruck Kids First Prince, 3.Kris Bernal - The Social Media Bae - Season 4 Ultimate Loveteam with Mart Escudero and 4.Rocco Nacino - Season 5 Second Prince.
StarStruck Council (Judges)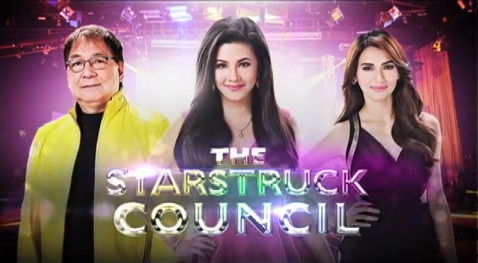 StarStruck Councils were considered as judges. They were the one who gives critiques in the performance of contestants depending on the given challenges. StarStruck Councils are 1. Joey de leon - Seasoned Actor/Comedian, Entertainment Guru, TV host, Henyo Master, Song Writer 2. Regine Velasquez-Alcasid - Asia's Song Bird, TV host and 3. Jennylyn Mercado - The First Ever StarStruck Ultimate Female Survivor, FHM Philippines Top 1 Sexiest woman, Singer, TV Host, Actress
Season 6 Ultimate Final 14
From two sets of 14 Dreamers and Believers,here comes the elimination for the Ultimate Final 14. Fourteen contestants were slashed in this elimination round. And the remaining 14 contestants were called the Ultimate Final 14. And those who were eliminated were called "The StarStruck Avengers". They were set to different challenges weekly to determine their abilities from dancing, singing and acting. And there is a weekly elimination too until there will only be Final 6 left. Then one more Hopeful needs to be eliminated to have "The Ultimate Final 5". They will be the one competing with each other until the final judgement for the Ultimate survivors.
To determine who's the next Ultimate Survivor, 30% will come from Text Votes and 70% will come from the Council.
Weekly Challenges
Week 1: KiligSerye
Week 2: Drama
Week 3: Survivors and Graduates Face-Off
Week 4: The Immersion (On Going this week)
Week 1: KiligSerye
The Final 14 were grouped by couples to showcase their acting skills as loveteams. They make a short romance-drama with the guest comedians from the long time running Gag Show, Bubble Gang. And these 8 couples has been challenged in performing a romantic music video directed by Guest directors, Mark A. Reyes and Louie Ignacio.
Week 2: Drama
They were challenged to make a dramatic short-film this time with Director Mark Dela Cruz and veteran actress, Jaclyn Jose of MariMar to test the versatility of the StarStruck survivors. These couples has same scripts with different ending. Ms. Jaclyn Jose praised the pair of Arra San Agustin and Jay Arcilla and called them Best Pair. Another challenge for them is the acting challenge tested by veteran director, Joel Lamangan. They were asked to introduce themselves in a creative way as instructed and depending on his direct action. And at the elimination night, Liezel Lopez was chosen as the Best Performer by the the council, acting mentors and directors for this week.
Best Performer
StarStruck Avenger/Eliminated for this week
Week 3: Survivors and Graduates Face-Off
The remaining survivors faced the Starstruck graduates,their challenge for this week directed by film and television director, Neal Del Rosario. Here are their group face-off:
GROUP:
Liezel Lopez, Arra San Agustin and Jay Arcilla with Katrina Halili (StarStruck Season1 Avenger) ,Mike Tan (StarStruck Season 2 Ultimate Male Survivor) and LJ reyes (StarStruck: Season 2 First Princess)- assigned to do a short provocative drama play.
Kevin Sagra, Ayra Mariano and Migo Adecer with Kevin Santos (StarStruck Season 2 Avenger), Ryza Cenon (StarStruck Season 2 Ultimate Female Survivor) and Diva Montelaba (StarStruck Season 5 First Princess) - assigned to do a short comedy play.
Annalyn Barro, Avery Paraiso, Klea Pineda and Joemarie Nielsen with Jade Lopez (StarStruck Season Avengers) and Nadine Samonte - assigned to do a short heavy-family drama play.
James Teng, Elyson De Dios, and Koreen Medina with Jackie Rice (StarStruck Season 3 Ultimate Female Survivor), Jade Lopez and Enzo Pineda (StarStruck Season 5 First Prince), and(StarStruck Season 1 Avenger) - Assigned to do a short comedy-horror play.
StarStruck Avenger/Eliminated for this week
Week 4: The Immersion (On Going this week)
StarStruck Through The Years
StarStruck Season 1: Dream, Believe, Survive!
It was premiered on October 27, 2003. Ultimate Survivors: Jennylyn Mercado and Mark Herras
StarStruck Season 2: Dream, Believe, Survive, Again!
It was premiered on October 11, 2004 with the StarStruck Kids. The Ultimate Survivors were Ryza Cenon and Mike Tan.
StarStruck Season 3: The Nationwide Invasion
It was premiered on December 5, 2005. The Final 4 Survivors were Marky Cielo,Jackie Rice, Gian Carlos and Iwa Moto.
StarStruck Season 4: The Next Level
It was premiered on December 4, 2006. The Ultimate Survivors were Aljur Abrenica, Jewel Mische, Kris Bernal, Mart Escudero and Prince Stefan.
StarStruck Season 5: The Worldwide Invasion
It was premiered on November 15, 2009. The Ultimate Survivors were Sarah Lahbati, Enzo Pineda, Diva Montelaba, Steven Silva and Rocco Nacino.
Products of Starstruck
Miss World 2013 Megan Lynne Young
(Image Source : Ace Santos)
FHM's Sexiest Woman int the Philippines
***************************
Joemarie Nielsen's StarStruck Journey ends
For Updates Visit:
StarStruck Website : http://www.gmanetwork.com/gma/starstruck/main/
StarStruck
page : https://www.facebook.com/StarStruckGMA?fref=ts
StarStruck
account: https://twitter.com/StarStruckGMA
Images and Video source: StarStruck