Introduction:
Government College Lahore ( Now Govt. College University ) is one of the largest and oldest university of Pakistan , as one of the oldest instituition of higher education in the muslim world. It is the situated in Lahore , the capital of Pakistan. It is a public research university in Pakistan. GCU has grown one of the largest universities of Pakistan with 10,808 students and total number of 376 faculty members. It secured it's second position in HEC ( Higher education comission ).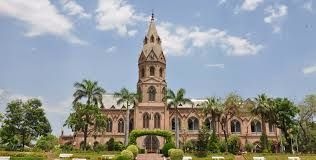 The GCU is known for it's historic roots and the Famous Scholars it produced in the past like Abdus Salam. It is considered to be the best and oldest University of Higher Education all over in Pakistan.
History:
Government College was opened on January 1 , 1864 under the British Kingdom on a portion of Raja Dhavan Singh Haveli. It was affiliated with the University of Calcutta for examination. Professor Leitner became it's first principal. The first class consisted of 9 students all of them which matriculated from the University of Calcutta. It then shifted to it's present site in 1872.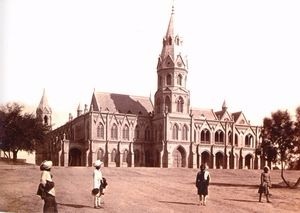 in I996 , it received it's autonomous status. In 2002 , it became a university and now known as Government College University!
Location:
GCU is located in the downtown area of the lahore near Nasir Bagh ( one of the famous garden of Lahore ).It lies near Old campus of Punjab University and the Famous King Edward Medical University Lahore ( established in 1860's ). Anarkali and Urdu Bazar lies beside the university. GCU lies at the pivot point of Lahore near Kathehry. Therefore, locationwise, it has great importance. The aerial view of Government College University Lahore is as under,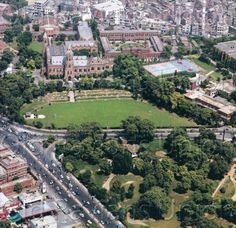 Notable Alumnies:
The wellknown and famous scholars of the world graduated from Government College University Lahore. Among all of the popular scholars , Mr. Muhammad Iqbal has a great significance. I don't go now into a brief description now , these are all in this picture below ,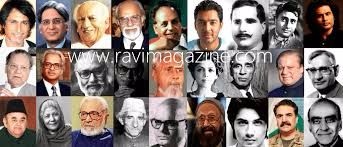 Title Of Ravians:
The students that currently studies in this prestigious Institution are called "Ravians" . This name is given on the basis of their Annual magazine ' The Ravi ' . Also some rumors there are that in the 1870's , The river Ravi flows near it by touching the walls of it's main buliding. As time passed and the river Ravi changed it's natural path , everyone began to forget it's official derivation. Yet now it is believed to be derieved from it's annual magazine. The students that graduated from this institutions termed as " Old Ravians ". Hence , it's a great honour for all the students that are currently studying the GCU that ther current prime minister is also an Old Ravian.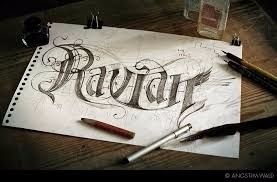 Highest Merit:
As everyone is aware of this that GCU is on the top of the HEC ranking in terms of Intermediate and hence has the highest merit for admission. The merit usullay closes on 93% ( marks in Matriculation)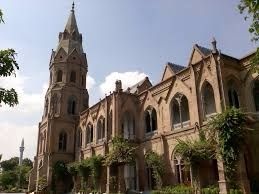 Several Departments:
GCU Lahore also contains other departments like Persian , Arabic , Punjabi , Urdu , English several other languages of economic importance and literature and sciences like Microbiology , biochemistry , botany , zoology , Biotechnology and several other Sciences and Arts Departments whom students join from northern , southersn , eastern and western parts of Pakistan. Normally , students are admitted to their respective departments on open merit but there is also a special quota for provinces other than punjab also. The oldest department is of English.
Library:
In 1937 , A vast library was constructed in the memory of Fazl-e-Hassan and therefore named after this reowned educationist Fazl-e-Hassan. This library is considered as one of the well known libraries of Punjab and it consists of almost all types and versions of books and information a students want to consult. The postgraduate library was constructed in 1999 to enhance the library actitvities. Recently a new library is being constructing to meet the problems of zoology , Botany , Biotechnology and the departments associated with biology.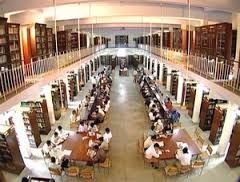 Hostels:
To meet the tremendous amount of students coming from different areas of Pakistan other than Lahore , GCU established it's first hostel in 1891 and named it as ' The Quadrangle ' , which then changed into the Iqbal Hostel due to Allama Muhammad Iqbal who stayed there during his academic period. the another ' hostel named as the ' New Hostel ' was constructed in 1929 outside the premises. Another hostel named as Quaide Azam Hostel was constructed in 1991.
P.S. I lived in Quaide Azam Hostel during my stay ;)
Pakistan's Leading Institution:
Government Colllege University Lahore is conidered as one of the leading instituition in Pakistan. Almost all the notable and well known scholars graduated from Pakistan from Pakistan's President to the singers like Ali Zafar and Hadiqa Kiyani. Many national players also graduated from this instituition and serving their country by leaps and bounds. The most finest University with it's historic building and the college having it's prestigious history. The only motto of GCU is ,
" Courage to Know "
May Allah bless GCU and grant it success by leaps and bounds
Thanks for Reading :)