Everyone likes the aroma of grilling onions.
INGREDIENTS
2 large Spanish type onions, peeled
very good olive oil
salt and pepper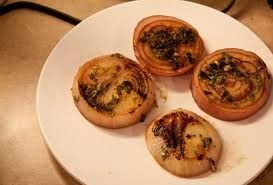 Heat a ridged grill pan or barbecue to medium, and have ready 10-12 bamboo skewers soaked in water (get these in a Chinese supermarket).
Slice the onions horizontally 1 cm thick; you should have 8-12 slices. Carefully insert the skewers through the side of each onion slice. This will hold all the rings together on the grill as they cook. Lightly brush with oil and season. Grill on one side for 10 minutes, but do not touch at all. The onion 'steaks' must be brown and showing signs of shrinking and weeping on the upper raw surfaces. When you are sure this stage has been reached, turn the onion steaks and give them 10 minutes more on the other side. Remove to a serving dish. Withdraw the skewers the onions with a little oil.