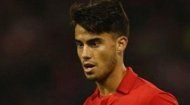 Bad news befall Liverpool in early October. A list of those players getting injured. This time the talented young players who should be dismissed Suso up to two months.

Youth 20 years was having problems in her crotch had to undergo surgery. Suso Liverpool medical team estimates it took eight weeks to get back.

Suso included in the current Liverpool squad flew to Switzerland against Basel in the Champions League. But the game was won 1-0 Basel, Suso is not included in the squad.

The former Almeria player that promises to come back stronger. "I tmenjalani surgery next week because my crotch. I will be back soon. More powerful than ever," said Suso through Instagram.