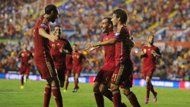 VALENCIA - Spain national team pays defeat of France in a test match last week. At the Estadio Ciutat de Valencia on Tuesday (09/09/2014), Matador team shaved Macedonia 5-1 in Euro 2016 qualifying Group C.

Spain's fifth goal shared equally by five players. The first player to carve his name on the scoreboard is Sergio Ramos. The Madrid defender convert the penalty to be scored in the 15th minute.

Two minutes later, Paco Alcacer doubled the score. After Agim Ibraimi narrowed the score was 2-1 in the 26th minute, Spain could only get away a shot in the 45th minute through Sergio Busquets.

David Silva then making the score 4-1 in the 50th minute before Pedro Rodriguez closed the party through his goal at minute 90.