Lunch was festive, our eyes were full at the same time from roaming around Punta Bulata. No day trekking but after paying the bill, we were told that we can move around, check the place and stay a bit longer, which my husband and I appreciated.
Read the related blog: Punta Bulata Resort and Spa is a Hidden Gem in Cauayan Negros Occidental!
Sun's up but the wind was a little too strong, I wanted to stay at the hammock near the beach and sleep but our time states we should get our butts going towards Sipalay so we did.
That was past twelve, almost one in the afternoon to be exact, boarded our two-wheel drive, we headed to Sipalay for our half day tour around this laid-back town which has been well known to travelers after it hit social media! Let me share how our Half Day Tour to Sipalay Negros Occidental went! Continue reading below!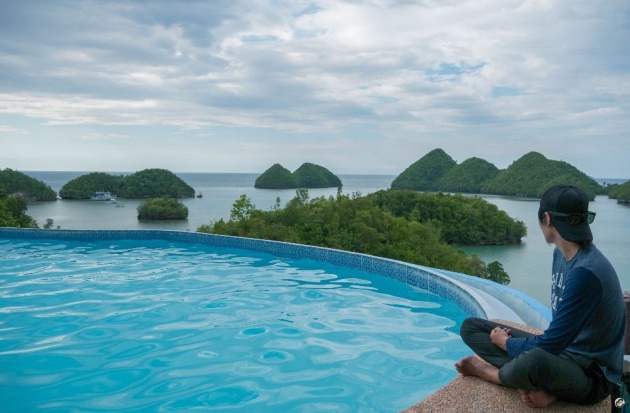 Image credits: Jean Beltran via bitLanders
En Route Sipalay
Our trusty Honda XRM motorbike had been running perfectly as we head towards Sipalay from Punta Bulata. Engines started and we were again on that bumpy road, thank goodness there's a lot of shades on our way from the trees along the sides of the road.
The two-wheeled motorbike sped up in Negros' straight high way, then we spotted these kids on a trike! Driving the trike himself! He could barely reach the road if he stops! The passengers were all kids too! I know this is a common sight but if I am the parent, I would allow this kid to drive when he's in the right age and once he has the license to do so!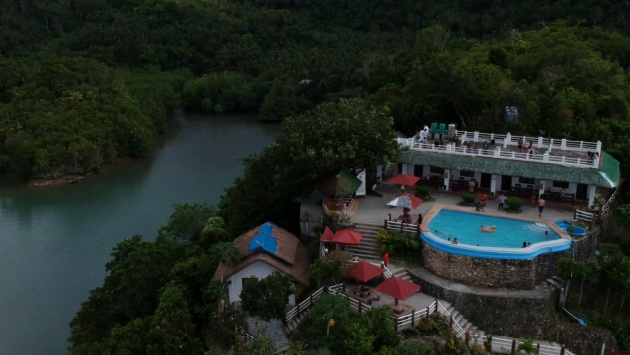 Image credits: Jean Beltran via bitLanders
Anyways, we continued and we reached Sipalay! Perth Paradise Resort is located in a secluded area too we have to drive a few more minutes from the main highway.
Perth Paradise Resort
From its rough roads, our rented motorcycle fought hard to find its way to a stony path, finally getting over that rough-edged rocked road. A sight of the sea with mini-chocolate hills reminded me of our home where the famous Chocolate Hills are located but this time, I am seeing them submerged in the salted waters.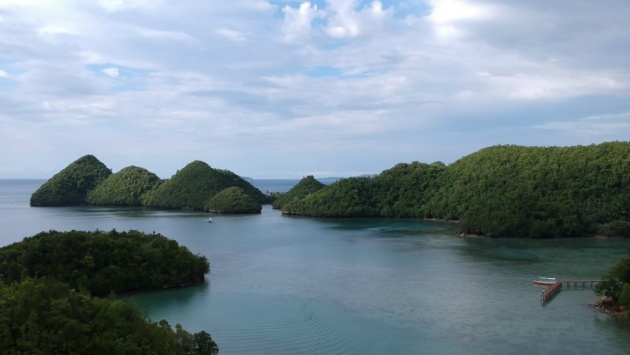 Image credits: Jean Beltran via bitLanders
Parked and ready, we got in, the front desk was busy entertaining some guests who were about to check in, good thing there was a television to entertain those waiting for their turn.
Paid only Php 100 per person and Php 60 for each mango fruit shake which James and I didn't like, it was lacking sweetness but then we had to quench our thirsty throats.
We went up to the top where the best view of these hills on the sea is. We had a good exercise walking and moving from one step to the next. We saw the boats docked at the port the resort had made for their guests who'd like to do island hopping tours.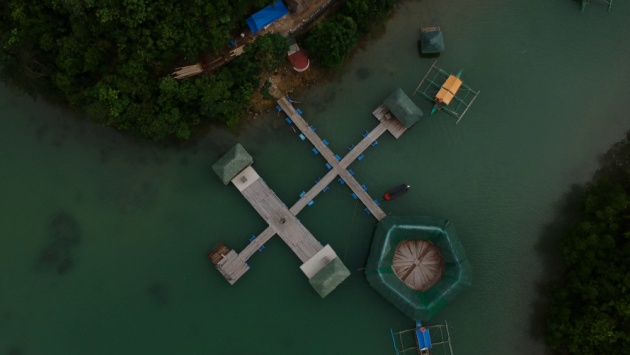 Image credits: Jean Beltran via bitLanders
Finally, after passing by a certain number of shelters and huts, we reached the top where the pool was located. Perth Paradise Resort has been well known for its beautiful view of the islands at sea. But it seemed like an expectation versus reality game for the tourists, there were also a good number of walk-ins and day-trippers already at the resort.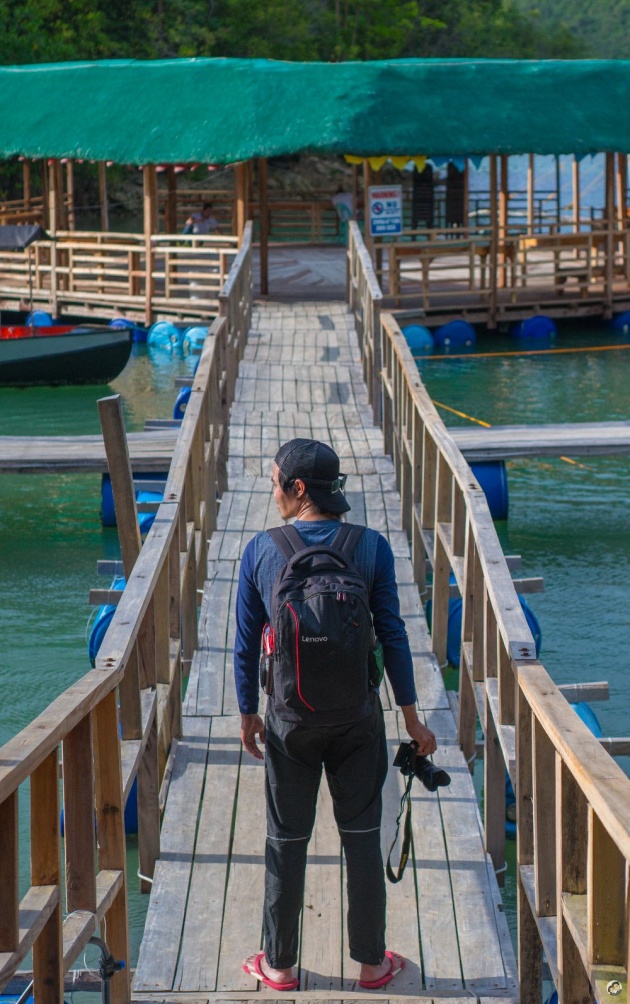 Image credits: Jean Beltran via bitLanders
All we did there was take photos, flying the drone, watch and observe the guests and tourists take their time having selfies and photo opportunities. I guess it was more of the expectation and the nice photos circulating online, there was nothing much to do here than swim and watch the view.
I still commend the management for making this because Sipalay had been starting to be well known because of Perth Paradise Resort. I just hope there will be more options and more activities while at the resort.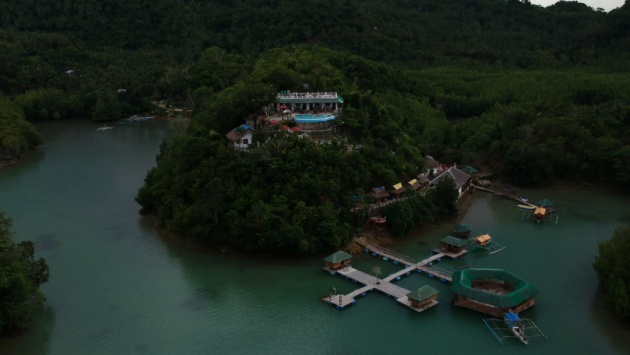 Image credits: Jean Beltran via bitLanders
Our stay at Perth Paradise Resort ended after we realized the drone is almost empty of the battery. We connected it to our power bank and it started charging! Good thing the drone is able to charge with just the power bank. So as we hit the rough road again, the drone was charging in our backpack. We were off to the Poblacion Beach!
Video credits: Jean Beltran via bitLanders
Poblacion Beach
With the help of Google Maps, we were able to reach the long stretch of white sand beach. That was actually referred as Poblacion Beach.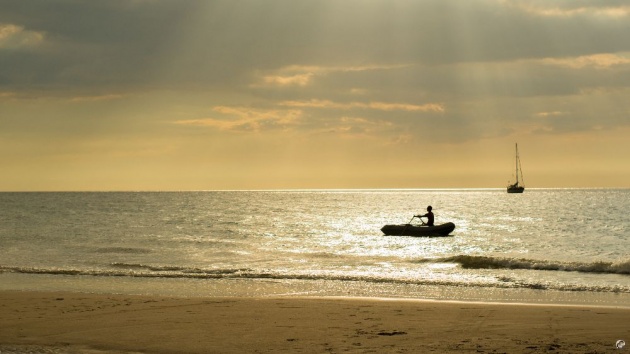 Image credits: Jean Beltran via bitLanders
The word Poblacion in our province usually means the main town and I believe it also means the same thing here in their town. The beach was long and the sun was still above so we have to wait a bit for it to go down into the sunset.
I read somewhere that the best sunset views can be seen along Negros Occidental because of its topography, the sun seems to go down very slow compared to the rest of the Visayas. Negros Occidental by the way the island is actually facing Palawan, no wonder Palawan also has a very beautiful sunset view.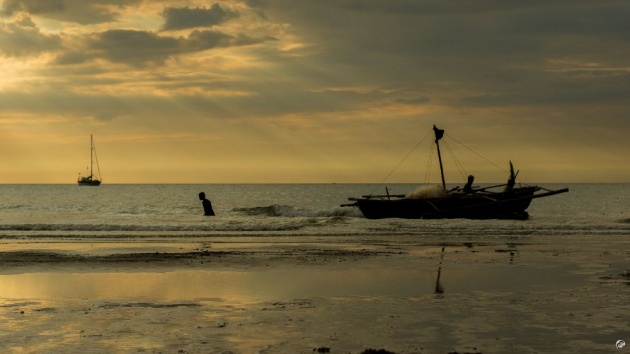 Image credits: Jean Beltran via bitLanders
While waiting for the sun to set, we had to set up our camera for the time lapse as well as the GoPro. We spread our blanket at the sand, I guess we missed to buy some chips and drinks for this to be considered a true picnic.
But after setting up, the sun was still up so I decided to check out some other areas of the beach. Note that this is a long stretch of beach which was similar to that in Nacpan-Calitang Twin Beach where the shoreline goes for more than thousand meters I guess, so it was so hard to really go from this part to the next.
However, I found some interesting sight! There were local fishermen who had just arrived from fishing and the entire village came in to welcome them and help out with the boat and the caught fish! Oh, that reminded me so much of my grandfather who passed away last 2017, he used to be a fisherman.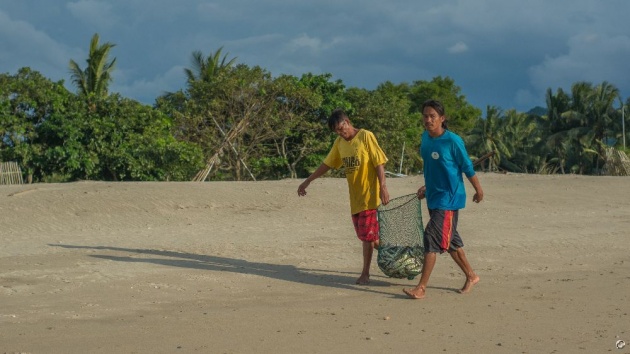 Image credits: Jean Beltran via bitLanders
I took photos of the locals and found some teenagers holding their skim boards! So I waited for them to start their activity. I had fun watching them run and skid into their skim boards! They played and practiced all afternoon I guess, there were also foreigners around filming them and some other foreigner kids trying out skimboarding too!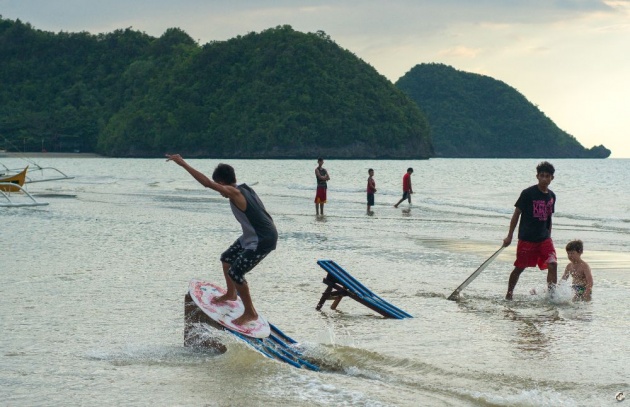 Image credits: Jean Beltran via bitLanders
As the sun was showing signs of it set down, I immediately went back to where James was at and so we started the timelapse. He also flew the drone for some few shots and just before it ran out of batter, the view of the sunset captured and took away our breaths! It was a beautiful sunset although there was a rain from the left side! Majestic as I would describe it. Watch the time-lapse video below:
Video credits: Jean Beltran via bitLanders
I hope you enjoyed this blog, if you can, please visit Negros Occidental. You will not just love the island but will also help in boosting its tourism!
---- o ----
Blog entry written and published by Jean Beltran-Figues, A Pinas traveler and photography hobbyist, find more travel blogs in my blog section, click here.
---- o ----
Check also my recent blogs:
• Punta Bulata Resort and Spa is a Hidden Gem in Cauayan Negros Occidental!
• 5 Reasons Why I Can't Get Over Natural Native Sea View Cottage
• We Fell in Love With The Cottage on a Hill at Negros Occidental!
• The RUINS: A Love Which Lives Through Time
• Why You Should Visit Campuestohan Highland Resort?
• Trip to Negros Occidental