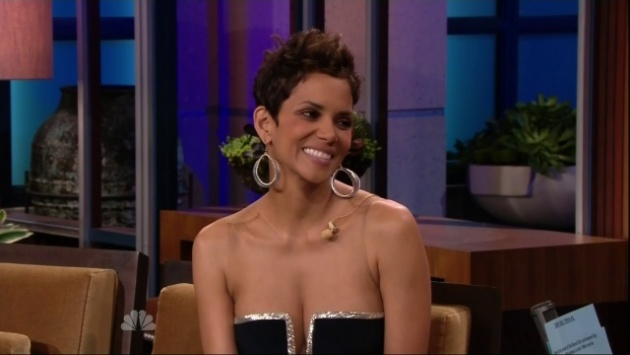 Storm returns!

Speaking to Jay Leno in "The Tonight Show," Halle Berry confirmed that she would be donning her Storm costume again for "X-Men: Days of Future Past." Why? Because according to her, it's a great role and "those residual checks don't hurt." See? Money talks especially Marvel dough!

Berry added that Storm is a character that she loves and the fans really dig the whole series. She said, "They really love Storm. It's like family. It's fun to get back together with Hugh and everybody. It's good fun."

Bryan Singer will also return to the franchise to direct. The last "X-Men" film he helmed was 2003's "X2." Matthew Vaughn, who created the last "X-Men" film, the fantastic 2011's "First Class," co-wrote the screenplay with Simon Kinberg based on John Byrne and Chris Claremont's comic book.

"X-Men: Days of Future Past" will go into production soon and is set for release on July 18th of next year. Patrick Stewart (Professor Charles Xavier), Ellen Page (Kitty Pryde/Shadowcat), and Anna Paquin (Marie/Rogue) are expected to return to the franchise as well.

The stars will be joining Jennifer Lawrence (Raven/Mystique), Nicholas Hoult (Hank McCoy/Beast), Hugh Jackman (Logan/Wolverine), Michael Fassbender (Erik Lehnsherr/Magneto), and James McAvoy (Charles Xavier).

Intriguing! It's like what J.J. Abrams did to the "Star Trek" reboot. And if you're equally intrigued, like me, I found this on Wikipedia about the comic book original:


"Days of Future Past" is a popular storyline in the Marvel Comics comic book The Uncanny X-Men issues #141 and #142, published in 1981. It deals with a dystopian alternative future in which mutants are incarcerated in internment camps. An adult Kate Pryde transfers her mind into her younger self, the present-day Kitty Pryde, who brings the X-Men to prevent a fatal moment in history which triggers anti-mutant hysteria.