Video Credits: Sharon Lopez via Bitlanders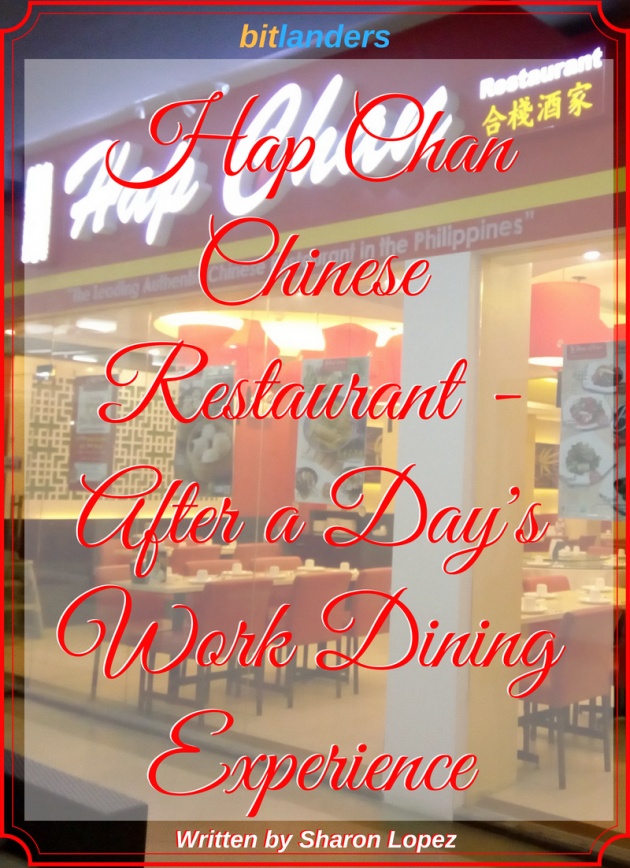 Image Credits: Sharon Lopez via Bitlanders
When we entered the place, I thought it was just another typical Chinese restaurant in the City of Legazpi. But I realized Hap Chan is more than that. The interior design of red and off-white combination and clean surroundings make the place truly attractive and a good place to have at least a short time relaxation.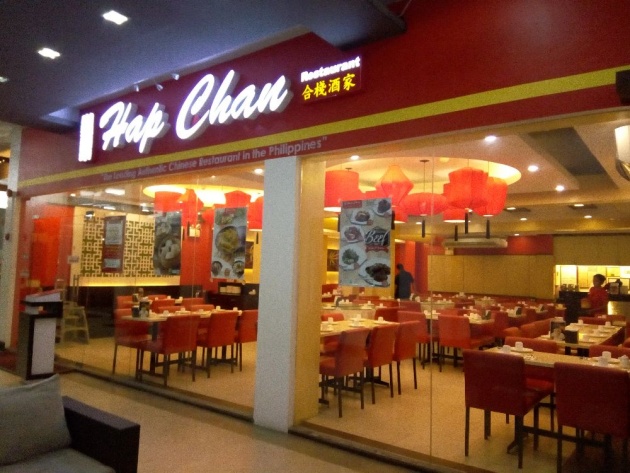 Image Credits: Sharon Lopez via Bitlanders
After going out of the office, my officemate asked me to come with her as she wants to apply for an internet connection for her home. We went to the PLDT office near our place and she was given an application form. She then asked me if I can come with her to La Piazza Convention Center where she will be meeting her old friends who are currently conducting their seminar at the said venue.
Image Credits: LaPiazzaHotel.com
Since it was still early, I decided to grant her request. Besides, Ate Bhem, as I call her is a very kind lady and allowing a few hours to accompany her won't probably hurt my schedule. My plan was to drop her off at the place then I will go home. She might want to spend some time with her friends who came all the way from Manila for the seminar. Had she not been assigned to the provincial office, she must have been one of the facilitators of this seminar.
La Piazza Hotel and Convention Center is just a few meters away from our home. Ate Bhem and I live in the same village and her current assignment makes the two of us be together most of the time. She was recently promoted and becomes our Program Manager. Her current assumption of office in the provincial office changes a lot of things not only in my current routine but also to the people in the office. Ate Bhem loves to cook and everyone in the office love to eat.
When we've got to the venue, I've seen the same classy and chic place. La Piazza has started its business in the city in 2010. It also becomes one of the favorite venues whenever the office conducts seminars and other official events. Seemingly, the place is a combination of elegance and affordability. No wonder, it has continued to gain loyal clients as the passing of time.
Image Credits: LaPiazzaHotel.com
Hap Chan is located inside La Piazza. You can find it in the main lobby of the hotel.
A few Information About Hap Chan:
Hap Chan is offering authentic HongKong tea house cuisine and an affordable dining experience on a contemporary Chinese ambiance. The principal shareholder who has been a cook for 30 years, Kwok Man Wah with his team of Hongkong Cooks and they continuously imrproving the business. To date, Hap Chan has more than ninety-five (95) branches in the Philippines.
Source: HapChan.com.ph
The Place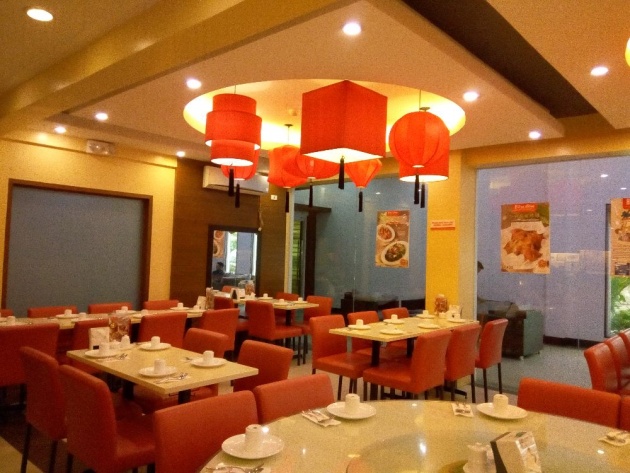 Image Credits: Sharon Lopez via Bitlanders
The color is very warm and arrangement of the tables and chair has been a good venue even during the time that the place is full of diners. Well, we entered the place in the afternoon when customers just started to come in. I love looking at these Chinese lantern chandeliers above the tables which made the place even lovelier. The table settings are prepared for Filipino customers, I guess. Because I know Chinese has a different table arrangement.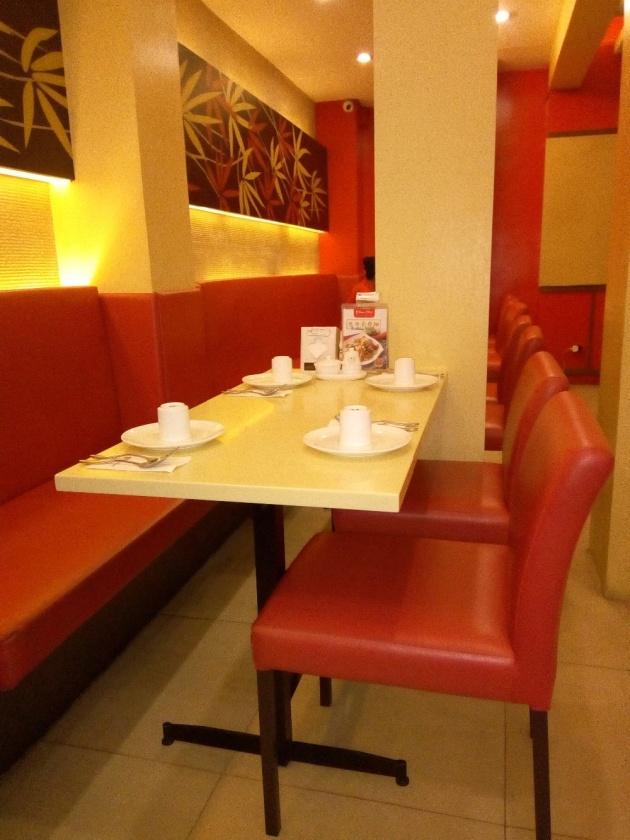 Image Credits: Sharon Lopez via Bitlanders
Ate Bhem and I chose this table near the corner because there was just the two of us and we don't intend to eat dinner. She wanted to eat some noodles that's why she asked me to come here. We can have some light food while waiting for her friends.
The Food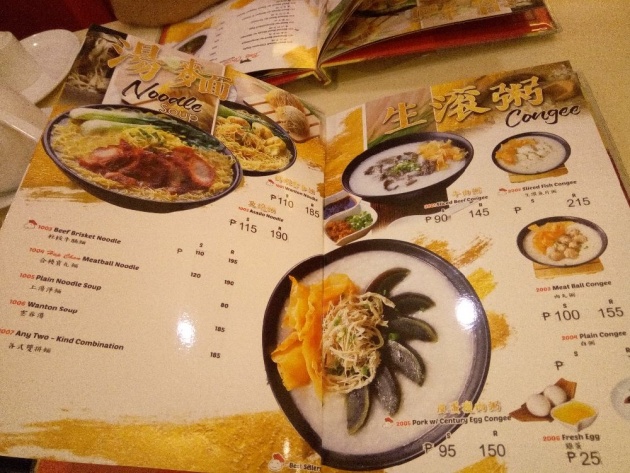 Image Credits: Sharon Lopez via Bitlanders
While looking at the menu, I noticed that the price are very affordable. An example is a Pork with Century Egg Congee which is priced for Php 95.00 ($2). I decided to order this. Ate Bhem ordered a noodle soup. She also ordered some chicken dish that she will be taking it out for her son. Ate Bhem decided to order siopao but then after realizing that we could not eat the food, she finally decided to have it taken out too.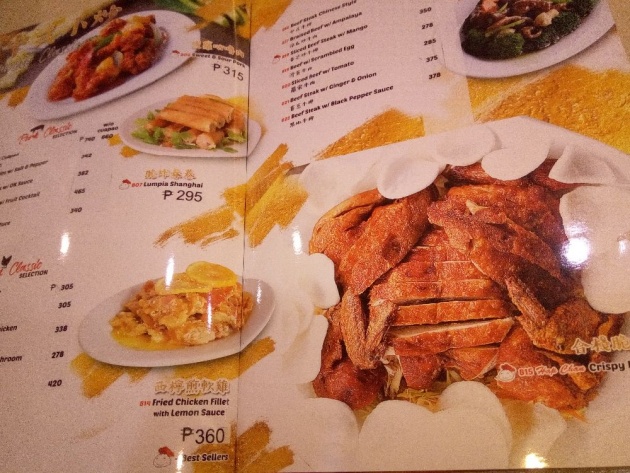 Image Credits: Sharon Lopez via Bitlanders
Hap Chan is also serving crispy fried chicken and other dishes. Set Meals are also available which are perfect if you are planning to come with a group.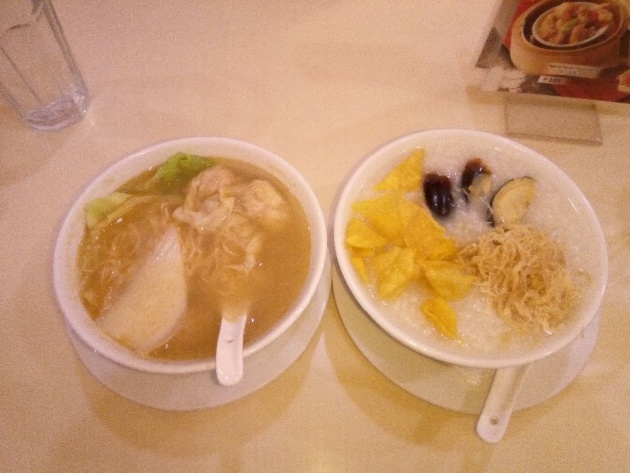 Image Credits: Sharon Lopez via Bitlanders
Waiting Time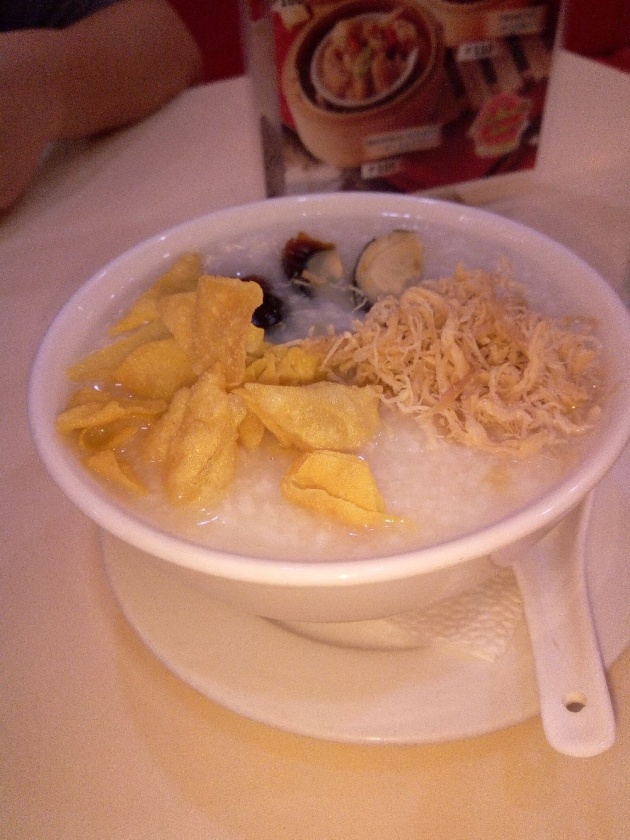 Image Credits: Sharon Lopez via Bitlanders
Since we came a little early for dinner time, we don't have to wait for long. Our orders were served almost immediately.
The Price
This is what is I love about the place. The fact that you can experience a great food, a luxurious place, and excellent service, the price is very reasonable.
The Service
We were served well and the food handlers and other staff are very friendly and efficient.
Overall Experience:
This is not the first time that I experience dining in a Chinese Restaurant but the Chinese ambiance delivered by Hap Chan is an experience worth to be shared. It's an almost perfect place recommended to every one who is aiming to get an equally satisfying dining experience.
Here is another video taken while inside the place. Hope you like it.
Video Credits: Sharon Lopez via Bitlanders
Thank you, everyone, for reading my blog post. Enjoy your day and more blessings to come!
Meanwhile, here is a Querlo Survey Chat you may want to answer before closing this page.
More from this Author:
DISCLAIMER: The views and opinions expressed in this blog post are that of the author and does not in any way represent the agency or department she currently belongs.
ADDITIONAL NOTE: The sites mentioned in this post are for information purposes only and links are provided for easy access. The author does not receive any remuneration from the said companies or sites.
______________________________________________________________________________
Written for Bitlanders
by Sharon Lopez
Date: June 30, 2018
Visit my blog profile for more BLOG POSTS
Let's connect on Facebook
Want to earn from sharing your opinions through blogging? Join us in Bitlanders and claim your 1 DOLLAR REWARD upon signing up. CLICK HERE TO JOIN.