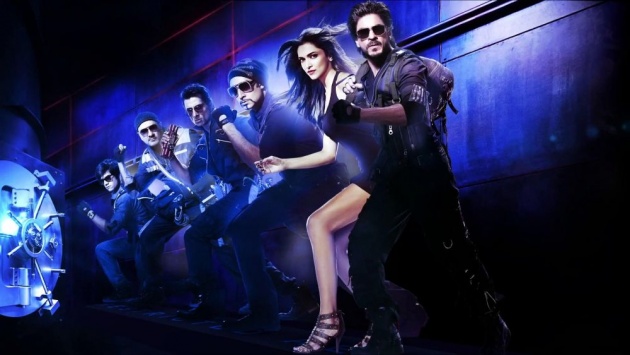 Director : Farah Khan
Star Cast : Shah Rukh Khan, Deepika Padukone, Abhishek Bachchan, Sonu Sood, Boman Irani, Vivaan Shah, Jackie Shroff, Anurag Kashyap, Vishal Dadlani, Dino Morea
Rating : 3.5/5
One Line Review: A perfect treat to enjoy with your family on this Diwali.
Positive Points: Breath-taking visuals of Dubai, energetic back ground music and hilarious moments.
Negative Points: Loose plot and a few flaws in the story.
Plot: Chandermohan Manohar Sharma a.k.a Charlie (played by Shah Rukh Khan) is a boxing champion who opts to make money through wrong lines as he believes that taking the right path won't help him fetch good money. He is on a mission to assemble a team to pull out a perfectly planned heist of stealing diamonds worth Rs. 300 crore from a safe zone called Shalimar which lies 150 feet deep underwater tailing the luxury hotel Atlantis in Dubai. The hotel is owned by felonious don Charan Grover (played by Jackie Shroff). This safe is been designed by Manohar (played by Anupam Kher) and Tammy (played by Boman Irani). Charlie is Manohar's son and his soul motive behind this mission is to vouchsafe the criminal image of Charan Grover before the world. Charlie aligns his flock of battalion by bringing in Nandu (played by Abhishek Bachchan), Rohan (played by Vivaan Shah) and Jack (played by Sonu Sood). The only way to reach up to Charan Grover is by being contestants of a prodigious show called World Dancing Championship which is going to happen in Dubai. And for this, they take up the challenge of learning dance from small time dance teachers in the locality but nothing works out. And then Nandu comes up with a plan to introduce them to a local club dancer Mohini Joshi (played by Deepika Padukone). Mohini, though she hesitates to provide dance training to Charlie and his team, she accepts the offer after she gets impressed by Charlie's communication in English. They blackmail the jury members to select them by showing them an MMS video clip and manage to get the green card to participate in the dance competition. With the help of Rohan, they manipulate the voting parameters and populate all the votes in their favour. This helps them to win tickets to Dubai to perform in the semi-final dance tournament. But Charlie hides his plan of performing the heist in Hotel Atlantis from Mohini but gradually Mohini is told about it by them. What are Charlie's real intentions and why does he want to wreak vengeance against Charan Grover forms the rest of the story.
Directions and other techniques: Direction by Farah Khan is average. There is nothing to hype about her direction. The screenplay has its own flaws while the story written by her lacked a strong theme. Cinematography by Manush Nandan is appealing and Dubai's grandeur locations and extravagant expanse of high scale towers and skyscrapers have been captured royally. Editing by Anand Subaya was average and the 3 hour running time leaves you infuriated giving ample screen time to lame jokes and dialogues that is least imperative. The camera angles and shooting techniques remind you of Abbas Burmawalla and Mustan Burmawalla's movies. The action in the movie is average but leaves an impact. Dialogues and the narration takes its own time and that looks over-stretched.
Performances: Jackie Shroff fits the shoes of a business tycoon perfectly and he plays it flawlessly. Sonu Sood is very bad in the movie. Irrespective of whether he plays a funny character, a tough cop or a brutal villain, his expressions are considerably the same in every movie. Boman Irani plays a true sport as a parsi guy. He is hilarious than Deepika who plays the role of a club dancer with a Marathi accent. She is funny at occasions. Abhishek Bachchan, in double roles, who plays a local tapori and well as a business tycoon's playboy son is boring and invokes humour that hardly tickles you. Vivaan Shah has nothing much to offer. At least he is not shown as a typical nerd in the movie though some points may sound too impossible to believe. Anupam Kher is a true aficionado when it comes to acting. It reflects in his 2 minute cameo role appearance where he makes things look more believable. Shah Rukh Khan looks stylish in this movie wearing the the Django Unchained pattern of shades, flaunting his 8 packs abs, long hair and salt and pepper look. He delivers a fine performance and his presence makes his fans overwhelmed.
Music Department: Indiawaale is a tempo amplified number sung by Vishal Dadlani, K.K., Shankar Mahadevan and Neeti Mohan. This song is literally high on energy levels. Manwa Laage is a pleasing melody sung by Arijit Singh and Shreya Ghoshal. It captivates especially the melody tune lovers. Sharabi sung by Nindy Kaur, Vishal Dadlani, Shekhar Ravjiani and Manj Musik is an average song while Kamlee sung by Ravindra Upadhyay, Fateh Miraya Varma and the Baby Doll fame Kanika Kapoor is a fast number. Satakli sung by Sukhwinder Singh has a 1990's feel to it. Nonsense ki night is a song that sounds good only with the flow of the movie.
Verdict: Go and enjoy the "Happy New Year" ride on the occasion of Diwali festival and it is worth enjoying with your family.