Are hashtags the trend of 2013 in social media? Last week, we spent a couple of hours here at Film Annex discussing hashtags and how to use them to create communities and conversations with filmmakers and students all around the world. On Wednesday, Facebook announced the launch of hashtags on its platform, making them clickable and searchable. The amusing part is that Facebook users have been ahead of the platform for months, already using hashtags in their statuses, expanding a now usual Twitter habit to their other social media platforms. So it was just a matter of time before Facebook embraces the trend.
And it is not the only one. Movie studios and film director are also using hashtags as part of their social media campaigns. Twitter is now the place where fans discuss movies and create the buzz. The Purge is the last example to date. The low-budget movie starring Ethan Hawke, released a couple of weeks ago, created a viral trend on Twitter last week around the hashtag #ifthepurgewashappeninginreallife. Apparently not launched by the movie studio, it went farther than the typical #moviename hashtag, using a phrase to create the conversation and engage people. Trailers ans posters used to refer to the movie official website as a way for fans to find out more. Now they list the social media platforms, or even go further by just using a hashtag. The last James Bond movie had no website or Facebook page mentioned on its poster and trailer, only #Skyfall, an interesting move to encourage the fans to connect on Twitter and discuss the movie.

Television is not far behind, or is it ahead? HBO announced this week that Game of Thrones' episode "Red Wedding" was the most social of any HBO show ever.  Twitter went on a frenzy last week when its second to last season 3 episode aired, and fans massively reacted to its shocking outcome. The episode got more than 700,000 mentions all social media platforms combined. Search #RedWedding on Twitter and you'll understand. Hashtags are also often used to promote Kickstarter projects, and participate in film festivals and panels, without physically attending the events.
So whether you are a filmmaker, writer or movie lover, join the conversation with us, search for #FilmAnnex and use it in your tweets so we know who you are and what you are talking about. And if you want to follow the conversations I'm interested about, follow #SocialMedia #SocialMediaPromotion #FilmPromotion #FilmIndustry and #FutureOfFilm.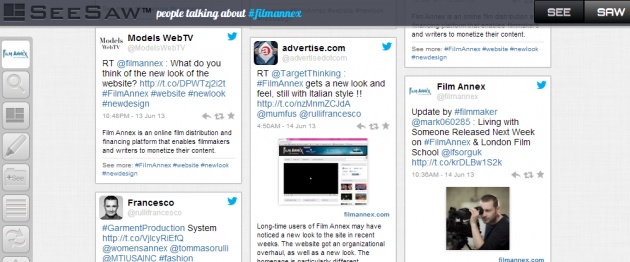 And while you're on Twitter, have a look at the profile of the creator of #hastags, @chrismessina.
#HaveAGreatWeekEnd
- Jennifer