Video Credits: Sharon Lopez via Bitlanders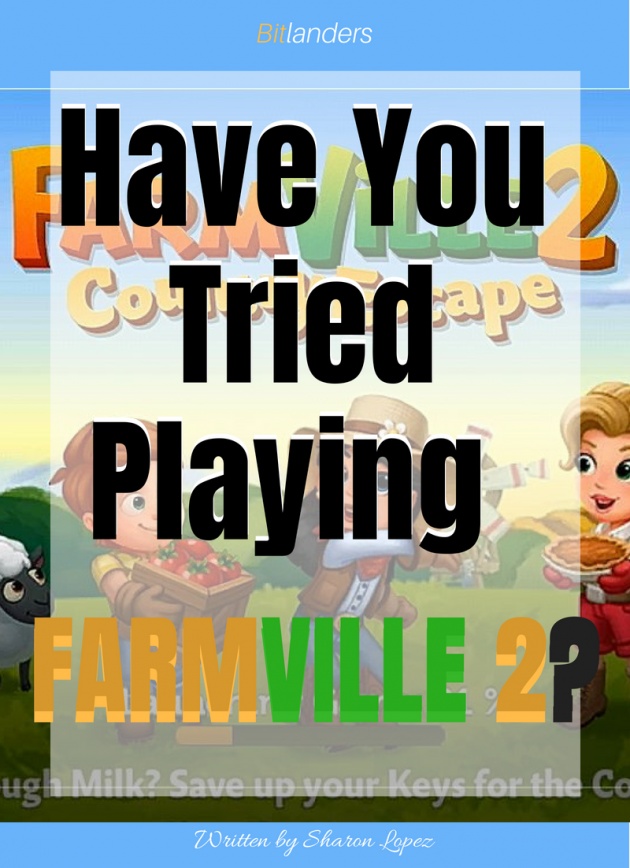 Image Credits: Sharon Lopez via Bitlanders
I came across FarmVille when I started using Facebook in 2010. I like the concept of the game and honestly, it was addicting! Zynga, the game developer really knows how to capture and retain the player's attention. I was not really an avid gamer because when I started exploring online my main goal was to find an activity that will give me an additional income. Admittedly, I don't spend much time with an activity or a site that will not pay me for being active.
I witnessed how people went crazy over this game. I have seen beautifully designed farms. I frequently overheard it as the topic during conversations among peers. I received a lot of invitations. I felt sorry but my time was limited and I need to spend it to more worthwhile activities. Until slowly, people began to lose enthusiasm for the game.
In September 2012, a new FarmVille was introduced.
Image Credits: Zynga.com
FarmVille 2 Country Escape is different from the original FarmVille is many ways. The game can now be downloaded from Play Store for free.
How it differs from the original FarmVille?
1. The graphics are more realistic.
Image Credits: Zynga.com
There is a great improvement on the graphics of the game. The moving images added thrill and excitement to the players. More animations can be expected from this version of Farmville. The program was developed using 3D technology.
2. The plants no longer wither

Image Credits: Sharon Lopez via Bitlanders
Unlike the original version of the game, the plants in Farmville 2 will not die or become dry and shriveled even if you failed to harvest it immediately. Thereby, you will no longer have to worry that you may lose a coin had you not been able to play at a certain time.
The process in the new game is water-wait-harvest-sell. you don't need to plow the plot, unlike the old game. Moreover, you don't need to buy seedlings every time. You only need ample water supply which can be gathered at no cost. So long as you have the plot intended for a certain variety of plant, all you need to do is water the plot. The plant will grow and will be ready for harvesting at the designated time. Even the tree-bearing fruits need water in order to give fruits.
3. The crops will be stored in a barn and the player will be the one to sell it.

Image Credits: Sharon Lopez via Bitlanders
You have to sell your crops after harvesting. The original game automatically credits the coins upon harvesting. In the new Farmville, you have to sell your products before you could earn a coin.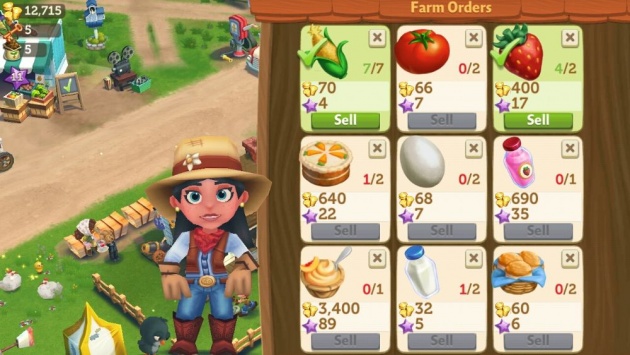 Image Credits: Sharon Lopez via Bitlanders
4. No Facebook required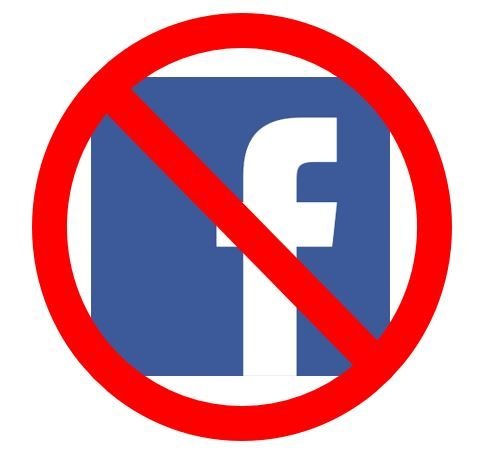 Image Credits: Sharon Lopez via Bitlanders
You can start playing the game even without a Facebook account. Although you can still connect with your friends who are playing the game. No more worries about spamming your Facebook friends who might not be interested in playing the game.
5. The game can be played offline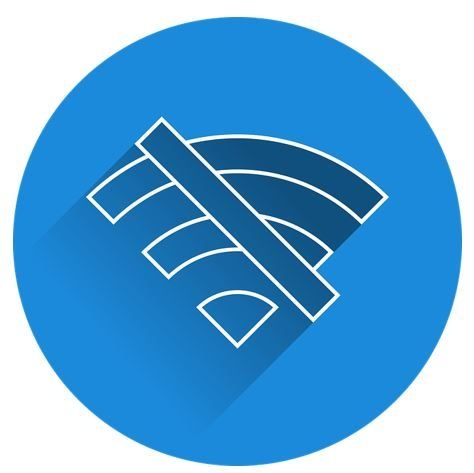 Image Credits: IO-Images via Pixabay
Worried about having no data and internet connection at your current location? Cheer up! Because you can now play the game even if you are not connected with the internet.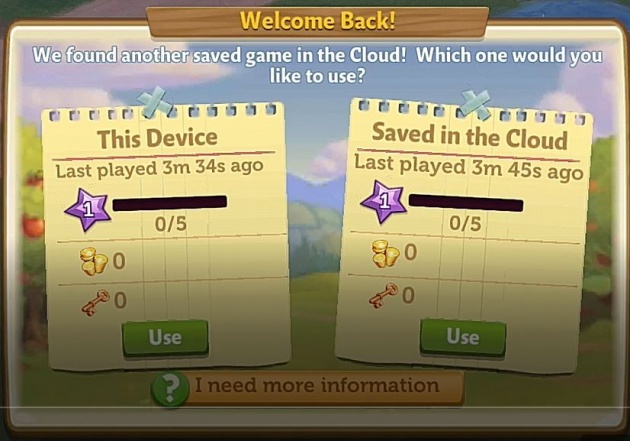 When you open the game, you will be prompted if you would like to play using the data saved in the cloud or using the game with the data saved on the device. Meaning, you can play the game anytime, wherever you may be, and with or without the internet.
Trying the Game Myself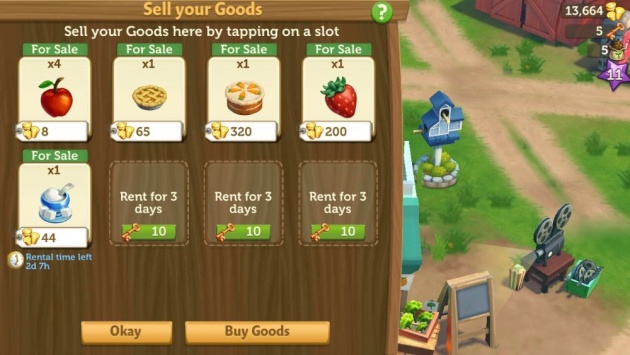 Image Credits: Sharon Lopez via Bitlanders
I wasn't aware of the new version of the game until I heard officemates exchanging crops and other farm products during breaks. Knowing that it is a new game, I decided to try it myself. I am enjoying the game especially every time I level up. No wonder why some people are so addicted to this game and some are even spending their own money to level up faster.
There are also pieces of equipment such as pastry oven, windmill, stovetop and more that you need to buy in order to made some products such as cakes, flour, sugar and other products. These things will give XP points in order to level up and coins in order to buy the necessary things.
Challenges:
One of the challenges I encountered as I am just starting to play the game is the limited capacity of the Barn which will prompt you to upgrade every time. The upgrade will cost coins. I am aware that I will be experiencing more challenges as I continue to play the game.
Here is my another video as I moved to Level 12.
Video Credits: Sharon Lopez via Bitlanders
Can We Earn From Playing the Game?
Technically, I haven't discovered yet as to how we can earn real money by playing the game. We are aware that the money we acquired within the game is intended for purchasing items we need for leveling up and making the farm more attractive. Farmville is not a game of chance or luck. It is a game of cause and effect. A strategy game. The more you work, the more you earn.
The only way that I know in order to earn real money from playing Farmville 2 is through writing. You can create your own blog or you can use it as a topic when writing for other sites. This topic will fall under the entertainment or game category.
1. You can write a blog or an article about it. With millions of people playing the game, you are assured of having huge target readers. People are searching for information regarding the game. The more knowledgeable you are about the game, the more information you can give.
2. You can offer tricks on how to level up faster. Some people are interested in those kinds of information.
3. You can provide technical assistance to other players.
On the final thought...
Playing some game from time to time can help release tension and stress caused by our everyday work and activities. How about you? Do you play this game? Share with us your story!
Before you leave the page, please take time to answer this Querlo Chat Survey...
DISCLAIMER: The views and opinions expressed in this blog post are that of the author and does not in any way represent the agency or department she currently belongs.
ADDITIONAL NOTE: The sites mentioned in this post are for information purposes only and links are provided for easy access. The author does not receive any remuneration from the said companies or sites.
______________________________________________________________________________
Written for Bitlanders
by Sharon Lopez
Date: August 19, 2018
Visit my blog profile for more BLOG POSTS
Let's connect on Facebook
Want to earn from sharing your opinions through blogging? Join us in Bitlanders and claim your 1 DOLLAR REWARD upon signing up. CLICK HERE TO JOIN