Image edited in Canva credits: Jean Beltran via bitLanders
With my goal of sticking with wholesome food to keep my weight down, it takes a lot of hard work and patience to be consistent especially when I am in a mall or out of the house. Finding a place where food is not all about beef or chicken is somehow hard to find in Cebu City where the majority of the people living here are meat eaters.
I have been a Pescetarian now for more than two months, I had been a Pescetarian since I moved from Dubai back to Cebu City but stopped for awhile when I gave in to temptation. But this year, I am trying to keep it that way for my health and for my future self. I have been an audience in a social media group of Vegans here in the Philippines and I could say that a vegan diet is really refreshing and liberating. Sometimes, I would like to give up on fish too and eggs because of their posts about the suffering of the fishes when caught. That eating cruelty-free food is the way to go.
But I just can't give up on fish and egg as well as milk right now because if I would, I don't know anymore as to what food am I going to dig in when I crave for something meaty. I still need more knowledge on what specific food should I eat. But again, this is not about my way to a Vegan lifestyle. I just want to eat food which doesn't contain red meat such as beef, pork and chicken and as much as possible, I should be eating whole raw food like greens and fruits.
Video credits: Jean Beltran via bitLanders
However, there are really times when I crave for something just like the other night when I was about to watch the movie Avengers: Infinity War at Ayala Center Cinema, I was feeling a little hungry and I had been wanting to eat nachos. I couldn't eat one which is packed because they are just junk foods gladly, I found Toniq Detox Juice Bar. I didn't hesitate to get inside although it was quarter to nine and was about to close, they happily entertained me!
TONIQ DETOX JUICE BAR EXPERIENCE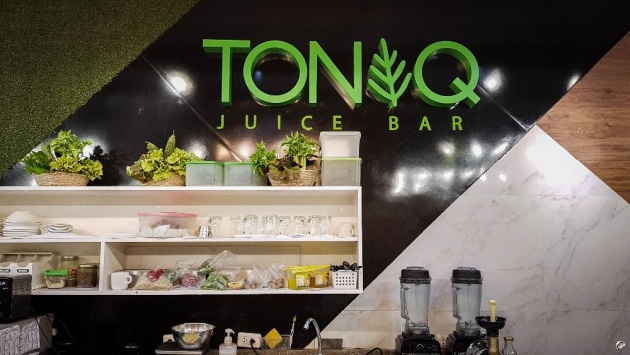 Image credits: Jean Beltran via bitLanders
"Good Food is Good Mood"
Toniq Detox Juice Bar was originally a juice bar but extended its menu options to whole foods and healthy options by partnering with local farmers who supply their raw ingredients. The owners believe that good food matters so they want to provide their customers with fresh, vegan and vegetarian choices in a convenient way.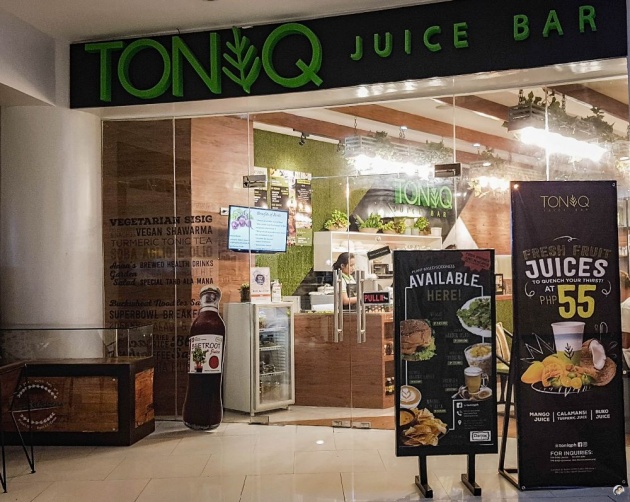 Image credits: Jean Beltran via bitLanders
I passed by Burger King then I spotted my favorite corner where real plants are hanged in the walls of Toniq Detox Juice Bar. Although I have known this food spot for some time, I had never dined in here so I thought I should get a juice and nachos here.
From outside, I could see its earthy design. Green and brown paired with lots of piles of wooden crates from each corner. The seats have their respective throw pillows of green as its dominant color. It has instagrammable rustic and farmhouse inspired tables and seats! I couldn't help but look into the ceiling lights which were also adding good ambiance to the bar. A wall with artificial grass too was eye-catching and the little details which add to its interior design like the fresh fruits at the counter tables displayed that which give me a feeling of fresh goodness!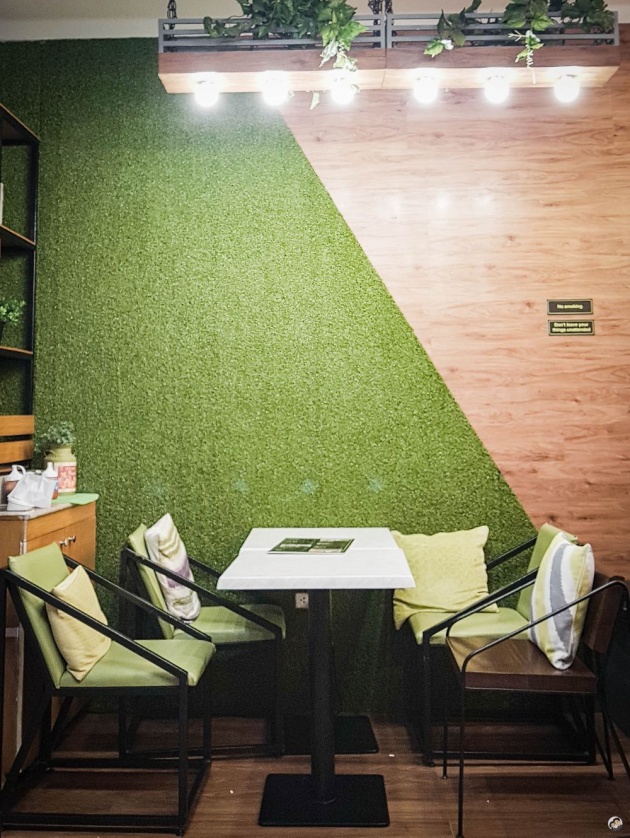 Image credits: Jean Beltran via bitLanders
I was kicking to take photos but I had to place my order first. There was only one customer around and she was about to go out and inside my head, I was thankful because I can take photos without any person around.
Since it was 8:45 PM, I had only ordered their Nachos N' Salsa for only Php 125! I matched it up with their fresh mango fruit juice, I was the lone customer by the time I sat on my comfortable long foam bench and I started taking photos after asking permission.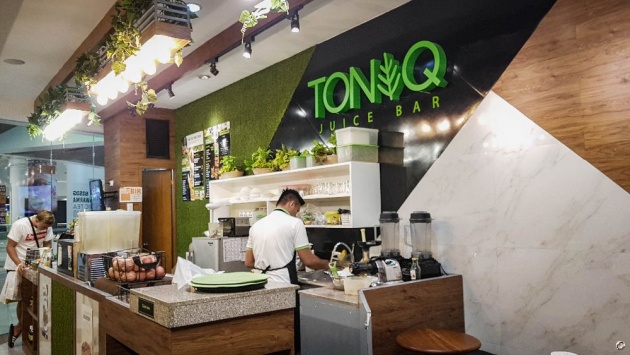 Image credits: Jean Beltran via bitLanders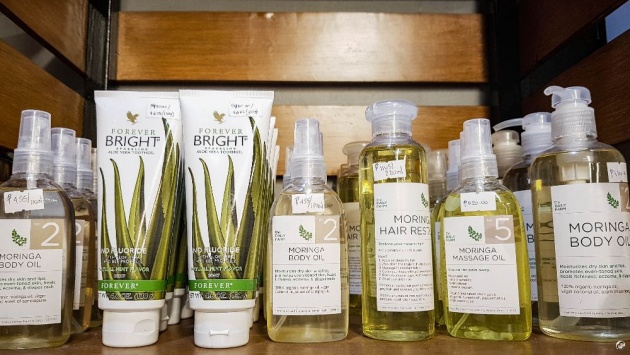 Image credits: Jean Beltran via bitLanders
Spotted are lots of wholesome products which the bar also sells aside from food! Items such as the Daily Farm's Moringa Bug Repellant, Moringa Body Oil, and Moringa soaps, there's Kayumanggi Organic's Golden Nectar which is a blend of ginger and turmeric (sounds really healthy), Sinamak's all natural turmeric suka or vinegar in small and huge bottles, Wild honey from the hinterlands of Davao and more!
Video credits: Jean Beltran via bitLanders
My order came right after a few minutes, its salsa was good enough for the nacho serving! The taste of smooth tomato salsa and the crunchiness of the nachos was a good mix! I flushed it off with my mango juice which made my tastebuds sang in glory! I love mangoes and I can eat or drink it every single day!
But Toniq Detox Juice Bar has more options and I looked it up to see if I could also eat here soon for lunch or dinner. I was surprised to find they offer Vegan Shawarma! It's low in calorie, low in carbohydrates and full of goodness plus it's vegan! Made with freshly chopped cucumber and tomatoes, white onion, Soy Meat, Homemade Chapati and Soy-based Shawarma Sauce, all that for Php 145! I must say the price isn't that bad at all!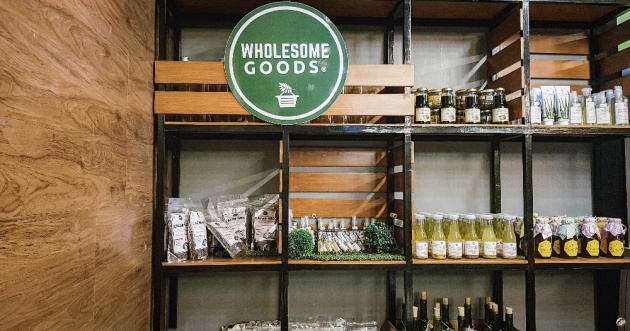 Image credits: Jean Beltran via bitLanders
They also got Veggie Burger which was interesting! I haven't eaten a veggie burger before and I look forward to having a bite on that. It's been awhile since I have eaten a burger, I would often eat a sandwich but the two are different plus Toniq's Veggie Burger is made of the homemade patty, fresh tomatoes, cucumber, Sunflower sprout and plant-based sauce. It's vegan of course and is low in calorie, carbohydrates as well as sodium! Oh, I can't wait to have my own!
Image credits: Toniq
I am also interested in their salad options! They have Anne's Green Salad, Beetroot and Pomelo Salad each serving costs Php 180, they have to-go options too where they place the salad in a jar! But I might want to get their soups too Malunggay Quinoa soup, as well as the Squash Quinoa soup, may be good for lunch paired with their bowl foods like the vegetarian sisig, eggplant adobo, spicy tofu stew and kimchi fried rice!
Image credits: Toniq
Above all, as they started as a detox juice bar, they as well offer an 18-Day Detox Program with their protein-packed and freshly-pressed juices which gives the wonders of detoxification. I might try that soon but 18 days is a bit of a long time, I wonder if that would mean just mainly juices in the entire time.
Image credits: Toniq
I felt relaxed and my tummy was happy without the guilt of eating unhealthy nachos this time. My tummy gets easily full these fast few days but I just forced myself to finish my nachos. I brought my juice outside as I believe the cinema entrance will be open soon.
I guess I have found a new place for healthy food options with all the tastiness and its affordability. Thanks, Toniq!
This blog entry was written and published by Jean Beltran-Figues for bitlanders.com.