Video credit: Jean Beltran-Figues via bitlanders.com
Bohol is pretty well known for its natural resources. The Chocolate Hills, Man-made Forest and cute Tarsiers. However, it is also a home to one of the best beaches in the country. Panglao island in Bohol has been famous for its pristine white beach among foreigners as well as the locals. This blog is intended to share the beauty of one of the most beautiful beach resorts in the island as a birthday treat for me and my husband but we consider it as a double date with my parents.
Disclaimer: All images and videos are mine, otherwise stated.
Photo credit: Jean Beltran-Figues via bitlanders.com
After much thinking, I decided that I should be treating my parents out because of how my parents are too busy and bored at the same time. One of them is busy with work as a government employee and the other is almost bored to just stay at home so I thought it would just be perfect for us to spend a day relaxing and that they wouldn't be thinking of anything else other then just enjoy.
I always wanted to visit Panglao Island, it has been ages since I last visited it. I believe I was still a very young girl the last time I was in that island. And after years of exploring other islands, I believe it is just time for us to also experience Panglao once again, my home province. And the best part of it is that the money that I had used to pay for this event was from bitLanders itself. It was my earnings for the month of January. It is then safe to say that bitLanders had sponsored this double date at Henann Resort.
But before that, let me also give a disclaimer that this blog is my own take to what we had experienced so far in Henann. Most of the time I also gets a little bit frustrated that I am not able to write the beauty or the location in words and even not being able to give proper justice to it through the photos we take. So, with that being said, there might be things which I'll be stating in this blog which you won't agree with. But, nonetheless please note that all information we in this blog is all my own.
A week before, I called Henann Resort's customer service desk and on my first call, there wash no answer. I messaged them through Facebook and they replied after a few hours stating that I need to call the customer service so we could get a reservation. However, the line was unattended on my second call. The third time, a sweet lady answered the call and courteously advised me that we can simply walk in my around nine in the morning and she also provided some more information about my inquiries.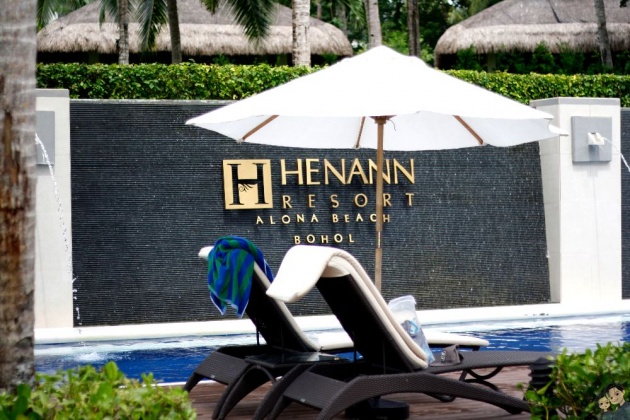 Photo credit: Jean Beltran-Figues via bitlanders.com
Cebu to Tagbilaran City
Came Friday, February 3, 2017 James and I boarded the ship en route to Tagbilaran City. While we normally go to Tagbilaran City via a first craft like Oceanjet, James and I decided to take the ship instead so we could also witness a sunrise in Tagbilaran seaport area. However, we realized the sunrise would be only visible from the other side of the island. That was an epic fail decision making. Not to also mention that James had a hard time getting sleep because of a lot of circumstances while onboard so I guess that would be our last trip via a ship.
Bound To Panglao
Although I am a Bohol-local, I am not really very familiar with Tagbilaran City. Well I can roam around and perhaps get to different places which I had been to before, yet I am not a pro when it gets to other areas like the jeepney stops going to Panglao and stuffs like that.
Both my husband and my own patience was tested when my parents whom I had already advised to be at the McDonald in Bohol Quality mall before eight in the morning advised me that they were still in Guindulman at seven so that means we still have to wait for them in another two hours. However they arriver earlier than expected but to our surprise, they were not in their swimming get up. In fact they don't have anything with them as they thought we will just gonna have dinner in Panglao. I had to go inside the mall and buy them some swimming outfits which took more time.
Then we couldn't decide if we should go for a public transportation going to Panglao or if we should hire a friend's vehicle. Since we were already running out of time, we decided to just hire the friend for 500 going to Henann Resort. It took around 15 minutes for us to reach the location.
First Impression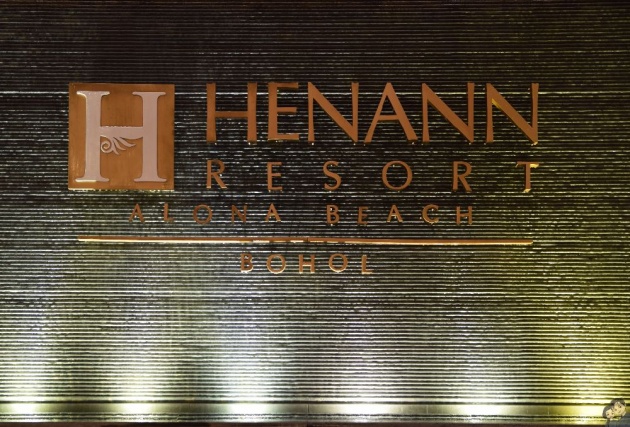 Photo credit: Jean Beltran-Figues via bitlanders.com
Upon reaching the main gate, I found it really fascinating, a huge print can be seen from the main gate. There's a great landscape too! The pathway going to the main resort was huge too! There were trees in the islands of the pathway and all I could do was keep my jaw closed!
We were just dropped by my mom's friend and they eventually moved ahead. We were left at the lobby and since that was my mom's first time to be inside that hotel, she can't stop but take photos every single corner! I myself can't hide my appreciation of the location too!
The lobby has its own chandeliers too and a long staircase extending from the ground floor to the second level. At the distant were a couple of smiling front desk personnel who were also busy accommodating their guests.
We were there for the day tour only however, there were specific flyers available at the front desk so while waiting, I had the chance to check the rates of the said five star hotel:
Check In Process
I can't really say that the check in process was smooth, there were couple of times that we had to wait for the front desk to finish something before we could get a feedback. Some information were not complete as well such as the lockers.
Aside from paying the day tour charges which actually includes a buffet lunch at one of their restaurants ( I will have to create a separate blog for that later), there's also another fee or shall we say deposit amount for the use of lockers. I don't really understand why they still require the guests who had paid for the day tour another amount even if it's just deposit and we were still able to get it back but it's really a big hassle for us too!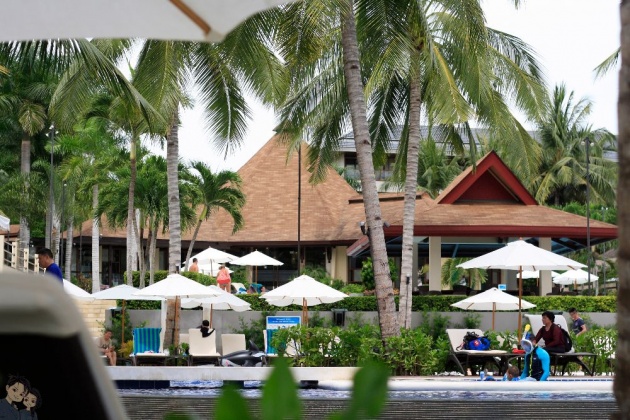 Photo credit: Jean Beltran-Figues via bitlanders.com
Anyway, we still have to get a locker since my parents have their bags and we need to keep it safe, don't get me wrong, I know the hotels is taking all the effort to keep their resort safe but we can't really tell.
The front desk finally gave us our waterproof wristbands which needs to be worn in our entire day stay at the resort. It's colored neon orange for easy identification. And a map was also given to us. This map shows the entire resort, it's a 6.5 hectare property and although we have access to most areas, we were advised that the only swimming pools we can use are the ones in front of the beach.
And off we went! Let's move forward to the next phase.
Exploring Henann Resort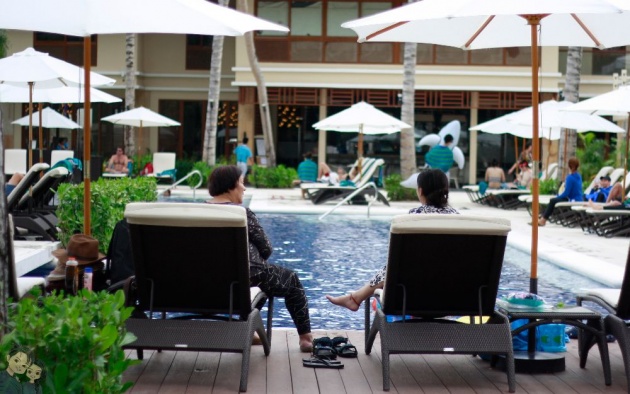 Photo credit: Jean Beltran-Figues via bitlanders.com
Four hundred accommodations, there's a huge convention center which can hold up to a thousand people, three major swimming pools, there are pool bars, lobby lounge, Spas, Shops, Coral Cafe, Beach club and restaurants such as Sea Breeze and Christina's Western Cuisine. These are just some of the amenities that the Henann Resort in Alona Beach Bohol, Philippines offers.
It's 6.5 hectare property is just facing the long stretch shore of Alona Beach in Panglao, Bohol Island and it accommodates all the listed amenities above however, it is not yet fully developed. There are still empty spaces which are still waiting to be constructed and developed in the future.
My favorite part of the resorts are the swimming pools. They had designed it to be very enticing, blue waters and peaceful lights in it which are turned on at night time to illuminate the beauty of the waters. There are pool bars too in each swimming pool which is great for those who gets hungry while swimming, no reasons to get out of the water then!
Then there are hotel personnel all around the area. These staffs are all smiles and obviously willing to help except for the one who was assigned in the lockers area. She seemed a bit disoriented when we were asking for it, I guess she was not feeling well. But overall, most of them were really friendly. My favorite staff was the lady in the pool bar in front of the beach who allowed us to charge our batteries while we were enjoying the waters.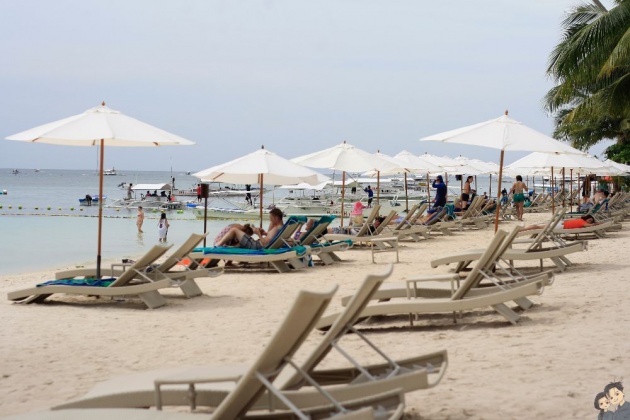 Photo credit: Jean Beltran-Figues via bitlanders.com
There were also native huts which I believe were accommodations too! We were not able to get into that part since they were private ones which can be accessed only by the ones renting the space. It actually looked like they have their own place inside the resort.
One more thing that I like about Henann is their waterfall design. From the main lobby to the swimming pools, these raining effect waterfall walls are effectively of great design!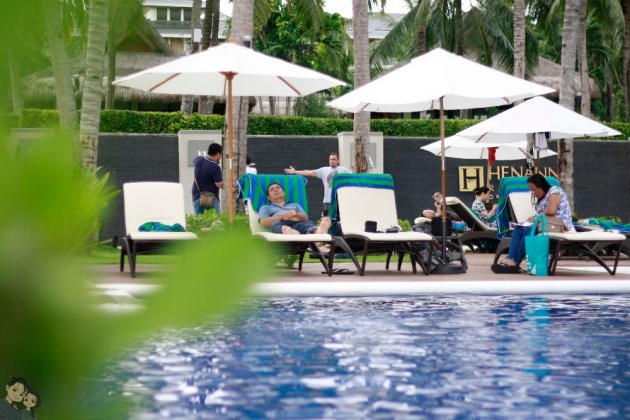 Photo credit: Jean Beltran-Figues via bitlanders.com
I do have to also mention that the comfort rooms are gorgeous. While taking a shower, I actually felt like I was under the rain! There's a space in the shower room where one can change and the bowl is also located on a separate cubicle, complete with tissues and fresheners! There's a huge rattan-made lounge inside the comfort room and a huge palette of mirrors! Unfortunately, the outlets seemed to be not working, I am not sure if that was really working or perhaps they had just turned it off so no one can use it. They all look new but I couldn't get my charger into the female plug.
Towels, Soaps and Shelter
As part of the day tour, we were all given our own assigned towels of color green, blue and white stripes. There were also sets of shampoo, conditioner and soap which was a generous offer. I still have them kept with me and I guess we will still be able to use it for the next trip.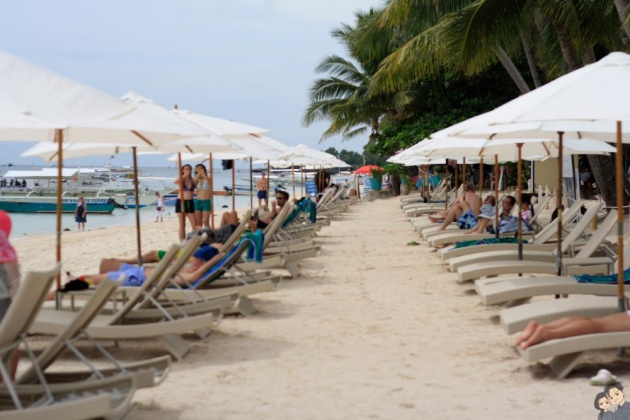 Photo credit: Jean Beltran-Figues via bitlanders.com
Lovely white beach umbrellas are distributed along the beach and the pool sides each with white collapsible beach chairs too. The resort has the most number of swimming pools in the island, a total of three crystalline pools to choose from. Each swimming pool features its own bar that delivers a more unique and pampered experience.
We found our own chairs facing the beach front, in the right side of the resort, near the locker rooms. We got a great spot since it has immediate access to the back resort and the beach too. It was a bit far form the cafe but it's still a good spot.
Buffet Lunch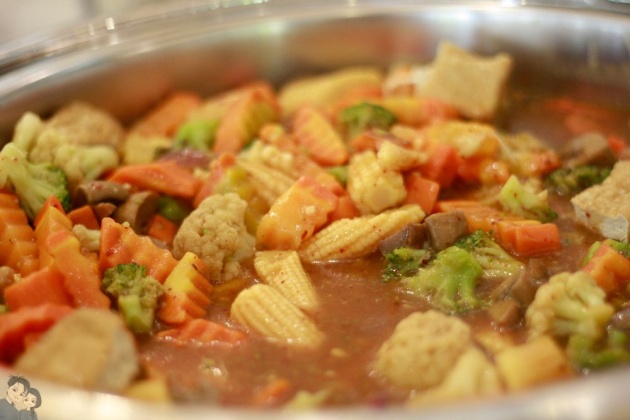 Photo credit: Jean Beltran-Figues via bitlanders.com
It was jam packed lunch at Sea Breeze Cafe but although there were lots of people around, we still got our own reserved space plus got the chance to try most of the available foodies and goodies.
I had the chance as well to take photos and videos, gladly, they had allowed me to take a 180 degree time lapse of the area facing the displayed food. My parents and husband couldn't really take much food into their stomach. They had surrendered a few minutes after getting their second batch of plate food.
I however, tried to taste all available viands and even desserts too! I will have to create a separate blog about the buffet lunch.
Overall Rate: 9/10 Stars
Cleanliness, interior design, construction and management wise, the resort is indeed world class. I am glad I had given the chance to share this experience with my parents. They had enjoyed it and my mom can't help but post all of her taken photos on social media!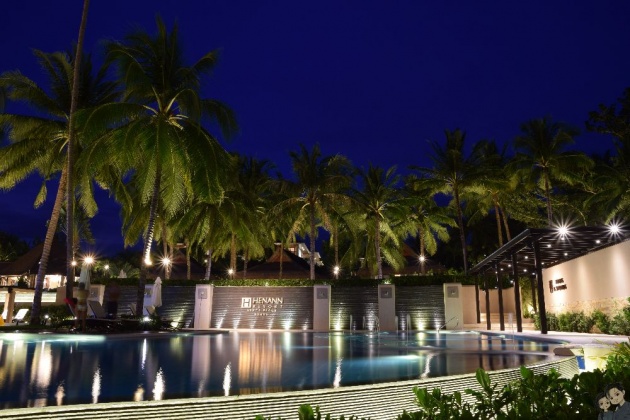 Photo credit: Jean Beltran-Figues via bitlanders.com
I am rating it 9/10 because I believe they can do better in terms of customer service from the front desk. Checking in and out of the guests can be enhanced to lower the waiting time. Plus I can't forget the look I got from the locker personnel. She seemed disturbed by our questions and although she had tried to be polite, it was pretty obvious she was not really that happy serving us.
That's the only reason for the one point deduction though but overall, I had fun plus we got time to also take long exposure shots of the resort at night which produced cool results.
I am thinking of coming back in the future but perhaps I'll ask if we can dine in at one of their cafes instead of staying there for the entire day. Still, it is one memorable double date with parents.
Video credit: Jean Beltran-Figues via bitlanders.com
Copyright Jean Beltran Figues
bitLanders user since 2015