The herat located is in the west of Afghanistan and herat is a big city and herat One big majorcitiesin Afghanistan The ancientcitiesofHerat,AfghanistanLikemanyancientSarhay CastleAkhtyaraldyn,gazargah shref,msjed jama,and etc.
And herat city is very nice his people is very hospitable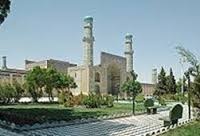 And the youngs herat have interest to knowledge Sohowmany of grand men Born in Herat and They weregreat for example khaja abdulah Ansari,mahjoba heravy,and etc.
And herat has very nice weather and very clear relation to other provences because herat has large months .
And neither of herat are farah ,badqhis and etc.
Heartof the past Great progresshas for example Industrial Estates Businesses and etc.
Of area Universities.
and in the herat Women's Rights alsoObservance.
And Security in herat is very good relation to same provences .
And at the end herat is a very nice city and very big and one of the important of Afghanistan city and one of the Historical city and Flourishing our country afghanisغcituof thethe important of afghanistantan.