HISTORY OF PAKISTAN

Quaid-e-Azam Muhammad Ali Jinnah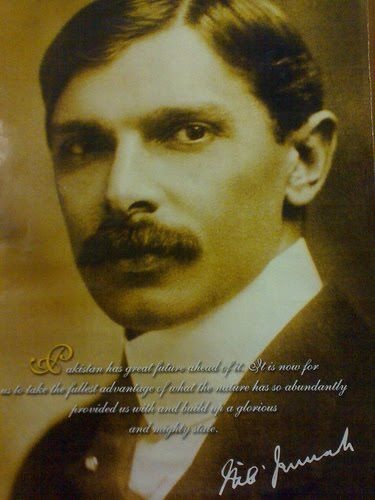 Quaid-e-Azam Muhammad Ali Jinnah is my hero in history. he was born in karachi 0n 25th December, 1876. He recevived his early education at karachi. Then he went to England and returned as a Barrester. He started his practice in Bombay and did very well as a lawyer. His fame spread far and wide. The Quaid-eAzam joined the Indian National Congress in 1905 and advised the Hindus and the Muslims to unite to fight for freedom. But the Congress disappointed him because it was working for Hindu Raj in India. He, therefore, separated himself from the Congress. He tried his best to unite the Muslims. He joined the Muslim League and brought the Muslims on one platform.
On 23rd March, 1940, the famous Pakistan Resolution was passed under his aedentleadership at Lahore. He declared that the Hindus and the Muslims were two completely different nations. Their likes and dislikes, their cultures, rites and customs and their religions are totally different from each other. He damanded a separate homeland for the Muslims of India Where they could lead their lives according to their own religions and cultures. The Hindus opposed this demand and the British refused to accept this demand. But QuaideAzam was as firm as rock so he did not budge even an inch from his mission. He led his nation to the right direction and forced the British rulers to yield to his demand. Thus, after a long struggle and numberless sacrifices of property and life, Pakistan came into existence on 14th August,1947.
The Quaid-e-Azam became the first Governor General of Pakistan. In his address to the first Constitutional Assembly, he advised the assembly to frame such laws as could uproot social evils like nepotism, bribery, smuggling from Pakistan. He granted freedom to every citizen of Pakistan to live according to his own religion. Everybody was free to go his place of worship.
The Quaid eAzam did not discontinue his work despite his failing health. He Worked from dawn to dusk for the welfare of the Pakistani people. Al long last, he died on 11th September, 1948. May God Shower his blessings on Him! He is my Hero in History.
Liaquat Ali Khan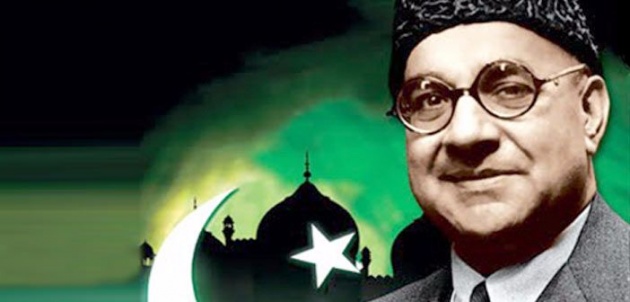 Nawabzada Liaquat Ali Khan, the second son of Nawab Rustam Ali Khan, was born on October 1, 1896, in a Madal Pathan (Nausherwan) family. He graduated in 1918 from M. A. O. College, Aligarh. After his graduation, he was offered a job in the Indian Civil Services, but he rejected the offer on the plea that he wanted to serve his nation. He married his cousin, Jehangira Begum in 1918. After his marriage, he went to London for higher education. In 1921, he obtained a degree in Law from Oxford and was called to Bar at Inner Temple in 1922.
On his return from England in 1923, Liaquat Ali Khan decided to enter politics with the objective of liberating his homeland from the foreign yoke. Right from the very beginning, he was determined to eradicate the injustices and ill treatment meted out to the Indian Muslims by the British. In his early life, Liaquat Ali, like most of the Muslim leaders of his time, believed in Indian Nationalism. But his views gradually changed. The Congress leaders invited him to join their party, but he refused and joined the Muslim League in 1923. Under the leadership of Quaid-i-Azam, the Muslim League held its annual session in May 1924 in Lahore. The aim of this session was to revive the League. Liaquat Ali Khan attended this conference along many other young Muslims.
Liaquat Ali started his parliamentary career from the U. P. Legislative Assembly in 1926 as an independent candidate. Later he formed his own party, The Democratic Party, within the Legislative Assembly and was elected as its leader. He remained the member of the U. P. Legislative Council till 1940 when he was elected to the Central Legislative Assembly.
Pakistan: Crossroads of Asia

The modern state of Pakistan was established In 1947, but the region that it encompasses a history that dates back more than five million and overlaps with that of modern India, Iran, and Afghanistan. The region is the crossroads of the ancient trade routes. The rich, diverse heritage permeates every aspect of life. Pakistan is full of the most beautiful sites. History is everywhere in Pakistan. You can explore the historical sites of Mohenjo-Daro, Harappa, Taxila-seats of the ancient Indus Valley.
Highlights of Pakistan:
There are three major cities of Pakistan.
 Lahore famous for its Mughal architecture
 Twin cities of Islamabad and Rawalpindi
Islamabad
Pakistan's green capital. It was built in the 1960s to replace Karachi as Pakistan's capital. Located on the potohar plateau near the medulla pass in North West of the country.
Places of interest:
Rose and jasmine garden, Pakistan's Museum of natural history, Faisal mosque, Daman-e-Koh, murghzar Mini Zoo and children's Park.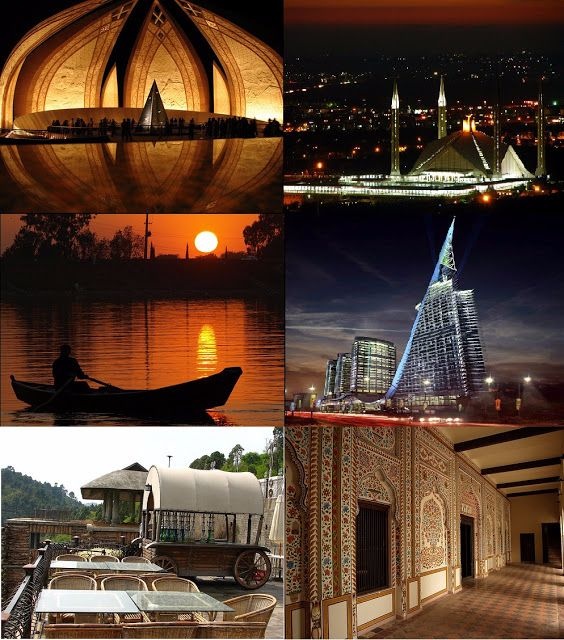 Lahore
Lahore has been the capital of Punjab for nearly 1,000 years. Besides being the Mughal show-window. Lahore is the cultural, cadmic and an intellectual Centre of Pakistan.
Places of interest:
Wagah border, Badshahi, mosque, Shalimar Gardens, Lahore Museum.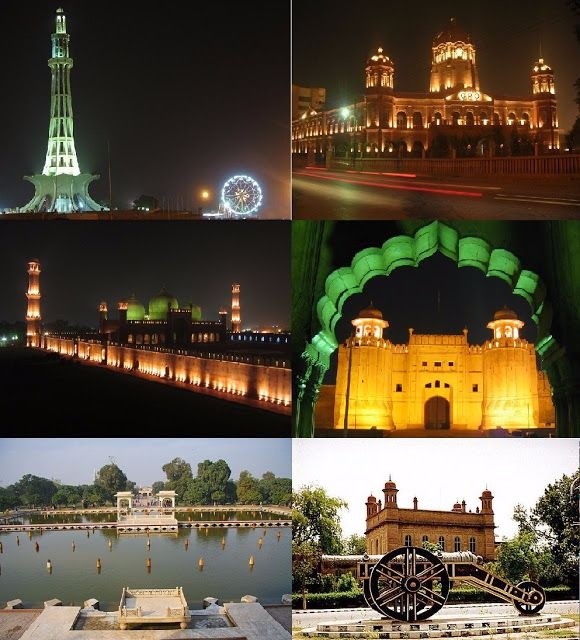 Karachi
Commercial capital on the Arabian Sea. Karachi, The city in Pakistan, was originally a small fishing settlement.
Places of interest:
Wazir Mansion, Clifton,Quaid-e-Azam's Museum.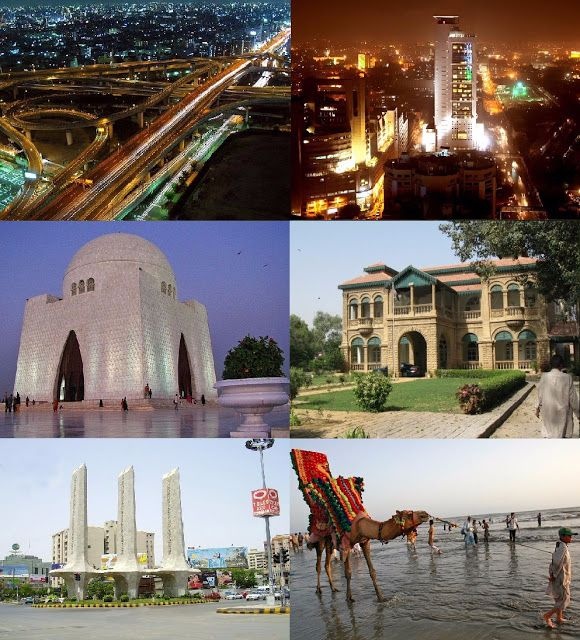 Peshawar
Frontier city, the name means 'city of the frontier', is the capital of Pakistan's North-west Frontier? Province. For, centuries the main route for Invaders from the west, the city has been fought over, Captured and recaptured for more than 2,000 years.
Places of interest:
Peshawar Museum, Sethi house, Khyber Gate, Peshawar fort.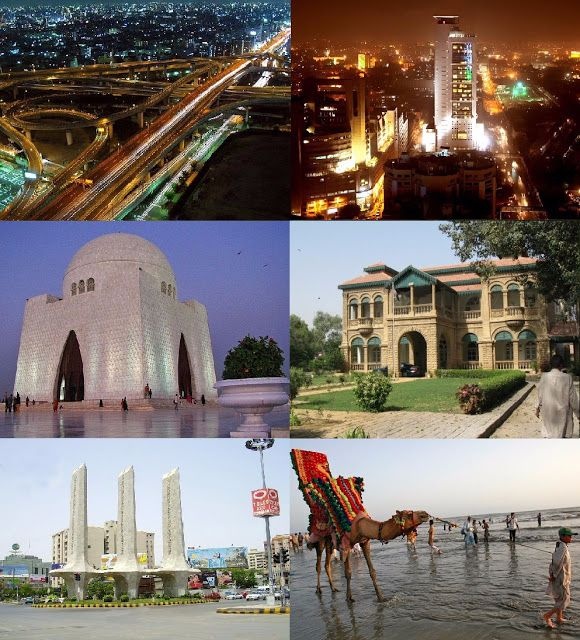 Muree - 'Queen of hills'
Muree, known as the Queen of Hills is an hour drive northeast of Islamabad. The hills are offshoots of the Himalayan range of mountains. It was built during the British Raj, for officials to escape from the summer heat of the Punjab.
Places of interest:
Patriata, Patriata Ridge, Mall road, is great attractions.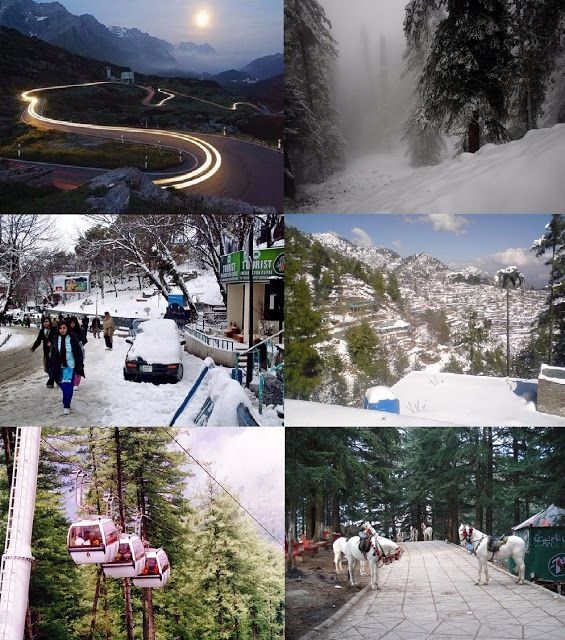 National Anthem(Qaumi Tarana), Pakistani Culture

Pakistani national Anthem was composed by musician Ahmen G. Chhagla in 38 different tones, and its playing time is 1:20 minutes approximately.
The national anthem was written by famous poet hafeez jalendary in 1952, which was selected from 723 competing songs and the prize money was Rs. 10,000 at this time.
Pakistan's national anthem is written in Persian language and it has only a single word "ka" in its "national language" Urdu.
Singers were Ahmad Rushdi, Shamim Bano, Kokab Jehan, Rasheeda Begum, Najam Ara, Naseema Shaheen, Zwar Hussain, Akhtar Abbas, Gulam Dastgir, Anwar Zaheer and Akhtar Wassi. The national song was first released on radio Pakistan on Aug 13th, 1954.
The first color film with flag and anthem was produced on January 19th, 1955 in USA
Islamic Republic of Pakistan
QAUMI TARAANA
National Anthem
Urdu
Pak Sarzamin shah bad
Kishwere haseen shad bad
Tunishane azmealishan arze Pakistan
Marazeyaqin shadbad.
Pak sarzamin ka nizam
Quwate akhuwati awam
Qaum,mulk,sultanat
Paindia ta binda bad shad,
bad man zele murad.
Parchame sitarao hilat
Rahbare tarraqio ka mal
Tarjumane mazi shane hal jane istabal
Sayyai, khudae zul jalal.
English
Blessed be the sacred land
Happy be the bounteous realm,
Symbol of high resolve, Land of Pakistan.
Blessed be thou citadel of faith.
The order of this Sacred Land
is the might of the brotherthood of the People.
May the the nation, the country, and the state
shine in glory everlasting.
Blessed be the goal of our ambition.
This flag of the Crescent and the Star
Leads the way to progress and perfection,
Interpreter of our past, glory of our present,
Inspirartion of our future,
Symbol of Almighty's protection.
THE END