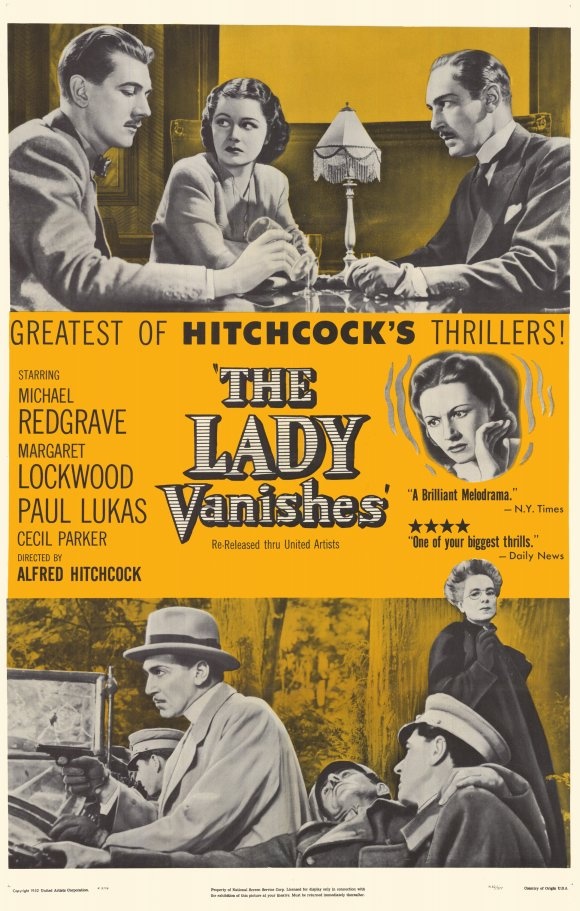 "The Lady Vanishes" (1938) was Hitchcock's last British film and widely viewed as his finest from that era of his career. The film displays his comedic sensibilities in a thriller/suspense genre and shows off the amazing acting performances that typify grade A Hitchcock. His movies are a joy to watch in part because of the troupe of actors/actresses assembled for his films. You almost begin to take it for granted watching great directors' films that the acting will be supreme. However, it is worth noting the performance of at least everyone with lines in his films. They all seem perfectly chosen if not slightly oddball.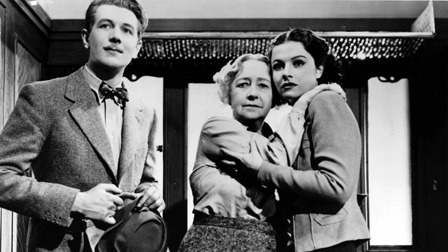 Hitchcock's ouevre of work is littered with cool icy blonde heroines but "The Lady Vanishes" has a brunette this go around, who's just as cool as the others. We arrive on the scene via a pan down into a town (in the mountainous European country of Mandrika? in some proximity to WW1) that has had an avalanche come down on the train tracks and strand some travelers in a hotel til the train is up and running. One of the hotel guests, Iris (Margaret Lockwood) is enjoying some time with her girlfriends before going back to England to be married. Iris boards the next train out with an older English woman also at the hotel, Ms. Froy (Dame May Whitty), who disappears after awhile. While all the people in her compartment (a strange bunch indeed), and others on the train deny ever having seen a Ms. Froy, Iris is determined to get to the bottom of it. Iris is the driving force of the film and while characters and plot devices (such as a garden planter that falls on her head) may conspire to keep her down, Iris keeps moving with her sidekick Gilbert (film newbie Michael Redgrave) in cahoots.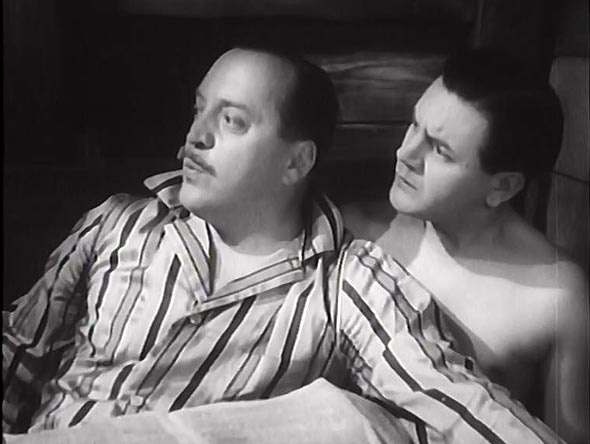 The woman as dominating figure in Hitchcock films is evident (Mother!!) and is on wide display here. When the hotel staff person, Rudolph, delivers room service to Iris and friends, they are all in their undergarments and we see a 'revealing' shot of each girl followed by his sunned, sheepish reaction. The women clearly dominated this space and made the man feel embarrassed. If Iris is the superhero, Gilbert truly is the sidekick. Ms. Froy is an English spy who is being hunted and later runs from a train under moderate gunfire to serve her country! The Italian middle aged woman in Iris' train compartment has a steely look of death about her; the nun with heels who ultimately controls the protagonists' fate; and 'Mrs' Tadhunter (Linden Travers) who talks toe to toe with her man. All these women are such strong, poignant presences and reduce the male roles to the sidekick, the gossipers (Charters & Caldicott), the unstable (the hotel manager and Italian magician) to name a few. The aforementioned Charters (Basil Radford) and Caldicott (Naunton Wayne) even share a bed in the maid's quarters of the hotel!!
"The Lady Vanishes" is classic Hitchcock with a gaggle of quirks. http://www.filmannex.com/webtv/baxter_martin/movie/the-lady-vanishes/19468 is where you can find it! And for all you old Charters & Caldicott fans out there, this is where it all started.