HONG KONG FILMART
It's been a hectic couple weeks as I've been preparing like a maniac for the Hong Kong Filmart. I've been an email warrior sending out requests for appointments and meetings and preparing as much pre-development material as possible. Just got my new one-sheet posters for the feature pitch and the short film printed.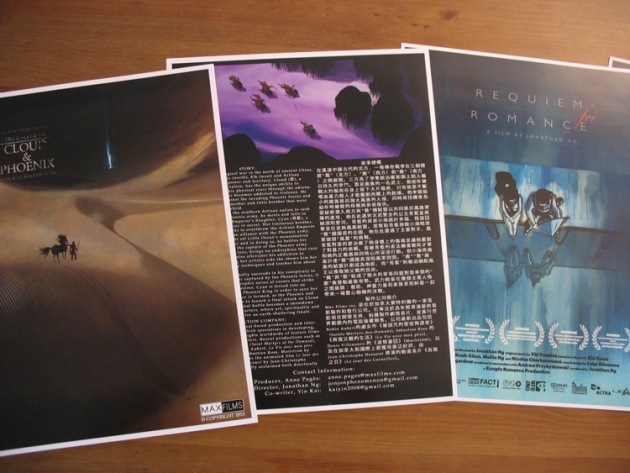 My co-writer Yin Kai has been working on the Chinese proposal while in Beijing. One thing that I've learned so far in preparation for a Chinese market proposal is that after the initial logline of the story and a few visual style examples, the most important information in the early stage is the financial investment information. And it's more than just knowing the overall budget. They want to know the proposed percentage of participation. The market share split of domestic and foreign markets, estimated revenues and recoupment plan. Another big focus is on the crew. Who is the director? Who is the producer? What is the track record of the production company? Awards. Prizes. Prestigious film festival selections have a lot of sway. Once this information is established, more visuals examples are required. Story details are generally withheld and come at the very end.
BEIJING
So far we have heard some positive feedback about our project, according to Yin. We have a couple really big meetings scheduled for Beijing. A mid-sized company called Cashflower is interested in meeting us and there is also the possibly of meeting with Galloping Horse, the company that bought Digital Domain after it went into bankruptcy. Other companies possibly in the mix are Wanda and Chinese Shadows. I've got my fingers crossed for some fruitful discussions.
SHANGHAI
After Beijing, I'll be coming home but animation producer Anne Pagès (Triplets de Belleville, Le Jour des Corneilles) will be continuing onto Shanghai to possibly meet with the famous Shanghai Animation Film Studio.
Still lots of work ahead... I'm almost burnt out and I haven't even left for the trip yet, but it's going to be an adventure.