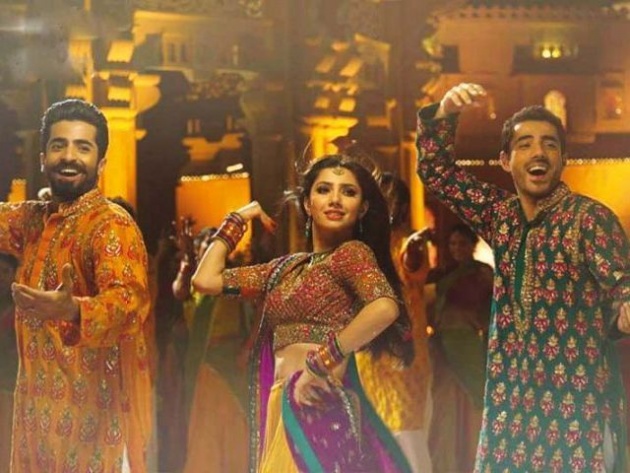 Don Draper, one of the finest characters in the history of television, sums up the concept of advertising in a very articulate manner. "Advertising is based on one thing: happiness. And do you know what happiness is? Happiness is the smell of a new car. It's freedom from fear. It's a billboard on the side of a road that screams with reassurance that whatever you're doing is OK. You are OK."
But the cinema-going audience does not behave like the typical consumer. They can't be fooled so easily because they pay for the ticket and over-priced popcorns to watch something they won't get to see for free on their television sets. Asim Raza aims for that marriage and ends up making Ho Mann Jahaan into a film that undermines the audiences' intellect by going for an ideal and literal closure to everything in its story world.
Arhan (Sheheryar Munawar), Nadir (Adeel Hussain) and Manizeh (Mahira Khan) study at the Institute of Business Administration. Arhan is the ugly duckling of the class. He doesn't get good grades and the teachers don't like him and his father scolds him all the time. Music is his true calling, which also makes him the anchor point of the unnamed band that also comprises Manizeh and Nadir. Manizeh's mother (Nimra Bucha) is a fine artist and her father (Jamal Shah), who lives alone, was a singer who left making music over religious reasons. She is a bright student, has an art-friendly atmosphere at home and is in love with Nadir who is the only child of parents played by Arshad Mehmud and Bushra Ansari. Nadir's family is quite affluent and protective about him. There's also this bassist who is only seen in the initial jamming sessions and the closing wedding scene; what typical treatment of a session player. Sonya Jehan makes her presence felt as an independent woman, despite the script not allowing her much room to explore her acting chops in her Pakistani film debut. The film takes a little over an hour to establish all this and that's not even the story of the film. Eventually their personal and professional goals intertwine to put together a film that is thoroughly a Pakistani offspring of Rock On!! and Student of the Year.
Ho Mann Jahaan is not a film about music, neither is it a film about musicians. It is a film about finding your true calling that uses musicians as an additive and not the cuisine. However it draws as many parallels with the Pakistani music industry as the number of Coke bottles appearing in it, which becomes a touch confusing for the audiences and insulting for the music industry. Guitarist Faraz Anwar once said, "Our society is so controlling that drummers end up picking up guitars because the neighbours next door have issues with the sound." The film nowhere brushes upon any of these realities of becoming a musician in Pakistan.
Having said that, Raza must be given credit for bringing an important issue to the forefront and that is of parents controlling their children's lives. So far the old and wise parents of Pakistani TV and film have only been guilty of arranged marriages but Asim puts them under scrutiny for controlling their children's dreams. Upon that, moving performance of both Mehmud and Ansari will convince many to change gears like the two parents do in the film.
Other than that, much like Bin Roye, actors try to save an irredeemable script. The scenes are needlessly long and sometimes many are used to communicate little, making it suffocating to sit through the 160 minutes of storytelling.
Despite there being no clear character of the band or the trio, the actors work hard to save each other's lapses and refrain from stealing each other's thunder. But a number of times, both Adeel and Sheheryar go over-the-top, such as the time when Adeel comes home crying and starts behaving like a drunkard and Sheheryar turns loud but not impactful in the one-on-one conversations. Mahira mostly deals the script flaws and hollowness with grace. Her experience reflects in a number of powerful close-ups.
On the downside, the excess of the same close-ups actually kill the film. One wonders why Asim opted for such claustrophobic shots for a film that has a very liberating theme and this proved to be a major disparity in the overall visual language of the film.
The childish one-liners, pointless symbolism in the dialogues and unrealistic characters fail to save it from becoming a never-ending journey with a predictable climax. So much so, that the entire third act is nothing more than just a series of confessions made by the characters to each other and not one is executed subtly. You don't always need a monologue to reveal important information and you don't have to make every wedding sequence look like a life insurance or tea-whitener advertisement. More is less seems to be Raza's way forward in the film world.
Verdict: Ho Mann Jahaan is a failed marriage between advertisement and film, and the rest is just too long to sit and absorb.
Published in The Express Tribune, January 1st, 2016.
http://tribune.com.pk/story/1019648/ho-mann-jahaan-bottles-half-empty/