The day to celebrate with colours is here again. The day to smear colours on everyone and give them a smile. Colours, colours and colours everywhere. Yes, it is time for some celebrations as the festival of Holi is here again. Holi is a festival celebrated in India and by Indians all over the World, to welcome the season of Spring.
Spring brings with it, colours of every hue. The time to forget the differences and bring a smile on everyone's face. Nature appears beautiful with youthfulness in full bloom. The time of chilled winter is over and people come out of their hibernation and welcome the season of Spring with colours. They indulge in singing, dancing and feasting.
How would life be without a dash of hue in it. It would be in mere black and white with all its monotonous moments, and ultimately the mundane existence. Life needs colours to brighten it up and to bring joy and cheer on everyone's face.
The festival of Holi has some religious significance as well. The festival has its origin in the vedic texts which sings the glories of Vrindavan with the glorious childhood pastimes of Lord Krishna with Radharani.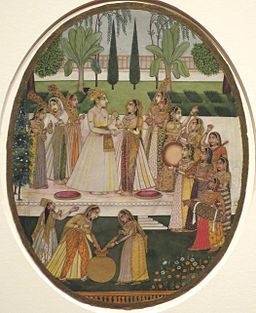 In olden days, colours were made of natural ingredients like the petals of flowers and many other herbs, which were considered good for the skin. The change in season also brings with it many diseases of the skin and it was considered very auspicious to smear colours on the skin.