Hollywood Movie Review - Baby Driver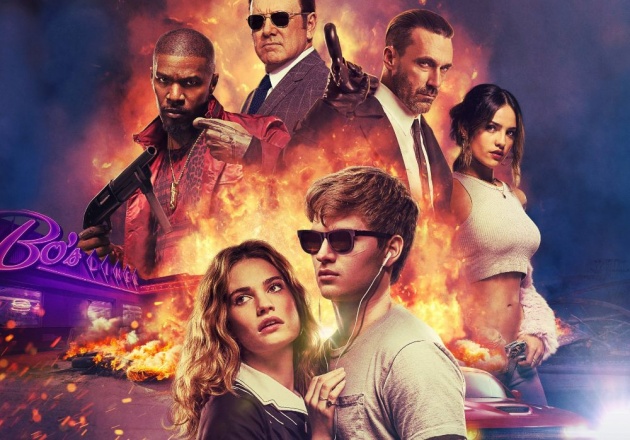 Image Credit: wall.alphacoders.com
✔ Introduction



Hello Friends, I hope you are doing fine and are having a good time on bitlanders. Today I have come up again with my another new blog with the title of "Hollywood Movie Review - Baby Driver". This blog is about a recently released Hollywood movie "Baby Driver". Friends, this Action & Crime genre movie is about a boy who works as a driver with a gang who have masterminded many bank robberies in the city. He wants to quit this bad job as soon as possible but he finds no other option but to work for the gang headed by Doc (Kevin Spacey) as he has to pay off the debt. what's more, the boy is suffering from a hearing deficiency in which he hears different sounds which actually are not around and he diverts his attention from those sounds by listening to music and that is why earpieces are always in his ears. This movie was directed by Edgar Wright and produced by Nira Park.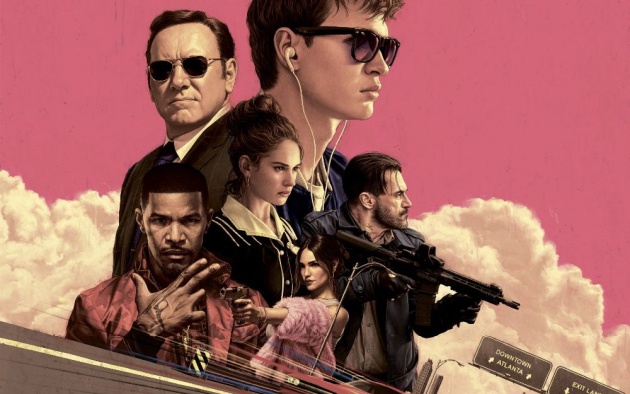 Image Credit: wall.alphacoders.com
The movie "Baby Driver" was released on June 28, 2017 under the distribution banner of TriStar Pictures. Some details of cast of this movie is as under:
✤ Ansel Elgort as Baby
✤ Lily James as Debora
✤ Jamie Foxx as Leon
✤ Kevin Spacey as Doc
✤ Jon Bernthal as Griff
✤ Eiza González as Monica
✤ Jon Hamm as Jason
✤ Flea as Eddie
✤ CJ Jones as Joseph
✤ Jon Spencer as Prison Guard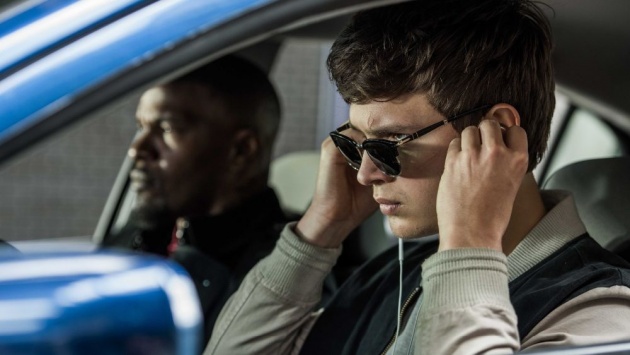 Image Credit: wall.alphacoders.com
It's not just the action sequences that strike a chord. The toe-tapping opening titles find Baby doing an on-foot coffee run to the beats of Bob & Earl's Harlem Shuffle, lyrics magically appearing on walls and signs in a scene as seamless as the opening freeway dance from La La Land. At times the songs serve as an on-the-nose Greek chorus, telling us that Baby has "nowhere to run to, nowhere to hide" as he's trapped in an arms deal. But it's when the horns and drums of the Button Down Brass's Tequila become gunfire, or the madness of Hocus Pocus by Focus drives a breathless chase, that Wright really puts his foot down, with exhilarating results.
Movie Review Extracts From: www.theguardian.com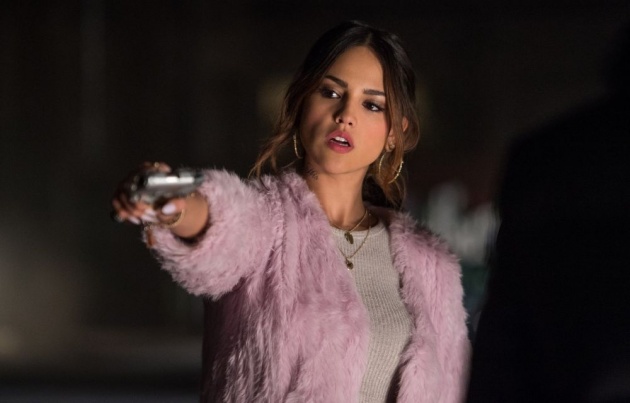 Image Credit: wall.alphacoders.com
Video Credit: TRAILER CITY via Youtube.com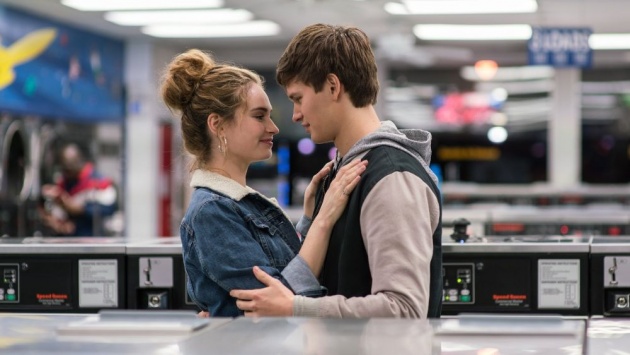 Image Credit: wall.alphacoders.com
✔ Movie Plot And Review
The movie begins as Baby stops his Red Subaru Car in one of the New York's City street opposite a bank. on the back seat, there are two men and a young woman (namely Buddy, Darling and Griff) who get off and go towards the bank for robbing. As they finish their work and bank hazard bells are on, the trio gets out of the bank and rides in the car as quickly as possible where Baby is about to drive his car like a rocket. Baby is a master driver as there are many Police cars behind him and also obstacles on the road which are unable to stop Baby. Baby soon reaches an already decided safer place and from there on, the young woman takes the driving seat in another car and the gang vanishes away. This is what Baby does, this is his job to provide his services as a skilled driver to a gang who has to be saved from the Police after executing their evil plan.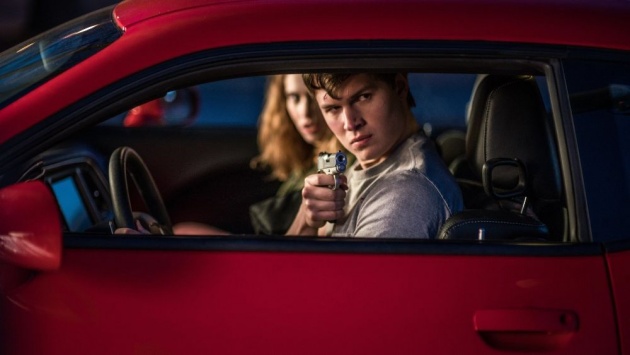 Image Credit: wall.alphacoders.com
Baby is a nice boy at heart and is being used by the gang for his driving skills. Baby had to be part of this gang because he had stolen a car belonging to Doc and now Baby has to pay off his debt to Doc in order to start a new respectable life. Baby frequently visits a Pizza bar and over there he meets a girl Debora and both of them start feeling love for each other with the passage of time. Baby wants to quit working for gang and wants to spend his time with Debora and his foster father Joseph to whom he gives a lot of respect. His parents died in a road accident while he was a kid and from then on, he developed a hearing problem for which he keeps earpieces busy in his ear for eradicating the lack of concentration problem. After his another successful heist, he quits the gang of Doc and starts working as a Pizza delivery boy. However, Doc still needs him and asks him to join for one last assignment. Doc threatens Baby that if he refused, he along with his girlfriend Debora would be in trouble.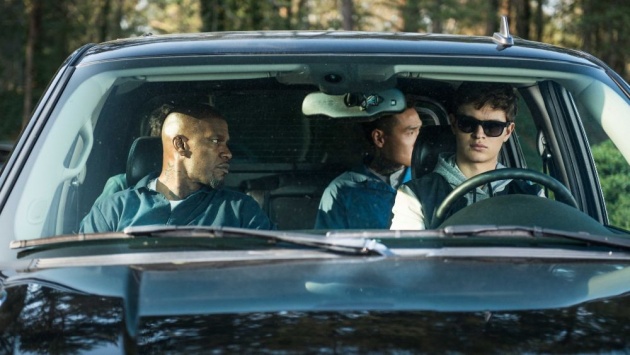 Image Credit: wall.alphacoders.com
Baby is now sick of ever increasing problem created by Doc and his demand to work for him again. He makes a plan to leave the place with his girlfriend to avoid Doc and his gang but his attempt fails as he is captured by Doc's men, however, they spare Baby believing his innocence and because of his future requirement. For his final job, he is given new team which includes Bats who is erratic and does not like Baby. During their heist, Bats kills a security guard and afterwards hits Baby in an altercation. Baby uses his driving skills to eradicate Bats but, in the meantime, Police starts chasing them and during the run, Police kills Darling. Buddy is very angry at Darling's death and he holds Baby responsible for that due to his altercation with Bats which resulted in this loss. Baby manages to avoid Buddy and escape in a car to take his father and then girlfriend to move away from the place. Doc helps him with some cash but Buddy appears and kills Doc and makes Baby his next target. Fight ensues between them, Debora helps Baby and they manage to kill Buddy to leave the city. However, they are caught by the Police and Baby is sent to jail. In the ending scenes, Debora waits for Baby after five years as he is released on a parole to start a new life together.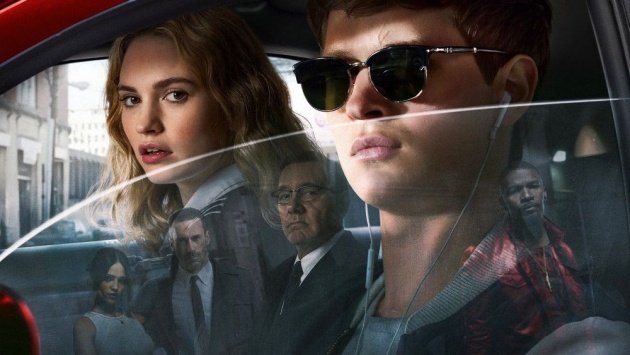 Image Credit: wall.alphacoders.com
Video Credit: ViPeZz via Youtube.com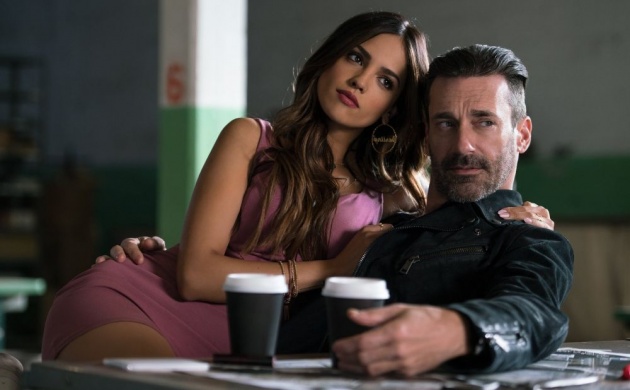 Image Credit: wall.alphacoders.com
✿ Here is Querlo Chat for you. Isn't it fun to chat with a Chatbot ?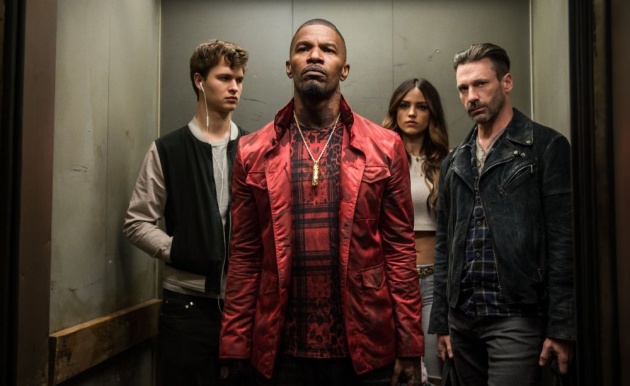 Image Credit: wall.alphacoders.com
✔ Conclusion
The movie "Baby Driver" is a very good combination of love, action, crime and thriller. The movie is very entertaining and the unique idea behind Baby's recordings and his listening to songs on his iPod while performing his job was very impressive. The movie is full of entertainment and is a must watch for a good time pass. Driving skills shown in the movie are awesome and car sliding as well as car racing were mind-blowing in the movie which created more and more interest in the movie. The best scene of the movie was, in which Doc allows Baby to leave with his girlfriend and helps them to move away citing the reason that he also fell in love once in his life and that's why seeing the true love between Baby and Debora, he got moved. It seemed pretty obvious that The Director and Producer worked hard for the movie. The movie won many awards and also got nominated for other international awards. The movie also managed to collect huge revenues on the box office and remained a Hit movie.
✿✸✔✤✪ - - - - - - - - - - - - - - - ✿✸✔✤✪ - - - - - - - - - - - - - - - ✿✸✔✤✪ - - - - - - - - - - - - - - ✿✸✔✤✪

Thanks for Reading. This Blog was written by Rafaquat Noman (a Resident of Saudi Arabia and a Traveler) for bitlanders.
✿✸✔✤✪ - - - - - - - - - - - - - - - ✿✸✔✤✪ - - - - - - - - - - - - - - - ✿✸✔✤✪ - - - - - - - - - - - - - - ✿✸✔✤✪