Hollywood Movie Review - Skyscraper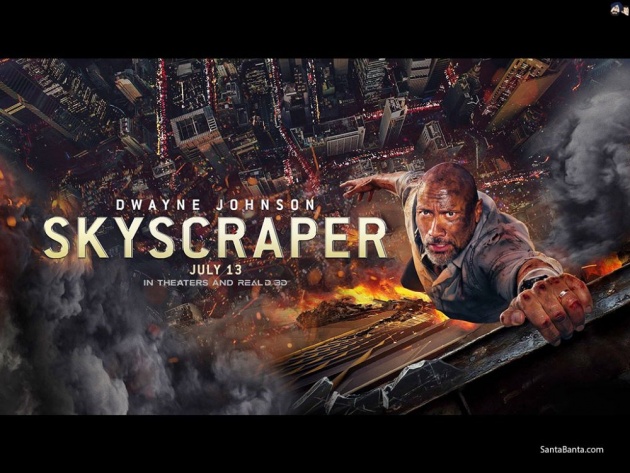 Image Credit: www.santabanta.com
✔ Introduction


Hello Friends, I hope you are doing fine and are having a good time on bitlanders. Today I have come up again with my new blog with the title of "Hollywood Movie Review - Skyscraper". Friends, this blog is about a recently released Hollywood Thriller and Action Movie "Skyscraper". This movie is about an ex-FBI Rescue Team Agent Will Sawyer, who loves his family and is living a happy life with them although without one leg which was amputated due to his injuries in last assignment in FBI. He is given a task to check security related arrangements in the newly constructed tallest building in Hong Kong. Will Sawyer visits the building with family and starts his work. However, his family gets into deep trouble as they are taken hostage. Will Sawyer has to again show his courage and love for the family which he does in style. The movie was directed by Rawson Marshall Thurber who also wrote the movie plot showing another skill he has. The movie was produced by Beau Flynn under the arrangements of Legendary Pictures Productions, LLC, an American Film Production House based in California, the United States of America.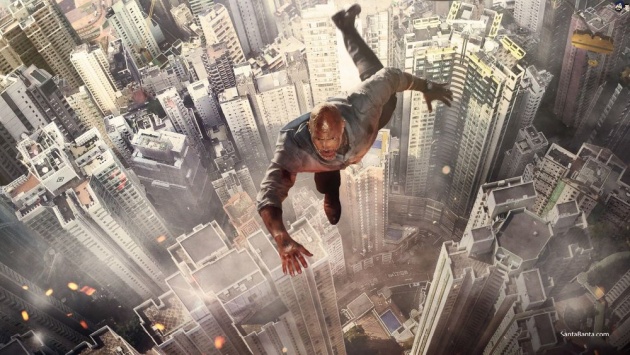 Image Credit: www.santabanta.com
The movie "Skyscraper" was released on July 13, 2018 under the distribution banners of Universal Pictures. Some details of cast of this movie are as under:
✤ Dwayne Johnson as Will Sawyer
✤ Neve Campbell as Sarah Sawyer
✤ Roland Moller as Kores Botha
✤ Noah Taylor as Mr. Pierce
✤ Chin Han as Zhao Long Ji
✤ Pablo Schreiber as Ben
✤ Matt O'Leary as Skinny Hacker
✤ Byron Mann as Inspector Wu
✤ Kevin Rankin as Ray
✤ Tzi Ma as Fire Chief Sheng
✤ Adrian Holmes as Ajani Okeke
Is it possible to get Rock fatigue? Can one's enthusiasm for Dwayne ever wane? How much you enjoy Skyscraper — the one-time Brahma Bull's fifth movie since spring last year (on top of another series of Ballers, no less) — will depend largely on your answer to that question. Rawson Marshall Thurber's Die Hard/Towering Inferno cut-and-shut tests how much you can allow Johnson's eyebrow flexes and pugilistic flair to obscure the physics-defying, plot-hole-punched preposterousness of pretty much everything else.
Movie Review Extracts From: www.empireonline.com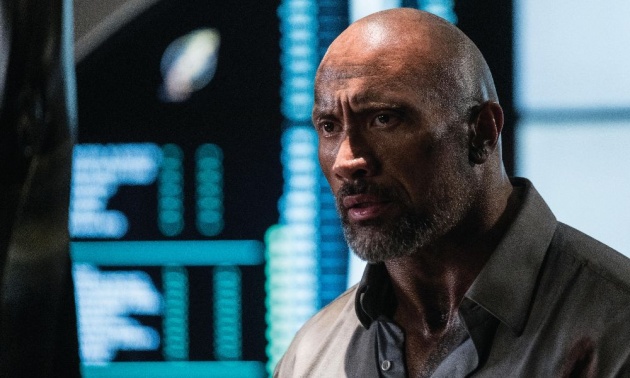 Image Credit: hdqwalls.com
Video Credit: Universal Pictures via Youtube.com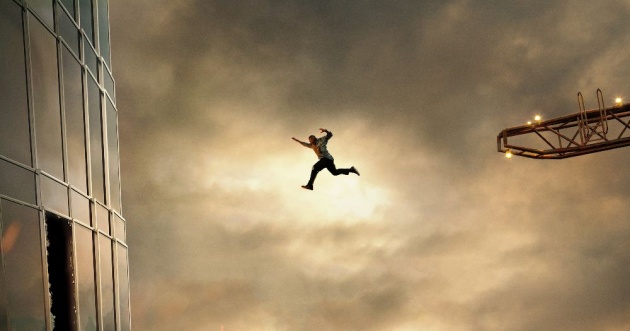 Image Credit: hdqwalls.com
✔ Movie Plot And Review
The movie begins as an insane person Mr. Ray has held his family hostage in his house in Minnesota, the USA. The Police tried to control the situation but Ray fired at a Police Officer making the situation more complicated. The FBI team is sent to execute the clearance operation including Will Sawyer who manages to enter the house by making a hole in the wall. As they point their guns at Mr. Ray, they see that Mr. Ray is holding his son and therefore, they can't fire. The FBI team lowers the guns as Will Sawyer tries to pacify Mr. Ray and tells him to leave his son. However, Mr. Ray pulls out a detonator which causes a huge explosion and as a result; Mr. Ray dies along with his family and also injures Will Sawyer badly. He is taken to the hospital where Will Sawyer sees a lady Surgeon Sarah who is ready to operate on him and he faints.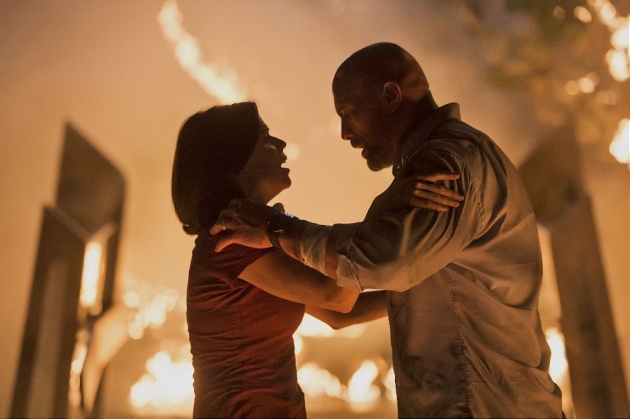 Image Credit: hdqwalls.com
The movie progresses to ten years later scene when Will Sawyer is living happily with his family which consists of Sarah Sawyer (the surgeon who operated on him) and his two kids. He lost his left leg due to his last FBI assignment, but that has not affected the courage of Will Sawyer. Now he lives in Hong Kong and on one fine morning, he leaves Sarah with kids to have a meeting with a businessman Zhao Long Ji who has architected the tallest building known as "The Pearl". Will Sawyer's and his friend Ben, since the time he was working with FBI, meet with Zhao Long Ji who is accompanied by one of his partner Mr. Piece. Zhao Long Ji along with his team takes Will Sawyer to different parts of the building and gives him a Tablet which works on face recognition and Will Sawyer will only be the one to use it. Mysterious things start to happen with Will Sawyer as a thief snatched his bag while he was coming back to home along with Ben most probably for the tablet which Will Sawyer cunningly put in his jacket instead of his snatched bag.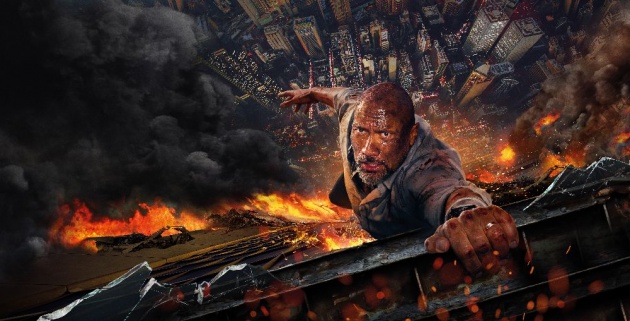 Image Credit: hdqwalls.com
The family of Will Lawyer also reaches the Pearl and lodges on the 96th floor. However, criminals reach there and set the floor on fire. On the other hand, Ben shows his true intentions to Will Sawyer as he was working for the criminals. During the scuffle, Ben gets shot with his own pistol and dies telling Will Sawyer to be alert as the criminals are after his tablet and will kill him. Will Sawyer notices fire on 96th floor and rush towards that floor, however, he runs in a criminals party and his tablet is snatched by a lady Xia who works for the gang leader Kores Botha. On the media, the news run that Will Sawyer is actually behind the fire at the Pearl and the Police starts searching for him. Will Sawyer has to save his family and he uses a crane to get into the building by leaping off. After helping his kids and wife move out of the building, Will Sawyer along with Zhao Long Ji fight with the gang leader Kores Botha on the roof of the building and the severe fighting ensues. Sarah manages to get the tablet back from Xia after a fight and resets the building security system which puts out the fire. After this operation, Will Sawyer goes back to his house with his wife and kids as Zhao Long Ji looks at them admiringly.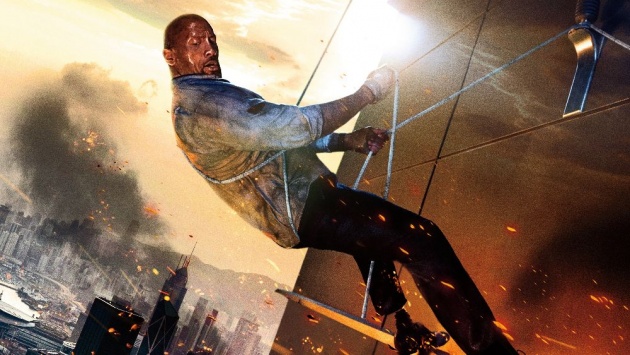 Image Credit: hdqwalls.com
Video Credit: Movieclips Coming Soon via Youtube.com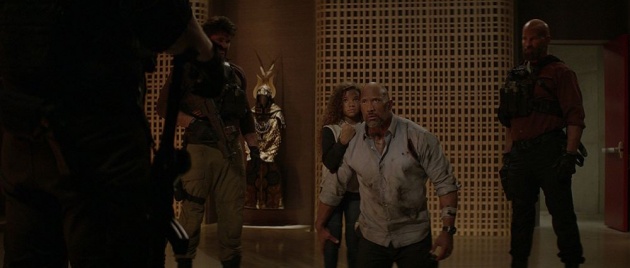 Image Credit: dhojeinterior.com.br
✿ Here is Querlo Chat for you. Isn't it fun to chat with a Chatbot ?

Image Credit: newhdphotos.com
✔ Conclusion
The movie "Skyscraper" is a real thriller movie with jam packed action and fighting scenes as well as portray of the bravery and courage. The acting of Dwayne Johnson was amazing and he has ever been improving his acting skills. The best scene of the movie was of course the one in which Dwayne Johnson jumps off the crane to get into the building where his family was held hostage. The Chinese style of fighting was also very impressive and the use of weapons was extremely brilliant. The movie plot was very nice but the execution of movie plot was even nicer. Now, after 10 days of its release, the movie has already managed to cross its budgeted cost and now it is running in profits all over the world. So far, the movie has grossed more than 182 Million US Dollars and still it has a long way to go. I hope to see more such beautiful movies in the future.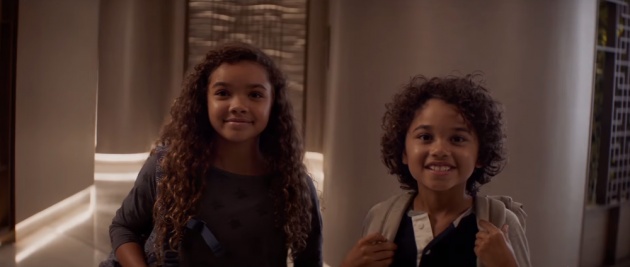 Image Credit: newhdphotos.com
✿✸✔✤✪ - - - - - - - - - - - - - - - ✿✸✔✤✪ - - - - - - - - - - - - - - - ✿✸✔✤✪ - - - - - - - - - - - - - - ✿✸✔✤✪

Thanks for Reading. This Blog was written by Rafaquat Noman (a Resident of Saudi Arabia and a Traveler) for bitlanders.
✿✸✔✤✪ - - - - - - - - - - - - - - - ✿✸✔✤✪ - - - - - - - - - - - - - - - ✿✸✔✤✪ - - - - - - - - - - - - - - ✿✸✔✤✪