1: Party Makeup
Moisturize your face.
Apply concealer to cover up blemishes and acne.
Choose a color with a similar hue to your skin.
Foundation: Pick a shade as close as possible to
your skin tone. Apply gently, so as to give your face a creamy, flawless appearance. Blend well
with skin with sponge to apply to whole face.
Pick three eye shades colors: dark, medium, and
light. To create a blended look, apply dark above
top lashes in a slight line, thinly. Next use the
medium shadow in the middle, touching the dark a little. The lightest shadow should be applied
right under brows, giving the eyes a beautiful
hue. Pick all shadows in the same color, but
different shades.
Use a cake liner with a thin brush or a kohl pencil
and line lower lid. You do not need to line the whole way, two-thirds is enough. Line all the way
across upper lid.
Apply mascara to upper and lower lashes. Avoid
clumps by applying in two coats, both thin. For
dark hair, black or brown mascara works. For fair
hair, use brown. Try to avoid using bright colored mascara (e.g. purple, blue), for a better overall
look.
Smile, and then apply light rouge to the apples of
your cheeks. Apply very gently so as not to create
an obvious spot of red. Brush in small circles.
Choose a lipstick color suited to your skin tone. Apply lightly to both lips, then clamp lips together
to get a more even look. Mixing textures and
colors is fine.
Line lips thinly. Avoid very light lipstick and dark
lip-liner.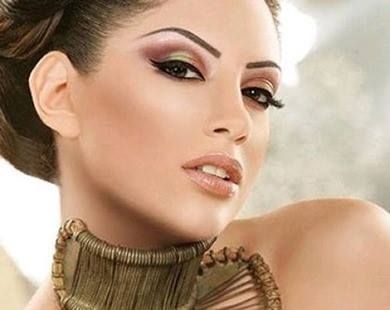 2: Home Remedies for Dark circles under the eyes
1: Eight hours of sleep is a must for all of us, especially for people having dark circles under their eyes.
2: Close your eyes and cover your eyelids with slices of raw potato or cucumber for 15-20 minutes. Wash with warm water and apply a cream.
3: Grate a cucumber, squeeze to take out its juice and refrigerate. Make a mixture of lemon juice, lanolin cream and cucumber juice and apply around the eye for 10-15 minutes.
4: Apply lemon juice on the black circles 2 times a day.
5: Apply a paste of turmeric powder with pineapple juice for dark circles under the eyes.
6: Apply crushed mint around the eye.
7: Apply almond oil under eyes.
8: Reduce your intake of vitamin A. Over dose of medications such as Retain A produces "excessive" vascularization.
9: Niacin amide, a derivative of the vitamin Niacin, has been shown to be an effective skin lightening agent, especially for skin conditions where hyper pigmentation may occur on the face or other visible parts of the body. Patients with hyper pigmentation applied a moisturizer containing five percent niacin amide. After four weeks, the hyper pigmentation and skin color were analyzed by computer and most patients experienced decreased hyper pigmentation and increased skin lightness. Topical niacin amide has also been shown to have anti-inflammatory properties, which makes it a potential treatment for puffy eyes and dark circles.
10: Almond helps to remove dark circles and is an excellent "skin food". Remove the cream applied around the eye after 10 min. No cream should be left on the skin around the eyes for long periods.