Hong Kong Oceanpark, My Remarks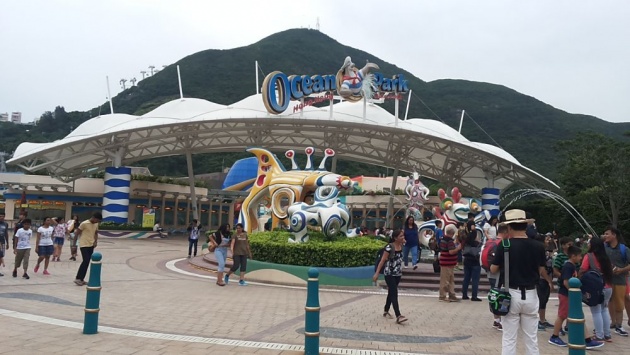 Photo credit: lapiz-lazuli
Hong Kong's Ocean Park is quite massive! You'll either ride a 10-minute cable car or a 5-minute train to get to the otherside. If you want to exhaust (haha) your stay at the park and get to see most of the attractions, shows, and rides, I'll share a few comments for tips.
A Bit of History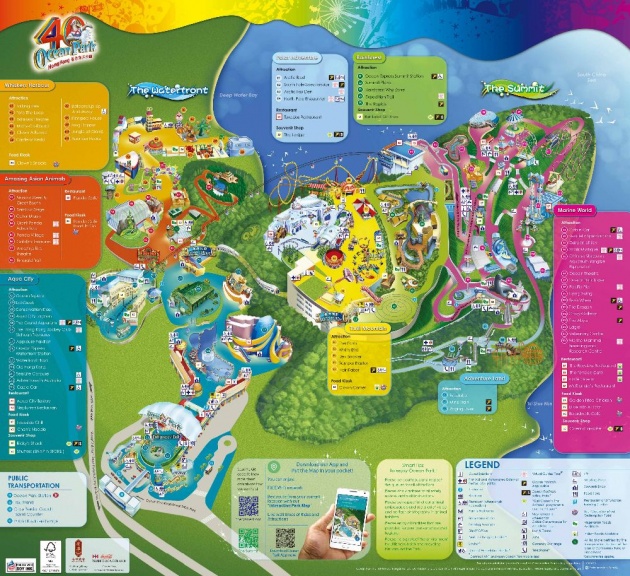 Photo credit: oceanpark.com.hk
Ocean Park Hong Kong, commonly known as Ocean Park, is a marine mammal park, oceanarium, animal theme park and amusement park situated in Wong Chuk Hang and Nam Long Shan in the Southern District of Hong Kong.

Covering an area of 91.5 hectares (226 acres), the park is separated by a large mountain into two areas, The Summit (Headland) and The Waterfront (Lowland). These areas can be reached by a 1.5 kilometres (0.93 mi) cable car system, or the Ocean Express funicular railway. To ascend the Headland comprises several hills, visitors can use Hong Kong's second longest outdoor escalator.

The theme park has various attractions and rides, including four roller coasters, and also animal exhibits with different themes, such as a giant panda habitat, rainforest and polar displays, as well as an aquarium featuring the world's largest aquarium dome. Between 1979 and 1997, Ocean Park was most famous for its signature killer whale, Miss Hoi Wai.

- from wikipedia.org
Remarks:
Pre-buy Your Tickets
Even at opening hours, the line for tickets piles up pretty quickly. Save yourself the hassle by ordering your tickets online. I chose Klook for this because they have good discounts. The entrance ticket with meal included is quite a steal because of the marked up prices of commodities inside the park.
You buy this 2-page voucher from Klook and then print it in an A4-sized paper. I don't know why they insist on printing it at that paper dimension, they're just going to scan the QR code on their scanner at the park's entrance anyway. On the upside, you don't have to fall in line to exchange your voucher for tickets--the voucher is your ticket. I made this mistake on falling in line where I could have just asked one of the attendants if I could enter straight away. Saves you valuable time.
The Early Bird Getting It
We had seniors in our group so we needed to be more stringent about our punctuality. Well, that's what I had in mind. In reality, they need to take their time for mundane tasks like walking so I had to leave this tip out the door. For you, however, this might be doable, so I suggest to be there around 10 am if you plan to visit Hongkong's Oceanpark.
Being the early bird has added perks. The park isn't that filled with many people yet so going in at attractions and rides is easier, more comfortable and less excruciating because hey, no long lines! You don't get to literally rub elbows with fellow tourists for 20 minutes just so you can have your spot for a 2-minute ride or a swift look at animals.
Looking Around the Lowland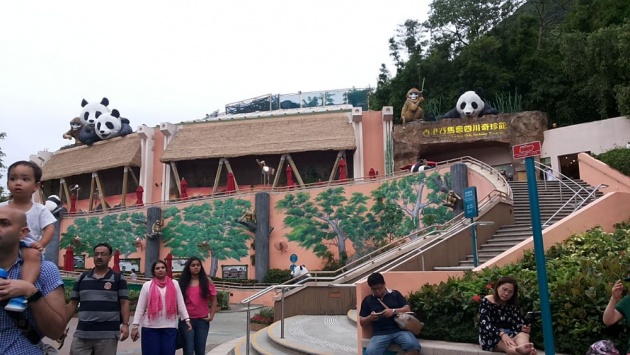 Photo credit: lapiz-lazuli
I made a mistake by advising the group that we should first head out for the Headland...in a cable car! This was what ate much of our time! The seniors didn't even bother to join us (better to be safe) so we needed to get back at the Waterfront after the ride, then eat and get back to the Summit again because most of the cool stuff (for adults) were in there.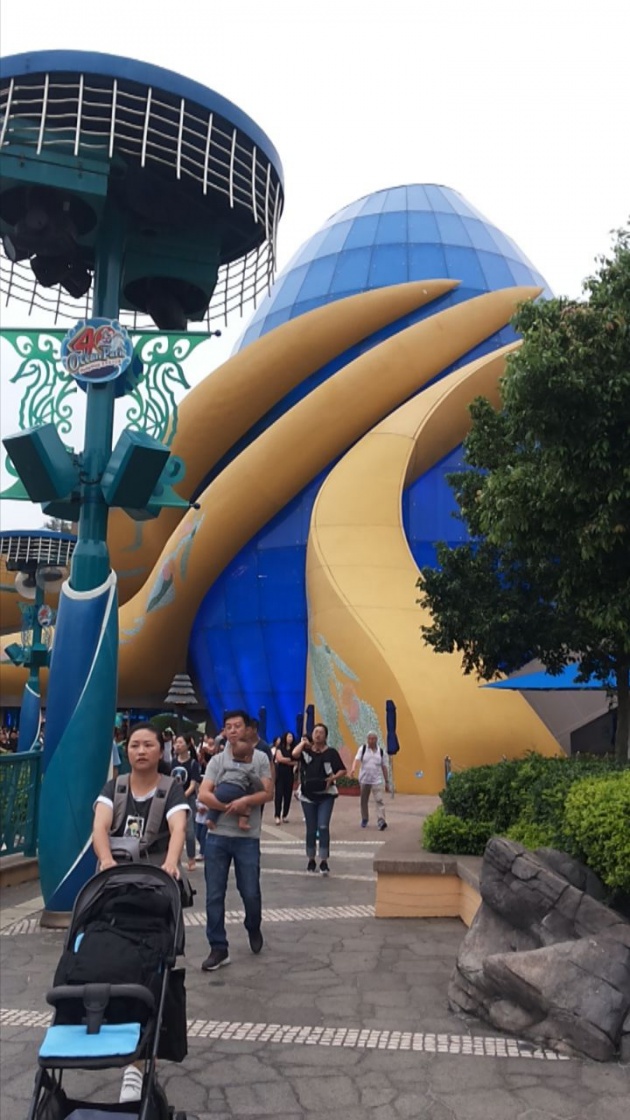 Photo credit: lapiz-lazuli
We didn't get to see the oceanarium because by the time we're done doing stuff in the Summit, the oceanarium was already closed. Sister even blamed me for this. Oh well.
Lunchtime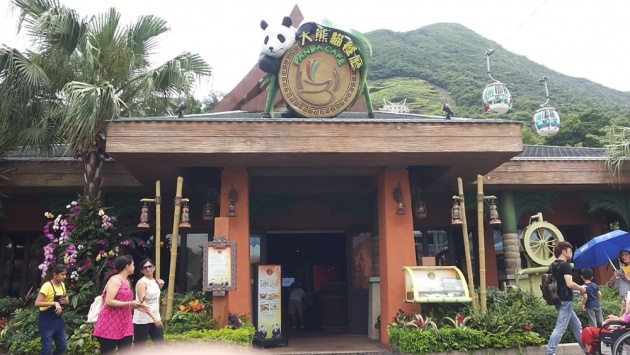 Photo credit: lapiz-lazuli
You will tire yourself going from one place to the other inside the park, so you need to refuel. I think a 2 or 3 hour window would suffice for exploring the Waterfront then head your way from the nearest Klook-included in-house restaurant (which is Panda Cafe). I'm suggesting this restaurant because food was really good in there and staff were friendly, I even wrote about it.
If you're stringent with time and would like to maximize your stay, you could spend only an hour for lunch. I didn't regret spending a couple of hours at Panda Cafe though, because we had great family bonding at that time. It sure costed us some time spent on attractions, but I (more) value spending time with my family that watching animals. Whatever floats your boat on this one.
Train First Before Car
Can I rant over here?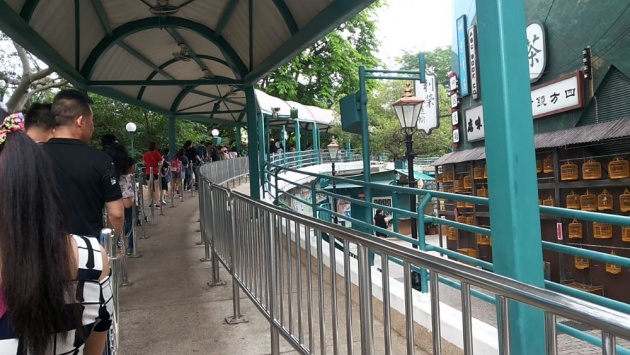 The queue; we're quite near. Photo credit: lapiz-lazuli
Please don't make our mistake: ride your way up to the train instead of the cable car. Even at 11 o'clock am, so many people were falling in line on the cable car. I don't even know where these peeps come from because the park wasn't filled with people yet.
Video credit: lapiz-lazuli via bitlanders.com
Take the train instead. Waiting time's only like 5 minutes plus the 5-minute ride, and there are virtually no lines! If there are queues, those aren't even linear (ever rode a train before?).
Riding Away
There are people suggesting that you should go for the rides first (via the train, ehem, which I mixed up in my scumbag brain, so off we take the cable car). The gameplan was to be there at 10 am, spend time at the Summit for 2 hours for rides, eat lunch, watch a show, then look at the animals. I planned to follow this style but my mind wandered off on the cable car so our visit got slightly out hand. OK, not slightly.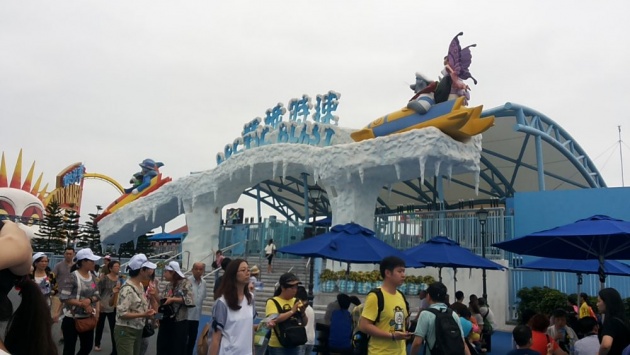 Photo credit: lapiz-lazuli
I think I only managed to get to 3 rides because of the long queue, Hair Raiser was closed for a fix up, and you need a coat (not just a jacket) to explore Polar Adventure (except for the Artic Blast).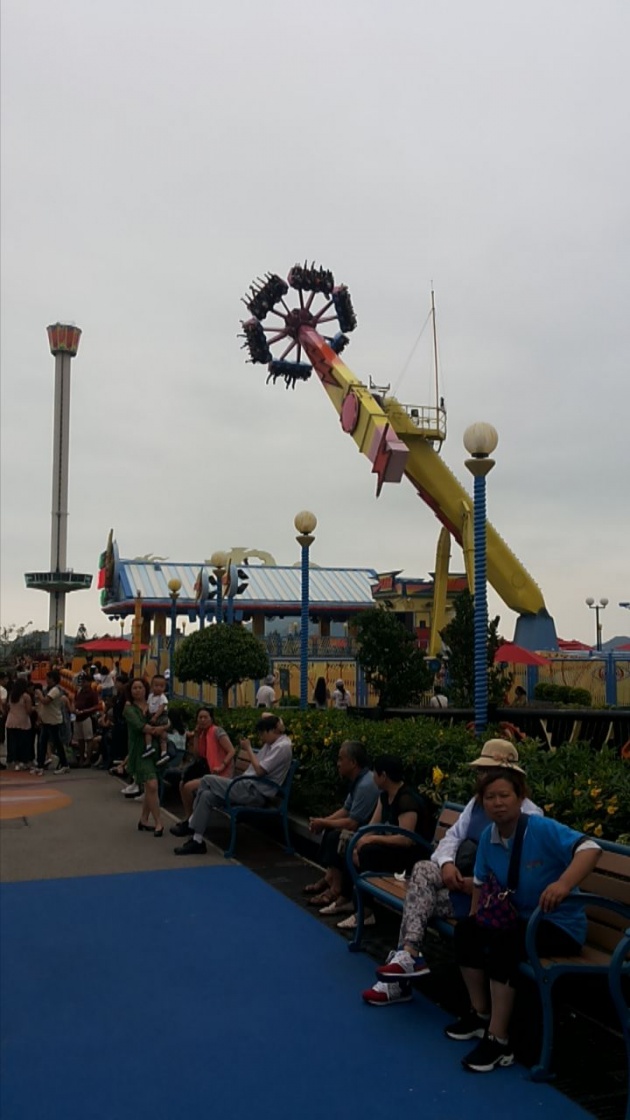 Photo credit: lapiz-lazuli
I managed to only ride The Flash, Artic Blast and The Rapids. Polar Adventure, Rainforest and Thrill Mountain are close to each other so expect lots of people concentrated on those regions (and that's were the fun rides are at). I don't know how people managed to get to Marine World (we barely explored it because it was very big and we're running out of time).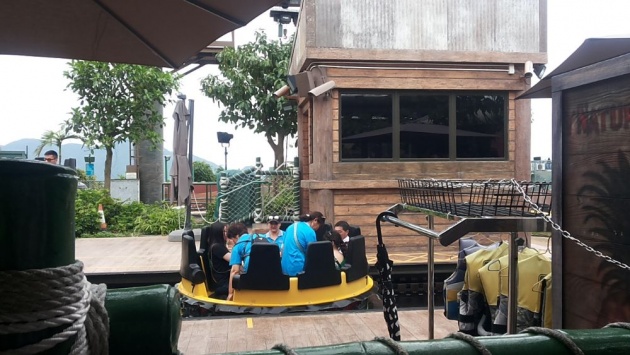 Photo credit: lapiz-lazuli
You won't get to ride everything so plan what you want to do and strain out the kiddie rides (ehem Whisker's Harbour, unless you have kids with you).
It's Showtime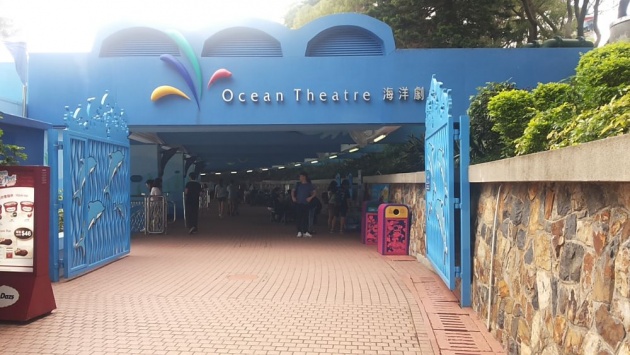 Photo credit: lapiz-lazuli
Seniors won't appreciate riding so this should be a hidden gem for them. I say hidden because you need to know what are up for the day. Shows are held depending on schedule but they usually start after lunch time. You need to plan according to what you want to watch so you won't be late for the specific show you want to see. I mean, if the show starts at 3 in the Ocean Theatre and you're still in the Grand Aquarium by 2:30, you'll might not make it in time.
Video credit: lapiz-lazuli via bitlanders.com
The Dolphin Show was scheduled on our time of visit. It showcased amazing and wonderful dolphins (plus seals) but it also tackled stuff an environmentalist will die for. Everything's in Chinese but there were subtitles on the big screen. I wasn't able to understand the whole story because I was busy anticipating what the dolphins were about to do.
You'll have a great time at Hong Kong's Oceanpark, but you should plan and decide what you want to do in there because the place is huge. I can't provide you everything so make sure you do your research before embarking on the said attraction.
End note: Pictures, videos and write-up are originally made by lapiz-lazuli, unless otherwise stated. Views and opinions in this blog post are truthful but subjective and are not influenced by sponsorship of any sort.