The following is a blog I have written for the sole purpose of saving vacationers or tourist, headaches, money and most importantly bed bugs. Spring is here and the summer is just around the corner and many may be traveling to New York. There are many great cities and places across the United States to visit, but let's focus on the Big Apple. I know what it is like to travel and not have a place to sleep as comfortable as a personal bedroom. When I moved back to New York from Los Angeles without a place to stay meant only one thing a Hostel. For those of you just visiting with no place to stay and limited funds, hostels are often a cheap resource and well worth it unless you pick the wrong one.
An important question is where are the best accommodations for the buck. As a tourist, no one will debate wanting to stay in Manhattan. Months of experience led me through three boroughs, seven different hostels and a bill worth avoiding. When choosing a hostel the first thing you want to do is read the reviews. I became obsessive about reading reviews and as many as possible. Call it insane or just lucky but in all the months staying in them not once did I acquire bed bugs. Those are one of the most important things you want to avoid when staying at a hostel.
Staying overnight in Manhattan should be a last resort because of the price of hotels and to a lesser extent hostels. For those new to the hostel experience do not necessarily be wary of the experience. Hostels are not only considerably cheaper, but a great way to meet people traveling from all over the world including the United States. The point is to find a hostel within a reasonable distance from Manhattan.
I remember arriving in Long Island City as clearly as last night's dinner. The rain filled the streets as I exited the Q train at Queens borough Plaza. The Q4 hostel located in Long Island City is close to Manhattan off the Q, N, 7, E, M and R trains. As I walked down the street the rain seemed to slow and that is when I knew I was in the right place. Others were heading in the same direction, and thus witnessing large suitcases was a good sign. When you enter the Q4 you encounter a modern building, a former bank that is transformed eloquently into a lucrative surreal hostel. Most hostels reek, smell and carry that stench of a gym locker room. This place however did not, and in terms of cost was among the most affordable. Affordable check, cleanliness check, close to Manhattan check and in a safe neighborhood, check to all the important qualities desired for choosing a hostel.
There are many unique advantages at the Q4 such as a bank vault that had been converted into a low lit hangout room. The small room has benches with cushions lining the walls and candles on the table in the middle of the room. In fact the whole down stairs was the place to be if you were not sleeping, showering or going out. The following pictures show you exactly what I mean.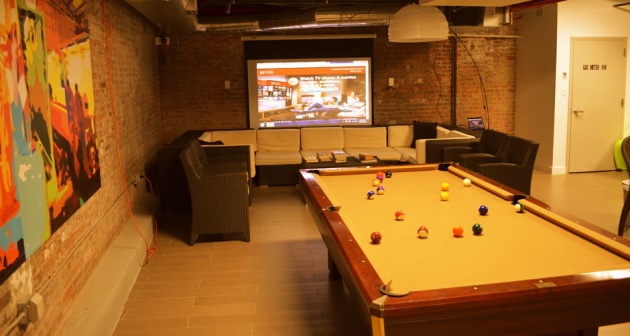 One of my favorite things about staying in any hostel was meeting people from all over the world. I constantly took in and learned about the countries that I have never visited from these people. They all seemed passionate, proud and happy to be here. The real, true and beautiful people I met from hostel to hostel made me fall in love, and then have my heart broken, when they left. Many interesting, energetic people came from all over the United States and around the world. Some would stay a few days and some stayed a week to ten days and even more. With the addition of social media, I now have the ability to stay connected with people in several countries all over the world.