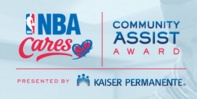 When you are a basketball player, being a role model for children starts on the court and continues off the court.
Because the National Basketball Association (NBA) encourages philanthropic works, it created the NBA Care Community Assist Award to reward NBA players who give back to their community and have a positive influence on society, especially children.

Each month, a player chosen from across the league is recognized for his passion working with communities, his ongoing charitable efforts, and positive impact on younger generations.
Click here to learn more about the Community Assist Award and see the past winners.
How can a Sport Star give back to his community?
> Empowering Children and Families in Need
> Teaching Responsibility, Leadership and the Importance of Giving Back
> Providing Children with Learning tools