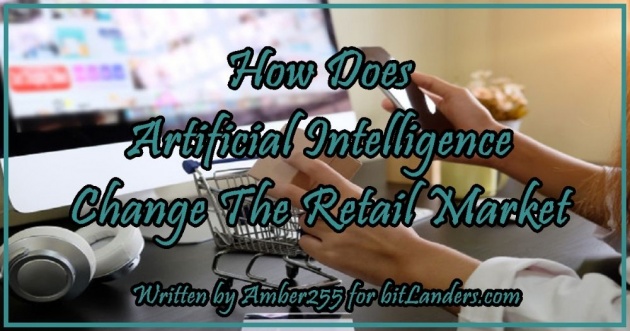 How Does Artificial Intelligence Change The Retail Market - Photo credit: techgenyz, edition by Amber255 via bitLanders
Artificial intelligence has ceased to be science fiction: it drives unmanned vehicles, communicates with us under the guise of chatbots, and even began to get used to the trading floors of retail stores, spying on what is in demand to help adjust the range.
According to experts, artificial intelligence is not a global problem, but its use in retail is most often hampered by issues of regulation of the system itself, their technical side. Experts dispel the current fear of whether retail trade will disappear altogether. A person will always want to buy something, which means retailers will not be left without work.
Nearly all the market segments, industries, and business domains are actively interested in AI and are looking to harness the technology for business benefits. AI offers companies the power to reduce costs and make the shopping experience much more delightful and efficient for the end consumers.

Credit: medium
Companies already using artificial intelligence
Walmart Robot Merchandiser
The leader of American retail for the implementation of AI in physical stores is Walmart. This courage of the retailer in terms of introducing new technologies, of course, is also due to incomes - Walmart has been number one in the ranking of the world's largest revenue companies for many years. The American supermarket chain uses AI both in automated payment systems and on the website company, and in the delivery of goods by drones. They also use the Bossa Nova robot, which Walmart put into operation back in 2017.
Three times a day, a small robot on four wheels at a speed of 0.5 km per hour drives through all the departments of traditionally large Walmart supermarkets and performs the work of merchandisers, scanning shelves with goods. While customers make purchases, Bossa Nova checks all store shelves for a given route, sending to the warehouse information about already purchased products and incorrect price tags. The robot is equipped with security sensors to detect objects and avoid collisions with people and carts on their own.
The robot is 50% faster in the work of merchandisers since staff carried out large-scale inspections of all shelves only twice a week, and the robot - three times a day. Thanks to this, warehouse workers replenish empty shelves much faster, and stores where automatic merchandisers work can redistribute staff. As noted in the company, the task of robots is not to reduce the number of employees, but to give employees more time to work directly with customers.
5 Ways AI Is Changing the Retail Industry - Video credit: youtube
Today, Bossa Nova is already scanning the shelves of 50 Walmart supermarkets in Arkansas, California, Florida, Pennsylvania, and Texas.
Amazon Go knows what's in the shopping cart
In early 2018, the global e-commerce giant Amazon opened for the public use its first unmanned Amazon Go store (before that, for two years, the store without cashiers and staff was available only to company employees). It is not surprising that Amazon decided to try the latest artificial intelligence developments not only on an automated payment system without cash registers.
All Amazon Go sales departments are equipped with high-tech cameras with automatic RFID identification. Typically, such a system is used in unmanned electric vehicles to track passenger behavior in the cockpit and automatically process visual information by a computer. But Amazon Go cameras monitor customer behavior from the moment they enter the store until they pay for the purchase.
The main goal of cameras is to determine which items are most in-demand, which products buyers most often return to shelves, etc. In addition, Amazon Go cameras recognize faces, determine the height, weight, skin color and other physical characteristics of customers. Subsequently, the AI connected to the video shooting system, based on all the data obtained, not only determines the most popular products from specific consumer groups, but also offers options for changing the pricing policy. All this work is automatically performed by a computer without human intervention.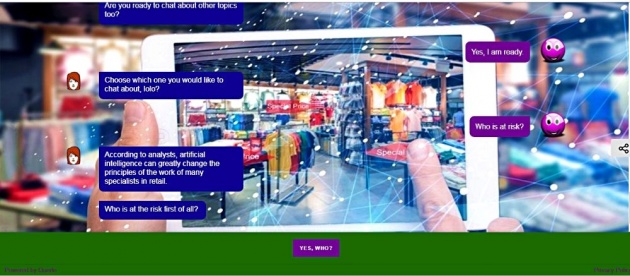 How Does Artificial Intelligence Change The Retail Market - Photo credit: querlo
Walgreens Touchscreen Refrigerators
Walgreens, the largest U.S. pharmacy chain with 9.5 thousand locations across the United States, is also turning to new AI technologies to attract customers and analyze demand. Note that in addition to medicines, Walgreens also sells food products that can not always be attributed to products for a healthy lifestyle. So, back in the early twentieth century, the future pharmacy chain was known among buyers for milkshakes and carbonated drinks of its own production.
At the end of 2018, Walgreen's began testing smart coolers with Cooler Screens touch displays. Doors of refrigerators are equipped with displays showing the entire contents of the refrigerator - so far, such devices, located in the main Chicago branch of the network, sell only water, ice cream, soft drinks, and alcohol.
Cooler Screens would not differ much from their own, for example, Japanese or Chinese counterparts, which also boast bright, attractive pictures on the display, if not for the built-in AI equipment.
No matter how complex the problems of modern retail may seem, solving them is quite simple: use machine learning algorithms where a person cannot cope. But how exactly can artificial intelligence help a company survive and even thrive in the market? Check my newest Querlo chat and find what I share on these topics?
1. Is the threat real? 2. Who is at risk? 3. Specialties that are most likely to be replaced:
a) Procurement, Supply Planning Specialists b) Contact Center Employees
c) Sales consultants d) Merchandising e) Cashiers
4. Who will be not fired by AI 5. New Professions
Chat with me about How Does Artificial Intelligence Change The Retail Market on Querlo (link opens chat in a full-screen mode):
How will retail use artificial intelligence?
In January 2019, the American hardware and software manufacturer IBM published a report on retail and consumer products, based on a survey of 1900 retailers in 23 countries of the world. The study also focuses on how automation can help stores reduce human factors and improve customer service.
According to the IMB study, by 2021, more than 70% of retailers and consumer goods companies will use intelligent automation tools across all value chains. Here are six areas where retailers plan to use AI.
Supply chain planning, demand forecasting, client intelligence, marketing and advertising, warehouse operations, pricing, and promotion.
On A Final Note
It looks that it already came time to learn how to use artificial intelligence so as not to miss the moment when this technology will become the basis of explosive growth.
Smart checkouts, heavily based on artificial intelligence technologies such as computer vision, have a great future because of their convenience.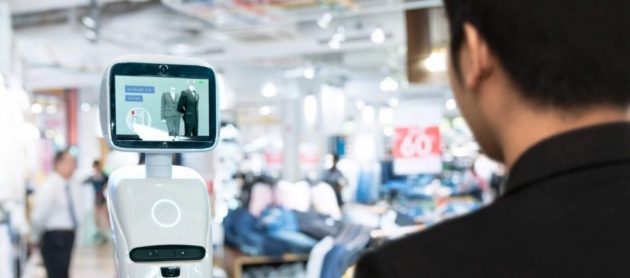 How Does Artificial Intelligence Change The Retail Market - Photo credit: hso
The rapid development of artificial intelligence will push retailers to try to introduce such technologies faster than competitors. The companies that won this race will be able to supplant the slow competitors due to better customer service at competitive prices.
************************************************************************
****************************************************************
****************************************
I invite you to participate in Bitlanders AI-themed Blogging and create your own AI-themed blogs and C-blogs on artificial intelligence theme:
bitLanders AI-themed blogging
After the successful launch of "The bitLanders C-blogging", conversational AI blogging by Querlo powered by IBM Watson and Microsoft Azure. bitLanders continues to support its joint venture Querlo. We believe in our mission to promote our future - Artificial Intelligence (AI) - and build AI conversations via blogging, here we are to introduce "bitLanders AI-themed blogging!"

Credit: quote from bitLanders
Always welcome back to check more Querlo Chat blogs on Artificial Intelligence theme.
***************************************************************************************************
Thank you for stopping by and reading my blog.
2019, All Rights Reserved.
You are very welcome to join Bitlanders and share your valuable knowledge and opinion.
***************************************************************************************************