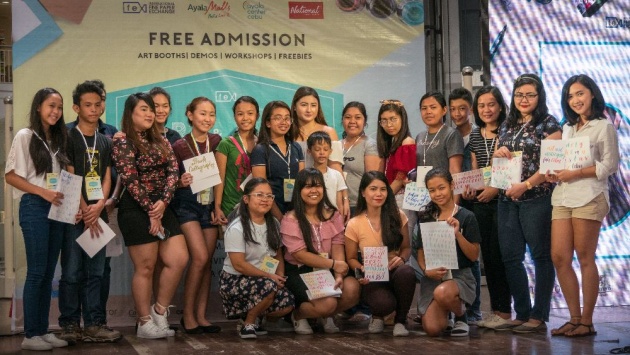 Image credits: Jean Beltran via bitLanders
Found a National Bookstore advertisement on a social media site and thought it would be a great time to buy additional brush pens! You know a girl can't just have enough brush pens.
IFEX Art & Stationery Fair Cebu
Sponsored by National Bookstore, Ayala Malls and Ayala Centre Cebu, IFEX or International Fine Paper Exchange managed to bring art and stationary fair to Sugbo! This event was part of their drive to introduce their brand into the city.
Image credits: IFEX PAPERS Facebook page
The event includes a lot of activities, there were workshops, a lot of demos, and different types of freebies and free services! I am pumped to share this event with you today.
But first, let's learn what IFEX is all about. From their website, I learned that:
IFEX is a Filipino owned corporation engaged primarily in the marketing and distribution of quality goods.Their mission is for the optimum customer satisfaction by providing paper applications solution through a variety of quality specialty paper products and our wide distribution network. - ifex.com.ph
My husband James and I went to Ayala Centre Cebu on the second weekend of the month, the event started at ten in the morning so there were so many art enthusiasts crowding at the ground floor of the shopping mall at the center stage. James and I arrived just after lunch, I heard the host started to call on to the Brush Calligraphy session participants as they were about to start the workshop.
What to See at the IFEX Art & Stationery Fair Cebu
Video credits: Jean Beltran via bitLanders
This was a two-day event and I learned that IFEX items such as Winsor and Newton are not yet available in Cebu. So what I purchased is actually my first set for this brand.
But aside from that, there are more things to find at the event. Let me share with you the following:
Freebies and Services
I registered online prior to the event date so when I lined up for the registration, I received freebies such as Canson Doodle Sketch Pad 90 gsm with 24 sheets which is good for pencil, charcoal or pastel art.
Aside from that, there are also free Winsor and Newton A5 Pigment Marker paper pad for every Php 300 worth of the brand's product. I bought their six pieces Brush marker set which was worth Php 600+ so I received two sets of those. I am excited to use that pad.
Image credits: IFEX PAPERS
And then above all, they have a free service for Modico paper bar wherein anyone who'd buy their assorted papers can get a free personalized notebook. Just choose a paper, choose a notebook cover, select inserts, add notebook breakers as an optional one, choose the loop color and then request for a personalized monogram and name initials for the notebook cover. They had hundreds of requests! I thought of also buying a personalized notebook but then there was a lot of requests on the line, I will have to come back the next day for my own notebook.
Art Booths
Image credits: IFEX PAPERS
One of the best things to come over here is the fact that there are a lot of items for sale such as paper bars of different kinds, I can state a few, there were paper craft items like Kokoro for origami, specialty paper pads where I saw Abbey Sy's travel journal, then the brush pens especially the Winsor and Newton pens and the last booth was the Modico papers.
Demos
Interestingly, there was demo around too! I would really like to observe the artists as they create their art pieces but I spent two hours at the workshops. However, James had the luxury of time to do it for me instead.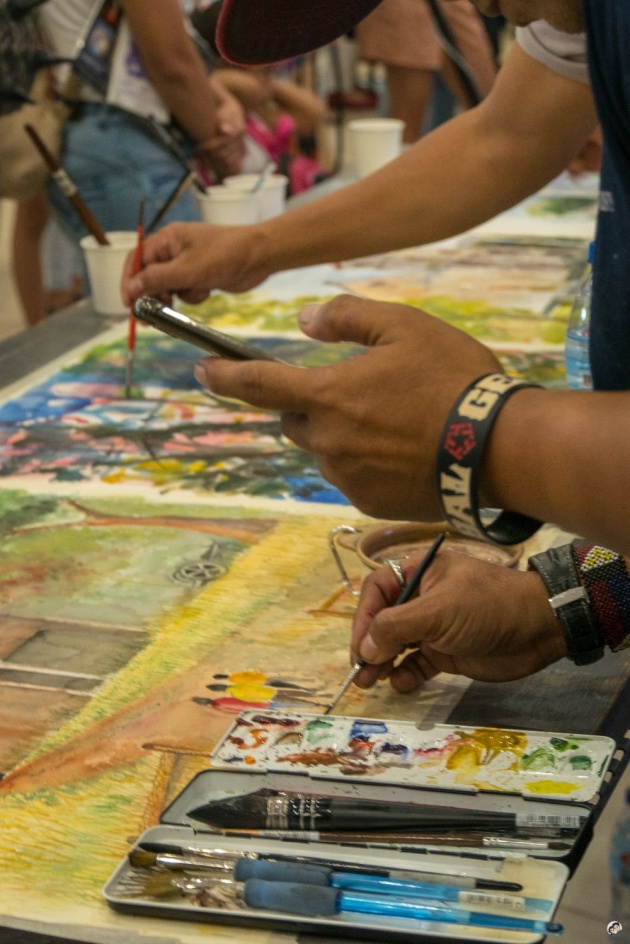 Image credits: Jean Beltran via bitLanders
There's a demo by International Watercolor Society Cebu Chapter, most of them painted some rural scenarios, landscapes and such.
On the second day, I learned that some artists from Cebu did another mural painting on a paper! The image below shows their painting combined! It really looks awesome!
Image credits: Jean Beltran via bitLanders
Above all, there was a live art too where the artists did calligraphy on the wall and some illustrations using paint, markers, and watercolors!
Workshops
Image credits: IFEX PAPERS
Finally, my favorite part was the workshops. These were all for free when one buys some items worth Php 300. Remember I bought a Winsor and Newton brush marker set so I had two free marker pads from them and I was also illegible to join two workshop sessions!
There were five sessions as follows:
1:00 PM - 2:00 PM for Brush Calligraphy by Williza Go @willizago

2:00 PM - 3:00 PM for Floral Illustration by Alessa Lanot @lifeafterbreakfastph

3:00 PM - 4:00 PM for Essential Watercolor Tricks by Valerie Chua @valerichuaart

4:00 PM - 5:00 PM for Fashion Illustration by Jean Yu @jeancyu

5:00 PM - 6:00 PM for Basic Watercolor Landscape Elements by Meream @boredandcrafty
These personalities are already masters of their own craft and it was an opportunity I don't want to miss.
So when I was asked which sessions would I like to join, I opted for the first two, Brush Calligraphy and the Floral Illustration.
Image credits: IFEX PAPERS
Brush Calligraphy has been my hobby since I saw Instagram posts of these types. I tried it with the low-quality pens until I started buying and hoarding more and more types of pen brands. But my favorite now is the Zig Brushables.
I hopped into the workshop which was just facing the stage where Williza Go was sitting, a camera at her back, recording so it can be displayed on the screen. She shared how to write the basic A-Z letters both in uppercase and lowercase.
Video credits: Jean Beltran via bitLanders
All of us who were on the tables were given pens to use but we have to return it afterward and a pad. I then followed through. I used to dislike writing my letter "O" before but after learning her style, I am now loving the "o". Also, her lower case "b" was an interesting part of the workshop, I am trying to also copy her style for that case.
Everyone seemed to be very interested even the audience outside the workshop that they were listening even without a pen and a paper!
An hour was too short for such workshop so she encouraged us all to join her other workshops around Cebu. I guess I will in the future, for now, I had learned a lot out of her tips and tricks. Photo op afterward at the stage.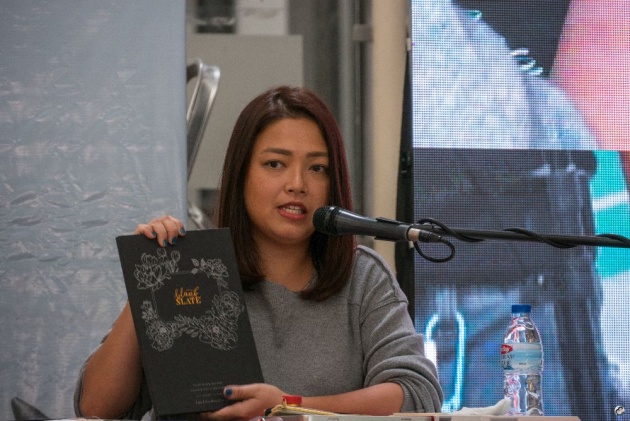 Image credits: Jean Beltran via bitLanders
Next was the Floral Illustration. This was new to me and I definitely salute Alessa Lanot of Lifeafterbreakfastph for such artistry and keen observation with how flowers look and how the petals are formed.
Alessa started illustrating some of the basic flowers from the hibiscus to the simple sunflowers, she advised us all to closely observe the petals of the flowers, there are different shapes, all of them are unique so we got to do the same. There are flowers with curves and even ones which the petals are straight.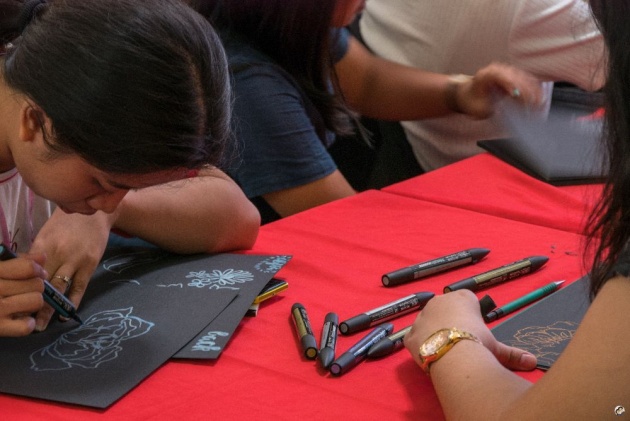 Image credits: Jean Beltran via bitLanders
Black Blank Slate pads were provided as well as metallic pens too! I started copying her style and so as the other participants of the workshop. I guess my first flower illustration was okay considering it was my first time. I even created two flowers out of the blank slate!
Another photo opportunity after the one hour workshop. I brought along with me some of the pieces I had created. It was fun and it was all for free!
Notice that these persons hosting the workshop are all women! Art and Calligraphy empowers women to showcase their talents with writing and art. So please don't forget to join this Querlo chat:
---- o ----
Blog entry written and published by Jean Beltran-Figues, A Pinas traveler and photography hobbyist, find more travel blogs in my blog section, click here.
---- o ----
Check also my recent blogs:
• Unlimited Japanese Sushi and Maki at Radisson Blu Hotel
• Why I Believe Alex Gonzaga is Philippines' Next YouTube Sensation?
• Mactan Island Hopping for Summer 2018
• My Mobile MultiMedia Applications on the Go
• Review on KKD STK + BBQ : Affordable Filipino Cuisine
• Celebrating Our Third Wedding Anniversary