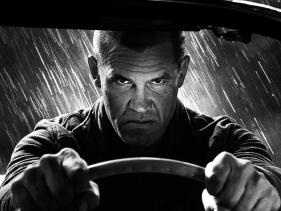 Fans of Frank Miller and Robert Rodriguez's "Sin City" have waited nearly a decade for the sequel that was discussed not long after the original opened in 2005 and went on to become a surprise hit. Now "Sin City: A Dame to Kill For" is just a few months away, set for release on August 22.
At the time of the original's release, the director's uses of green screen and special effects were unparalleled, but times have certainly changed. Rodriguez stopped by MTV News this week to discuss his television network El Rey and what difference nine years make to the highly stylized world of "Sin City."
Though "Sin City" was considered revolutionary for how literally Rodriguez translated Miller's comic book frames to the big screen, the film still looked — the most part &38212; like a movie. Expect for a few specific shots that adopted the series' black-and-white silhouetting, "Sin City" was just another film in grayscale with the occasional pop of color.
But that's not the case of "A Dame to Kill For."
"We pushed it even more toward the look of the book because the movie was kind of halfway between the book and a movie. I didn't know how far to push it back then," Rodriguez said about the sequel's aesthetic. "I didn't think audiences would be able to get the stylization. Maybe it would be too weird and stylized, but they dug it. We could go further. They gave us permission to go more toward the book."
The time between movies also offered a chance for effects wizard Greg Nicotero to improve the prosthetics for the actors like Mickey Rourke, who was very vocal about his contempt for Marv's makeup in the original. "[Rourke] is kind of claustrophobic, and he's right," Rodriguez said. "He was like, 'How come they haven't made advances to fix this makeup thing?'" Nicotero got the application time down to under an hour and probably saved Rourke from a lot of annoyance in the process.
The biggest change to the film, however, has to be the additions made to the cast. Among other A-listers entering Basin City for the first time, Eva Green takes on the role of Ava Lord, the "Dame" of the title. Rodriguez said that he had always been a fan of her work, but it wasn't until she tested for the femme fatal role that it clicked.
"I was always a big fan of hers, but then you bring them in and it's weird. 'That's the title character. Can she do it?'" he remembered thinking. "She came in, and she was just awesome. You cannot take your eyes off of her. Every take is flawless. I've never seen anybody like that."
"Sin City: A Dame to Kill For" opens in theaters on August 22.
Source: MTV
Annex News - Movies