Good morning, bitsters, all over the world. I was so happy this morning to see my first BitLanders payment through Blockchain.info in my profile page, so I checked to see if it is really credited to my Blockchain.info account.
I requested the payment on Friday (July 17, 2015), so I was a bit worried that at least two business days had passed, but my payment was nowhere to be found. Everything changed when I saw a notification about the payment on my profile page this morning.
Just so you know, once you see a message notifying you of a sent payment to your Blockchain.info account, it is still not a done deal. You cannot sit around, believing the money is already credited to your account. What you need to do is perform some steps to be able to enjoy the fruits of your labor. Now read on to learn how to do just that.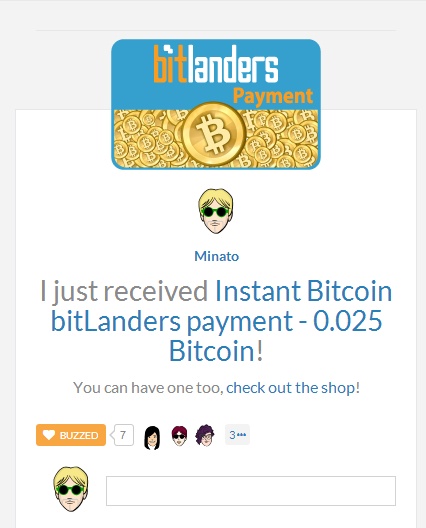 Once you see a payment notification on your profile page, do the following steps:
Step 1: Check your email. This is not the email that is connected to your BitLanders account, but the one that is connected to your Blockchain.info account.
Step 2: Find the message from BlockChain informing you that cs@bitlanders.com has sent you bitcoins. Click on that message and see the next step.

Step 3: Click the link that prompts you to claim your payment. After clicking on that link, you will be shown a popup window in Blockchain.info showing the amount being sent to you.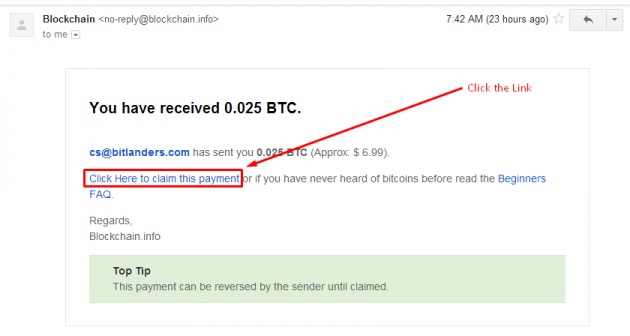 Step 4: Login to your Blockchain.info account. When you do, the payment is automatically credited to your account. You will see the payment amount on your "My Transactions" page. You must wait for sometime until the payment is confirmed. This can take a while and there's nothing you can do about it. Just check it from time to time.


Once the payment is confirmed, it is yours to enjoy. You can spend it online or convert it to cash if you, say, send it to coins.ph like I do.
I hope this short blog is of help to all of you. Good luck.