Hello, dear friends! How are you doing? I hope everyone is fine!
I remember I wrote a blog about Brazilian postage stamps because I collect stamps for a very long time and this is something that really thrills me. I decided now, based on this last blog, to write another one about how to collect postage stamps and show some basic steps on that. Take your time, read the blog and have fun. Who knows you get interested in collecting postage stamps or even something else!
Basic Steps on How to Collect Postage Stamps
Philately is the study and art of collecting postage stamps and related materials, which can be a very rewarding hobby. It does not require any kind of skill, although some expenses are required. A beginner in this art can easily gather multiple stamps to a beautiful album, or even an advanced collector could delight in a detailed single-stamp study for hours! The purpose of this hobby is to select stamps to compose a collection, which can be general or themed. See the steps below how to do this!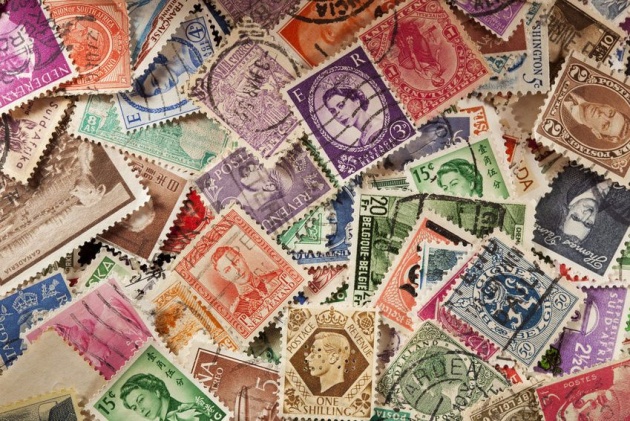 Photo credit: ebay
Step 1: Get Some Stamps
Start with easy sources, that is, the post office, the hobby stores and, of course, your letters. You'll find hundreds of different used stamps, great for starting your new collection. Look for sources online, and find the best bargains. In this initial collection phase the variety is an important element. Make sure the purchased package has different units. Packages with different types of stamps are available in the market, and are very cheap (often sold per kilo). However, and this is not uncommon to happen, they include quantities of common stamps largely repeated, which will not add much value to your collection.
Step 2: Get Philately Tweezers
These tools are often called tweezers because they look similar to tweezers used by women in beauty shops. They differ from common tweezers, however, because they are stronger (and withstand more pressure). Its tip is smooth, thin, and not wrinkled, which helps prevent damage to the postage stamps if you tighten too much, as well as make it easier to slide the tip over postage stamps under any flat surface. The weight and length of these tools vary greatly, so it is important that you choose the one that is most convenient for your handling. But avoid those that have tips that are also sharp, because when you are working with the postage stamps, especially the fragile and older ones, there is always a greater risk that you accidentally puncture or tear your collection piece. In addition to protecting your postage stamps from physical damage when you pick them up, the tweezers will also prevent damage caused by any acidic moisture that normally comes from your fingers.
Step 3: Start the Categorization
No matter how or with what criterion you do this, after all the collection is yours isn't it? The best way is always the most convenient for you. However, classifying by country is one of the most common ways to do this. Knowing the country that produced the stamps will come in handy later, when you are looking for more information about the origins of the collected piece. Another popular way of organizing is through the object represented on the stamp. This is known as "themed collection". There is a wide range of themes and motifs that can be considered in the classification process: butterflies, sports, famous people, or airplanes (for example). Many countries take this into account when developing their stamps. Many collectors also choose to sort their collection by color or shape. You can also let your imagination run wild and make unique categorizations for your own collection.
This video shows in an interesting and easy way how to sort and organize your postage stamps. (Source: Youtube)
Step 4: Store your Stamps
After you have spread your stamps in small piles organized across the dining room table (and have endured the whole family complaining about it), you now need a place to store them without undoing the categorization work. One quick solution is the use of envelopes, each marked and cataloged about its content. The problem with this is that you can not see all your stamps without emptying the envelope, spreading them all out. Well, now it is about time to invest in a stock book or stamp album.
Step 5: Choose Your Book Type or Stamp Album
Such resources are found in different manners and shapes: on large linked or loose sheets, on various page sizes, and so on. If you prefer the album alternative with single sheets, choose pages that are punched in the left margin for insertion into a standard binder. Other perforation formats are also available, but some folders can be hard to find and they are more expensive too. The pages of stock books, or stamp albums, are made of lightweight cardboard with clear plastic strips (a great feature for preserving the stamps. The plastic blades are attached to the cardboard at both ends and glued to the bottom edge to create a cardboard holder to protect the stamps. The cardboard support for the pages can be white or black (black pages tend to be of better quality but they are much more expensive.) The stamps, which are mostly printed on white paper, will stand out much more on a black background. Another type of stock book is made of common brown paper, similar to the one found in file folders. These albums bring more simplicity because they are layers of cardboard that protect the stamps. Although simpler, these books are, however, resistant and less expensive: therefore, they are quite convenient for storing duplicate stamps.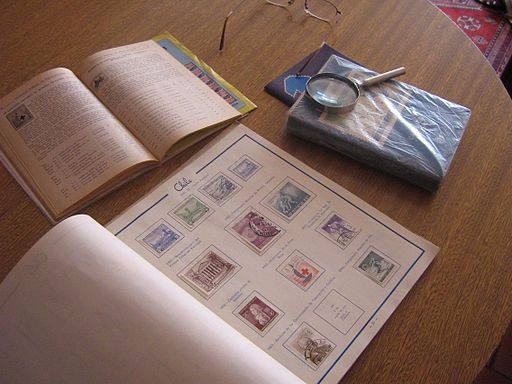 Photo credit: Wikimedia Commons
Step 6: Use the Tweezers to Manipulate the Stamps
When adding or removing stamps in an album, it is always easier when you use one of your tweezers.
Step 7: Exchange Postage Stamps
When you have lots and lots of duplicate stamps, or uninteresting countries, or even on subjects that are not part of your cataloging set, you can do better than just put them in the trash. Start by asking schoolmates, coworkers, and even family members to find out other potential stamp collectors who have the same problem as you. This can give you a great opportunity to expand your collection and - at the same time - get rid of unwanted stamps. This phase of the hobby is the best for those who are not knowledgeable about the monetary values of the stamps, in relative trading of individual stamps. A possible exception to the one-to-one rule would be the rarity of a particular stamp, or even the fact that it is damaged or too old to the point of illegibility. See case by case, when a stamp is worth two or even three other unique stamps. This is one of the greatest pleasures of this hobby, enjoy!
Step 8: Read Books About Philately
The best way to learn as much as possible about collecting stamps is by eagerly consuming the wisdom of those who have written much about it. Most local libraries will present, if not a vast collection of such books - one or two books that deals with the subject.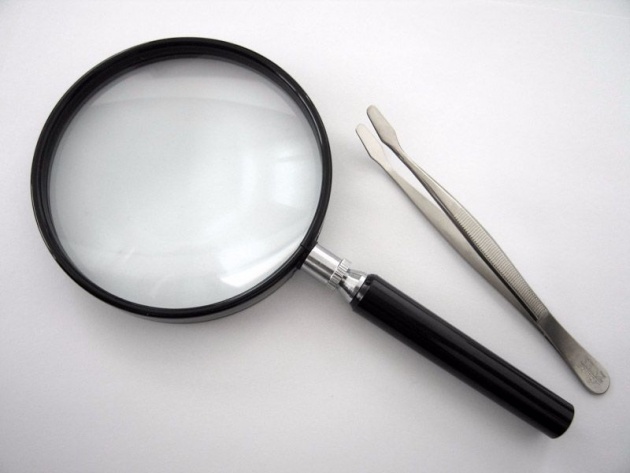 Photo credit: Wikimedia Commons
Step 9: Get the Right Equipment
Magnifying Glasses: As some of the designs on stamps only differ in many occasions by a line or a dot, magnifying glasses are probably the most valuable tools of the stamp collector. They vary greatly in size, strength and type, plus many have extra comfort features such as recessed lights and table stands.
Older stamps are often harder to distinguish since many have the same theme design for two or more editions.
Utility Knife: It will be used to remove the stamps fixed in letters or packages.
Glue and Tray: These tools will aid in the process of preparing the stamps.
Drying Book: You will put the stamps inside of the books to dry them from the repairs, varnishing processes, etc.
Other Materials: envelopes, drawers, stamp albums, post-its, rubbers bands, etc.
Step 10: Check the Value and Rarity of Your Stamps
Once you have, after a good search, the idea of the values of your stamps and their rarity, you will be able to more easily determine the price of each one of them. Stamp catalogs and other guides can help as well. There are illustrated booklets with yearly lists of stamps that give the current market value to a particular edition: these books will be deeply useful to your business! The most internationally recognized catalogs are: Scott Stamp Postage, Stanley Gibbons, Yvert et Tellier, Unitrade and Minkus & Harris.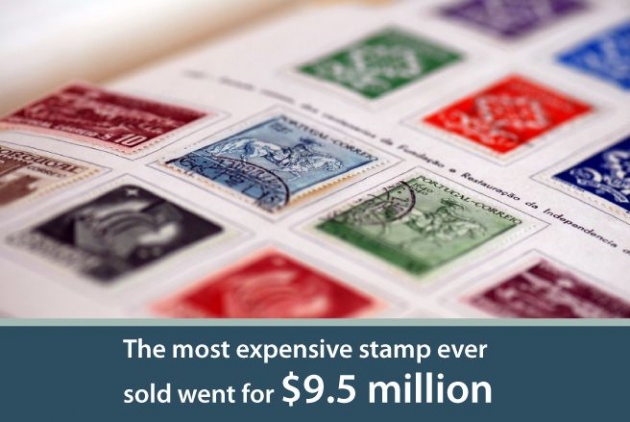 Photo credit: Apfelbaum Inc.
Step 11: Collect New Stamps
Always visit the local post office nearest to you. If you have friends who live abroad, ask them to send you stamps from their countries. Increase the value of your collection over time. As you learn more about the craft, start investing in more valuable stamps and increase the value of your collection!
Step 12: Join a Stamp Collector's Club or a Discussion Group Online
Experienced philatelists often meet to share tips and stamps. By joining a club, you can also benefit from the friendship of new and experienced hobby mates.
I've never seen a video like this. It shows not only the collecting process itself, but it talks about how life can be changed. (Source: Youtube)
Here you have some suggested site to visit in case you would like to begin your own collection:
1. StampWorld: This is a good site where you can learn from tutorials, read stamp catalogs and, if you are interested in selling or buying stamps, it is also a good place for that. The site is available in several languages.
2. Stanley Gibbons: This is a huge place where you can learn really everything about stamp collecting. Just browse sit back, relax and have a good time learning with one of the best places on the Internet.
3. American Philatelic Society: This site offers good content for everyone, especially for beginners.
4. Nordfrim: This is a Company in Denmark that sells stamps since 1965, and this is where I buy my stamps. The prices are good and I can find many stamps to complete some of my sets. I also buy new ones so I can begin a new collection on another theme.
That is it folks! Thanks so much for stopping by and I hope you liked the blog . Stay tuned for more!