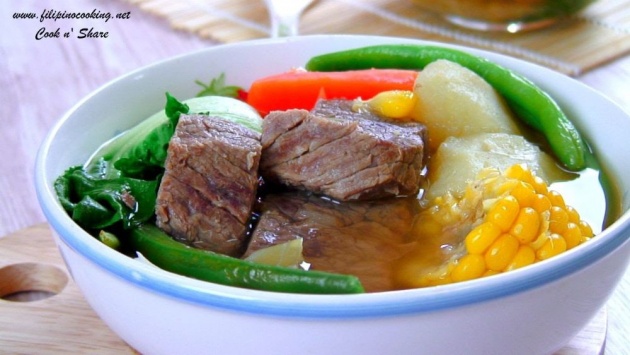 Ingredients
1 kilo beef cut into cubes
6 potatoes cut
1bundle (Bok choy) cut into 2 pcs
5 onions, diced
1 Repolyo cut
8 corns of black pepper
1 liter of water
Knor Beef cubes
Salt and pepper
Procedure:
In a big pot, put the beef and 1 litter of water
Use pressure cooker to make beef tender for 30minutes.
Add potatoes, continue to simmer until potatoes are cooked.
Add knor beef cubes, ground pepper, & fish sauce.
Add the cabbage then the pechay, cover then simmer for 2 mins..
Serve hot with rice.
Thank you :)