There are many ways to earn bitcoin. Bitcoin is the new medium to pay and get paid through a peer to peer model rather on relaying on middle man such as paypal etc. In this blog I will cover a few sites that you can use to earn a little extra bitcoins on side while you continue to have fun at bitlanders ;)
Before I get started please take note that I am not affiliated with any of these sites. And I dont recommend buying any upgrades or adpacks or any such things from these sites. I would rather suggest to signup with multiple websites of such sorts and just click on their ads and work accordingly. One site however I tell everyone to use is xbtfreelancer.com. Its a freelancing website that offers people to list their projects and pays out in bitcoin. I also recommend to people who have small projects to list on this site as its the best one out there. The sites that I will detail in the bottom of this blog will be along the lines of ads clicking or ads viewing sites followed by a faucets.
Ads4btc <--- register here.
Step One is to register yourself on the site by clicking on Register as shown with the arrow.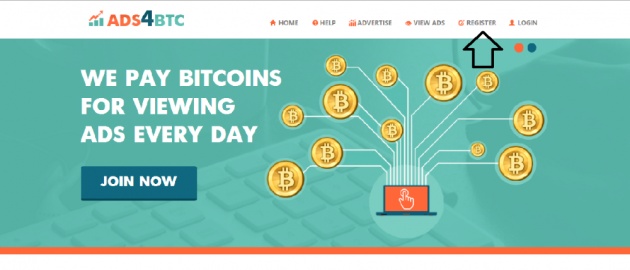 After registering, simply login by clicking on login by clicking on the login link as shown in the below picture: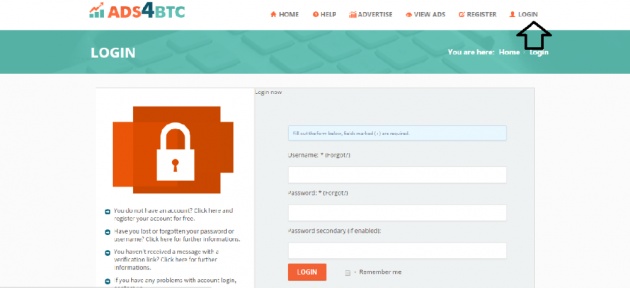 Once you are logged in you will see the following screen I have marked all arrows in numbers and I will explain one by one what you need to do inorder to proceed.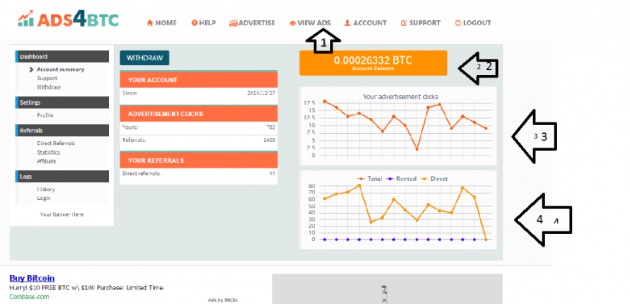 As you can see Arrow 2 simply shows how much you have as your balance. Arrow 3 shows how you have been clicking. As you know that this site presents ads multiple times in a day I suggest to check back regularly. Also do set the clock time on your account so all the ads reset after 24hours. Arrow for shows clicks made by your referrals or people under you. Now next step is to simply click on Arrow 1 link where it says view ads.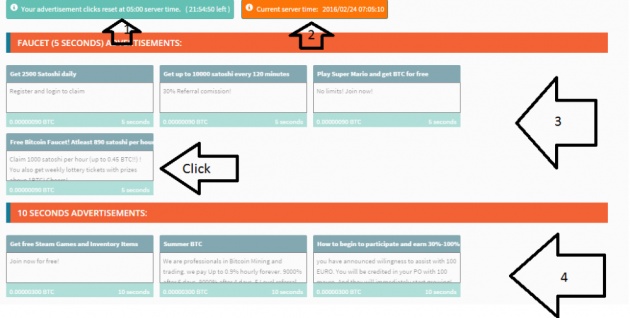 Arrow 1 in above image will show you the current server reset time as I have already done this process I am showed a clock that is counting down. However at times you can check back as you can even get some ads during the day to click on as they can be available anytime in the day as well as after the server resets. The following screen will show you what to do next. Basically you have to click on the arrow where it says click that is an ad you must view, do take note that you have all popup blockers disabled here.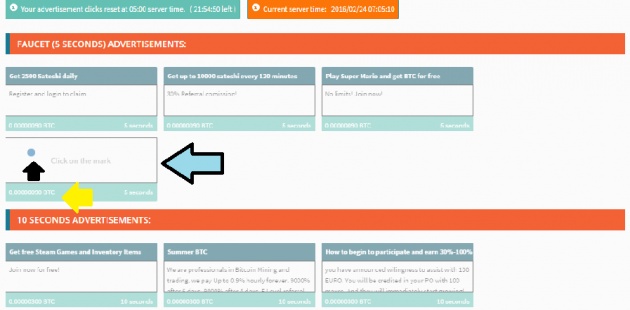 After clicking any ad, an example shown above (see blue arrow) you will be shown a dot (shown by black arrow) simply click that dot (the yellow arrow just shows your earning for that click you will get once you have watched the ad for the said amount of time. The longer the ad is the more you get paid in btc or bitcoin). The following screen will popup with an orange bar and a percentage sign which counts how long you have viewed the ad.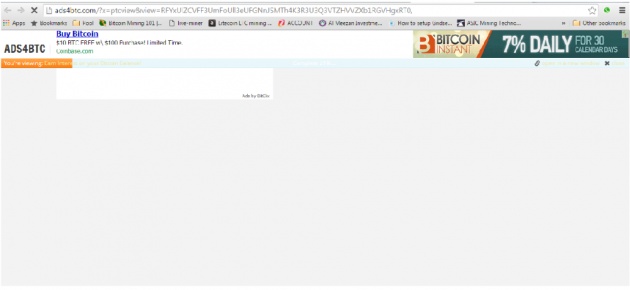 The last step is to just wait till the bar turns green as shown in the below image with green arrow. Then simply hit close as shown by Yellow arrow. Once you are done you will be credited with this ad. Now you simply have to follow the cycle on each and every ad available to earn the btc or bitcoins. This is a small tasks and takes about 15 mins max and you earn a little extra daily. Once you reach the minimum (at the time of writing this the minimum is 0.001btc)simply click on the withdraw. If you havent setup your profile yet just simply fill that out with a bitcoin wallet address and you will receive funds once you hit withdraw after reaching the minimum.