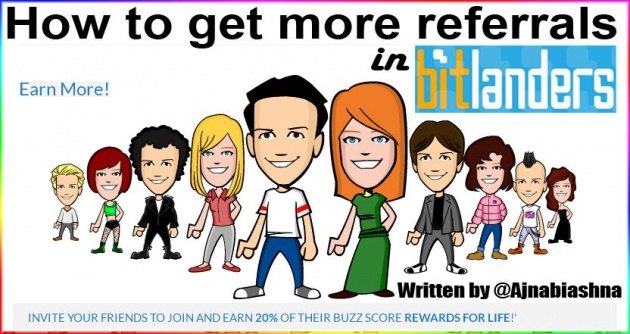 (Photo Credit: @Ajnabiashna via Bitlanders.com)
It is a good and worthy way to refer some friends at bitlanders, because bitlanders offers you 20% of your referrals buzz score rewards for life. That's Great, there are many web sites that are offering referral programs for their users, specially PTC sites are common and peoples are earning much more from their referred members. As this blog is related to Bitlanders, so we will focus at bitlanders referral program but you may use this guide to for other websites which have a referral program.
What is a referral Program?
According to Wikipedia:
Referral marketing is a method of promoting products or services to new customers through referrals, usually word of mouth. Such referrals often happen spontaneously but businesses can influence this through appropriate strategies.
(Quoted from wikipedia)
When we talk about website`s referral program, it means a referred person who joined that website with your reference link. As you are the source to generate traffic and gave website a new user, so they will pay you some % of your referral`s earning as reward. Remember bitlanders also paying you 20% of your referrals Earnings, so it is a good idea to invite your friends and family members at bitlanders with your referrals link.
You may find your bitlanders referral link here.
http://www.bitlanders.com/get-referrals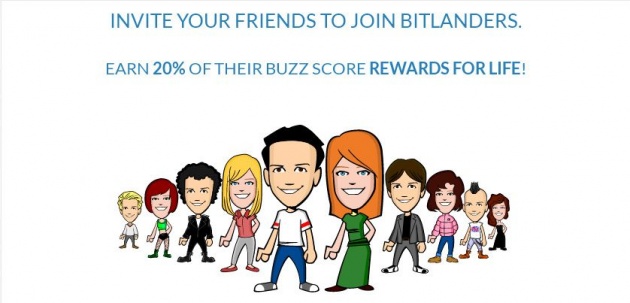 (Photo Taken From Bitlanders.com)
How to find referrals?
This is not a big deal; you may find your referrals around you. Yes they are your family members, your friends, colleagues, neighbors, relatives etc.
Everyone who is in our contact may become our referral, but not only them; we will also refer strangers too, specially the people from worldwide.
We may divide these contact in three parts, make three circles for them:
Inner Circle: We count our family members, relatives and friends in this circle.
Mid circle: Neighbors, colleagues, co-workers will count in this circle.
Outer circle: Strangers and acquaintances will be count in outer circle. Unknown internet users also count in this category.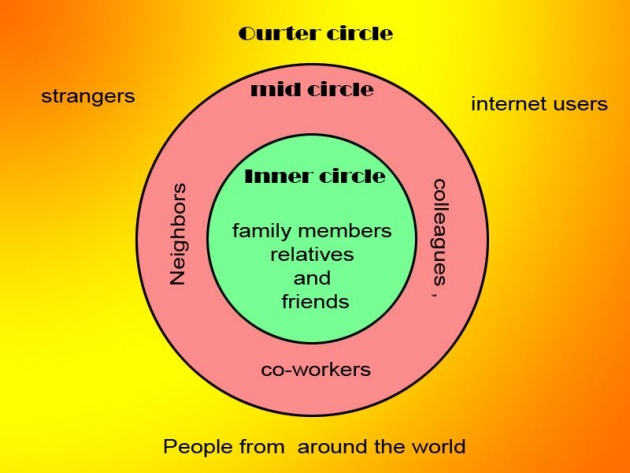 (photo Credit: @Ajnabiashna)
How to get referrals?
We already talk about referrals, they are your family members, relatives, friends, neighbors, co-workers and also strangers too, and we make three circles for them. We may easily contact first two circles.
Just contact your family members, relatives and friends and tell them about bitlanders in a better way. Don`t push too hard, you just have to tell them about your and other bitlanders members success story. You may talk about bitlanders earnings, and show them the proof that how much daily reward you are collecting from bitlanders.
If you already cash out from bitlanders just show them the proof of cash out. It will more helpful and attract them to join bitlanders.
Now work at mid circle contacts, they are your colleagues, co-workers and neighbors. Try same thing to them, as we already done with inner circle contacts.
That's it…???
So we have only these referals?
Ohh no, not everyone have too much contacts, we all are limited in our contacts so how to get more referrals?
Yes! This is the main question. The Third circle will fulfill our needs. The strangers from worldwide will become our referrals too.
But how and where to catch them?
How to get more referrals?
This is the question our blog related to, we are discussing how to get more referrals, because we all have limited contacts, so can`t invite a lot of peoples as referral. The strangers from worldwide will become our referrals, and the source to catch them is internet. Yes! In this global world, we all are connected with internet, so internet users are the best person to be referred.
These internet users are not only our social website`s contacts but we may send our referral link to all stranger internet users with the help of different ways.
Here are many websites they are offering you to spread your referral link free of cost, and you may also buy some good packages for spreading your referral link at many websites. You may also purchase packages for signups.
As we are not here to introduce a lot of websites, so I am just mention some good stuff here that I am already using, and have a good response.
The first website, which is best for spreading your referral link to millions of internet user is EasyHits4U
Remember: The more visits you have at your posts you will get more influence score. I am using EasyHits4U to get influence and referrals, and have a positive response.
The good thing is about this website, you will join EasyHits4U free of cost, and you don`t have to buy any package to spread your link, just surf pages of that site and you will get same credits to post your link, how much you surf and got credits, your link will be visible to other members and they will visit your link too.
(banner credit: Easyhits4U)
If you are a PTC lover, you already knew about Neobux. This Pay to click website is working and active since years, they are also paying their members for watching add. You may easily join and earn some money from there, use that credit for your own link advertising, or you may purchase some good packages without joining website. The response from neobux is amazing. You will get good result just in some days.
(Banner credit: neobux)
Donkeymails is also a PTC site, they are paying their members for watching add. But the good thing you may purchase add package of this website in very cheap rates, and you may also offer others to join bitlanders. It will not cost you too much, you may buy these packages in cents and that amount will return in some days as your bitlanders extra referral earning. Donkeymails offers very cheap advertisement and banner impression packages.

(Banner Credit: Donkeymails)
Emoneyspace
Emoneyspace is a forum where you may discuss all Internet earnings things. You may find review for online earning websites, and also deal there with other members to join bitlanders. I found positive response from Emoneyspace too.
Clixuniverse is also a good PTC site, it is also offering cheap advertisement packages and the users of this site increasing day by day. so it is a good idea to promote your bitlanders referral link at this site too.
Note: here are many other PTC sites where you can join and earn money to and promote your referral links.
*******
Here are some screen shot of my bitlanders referral list, just check the joining date and time, How much frequently they are joining under my referral link.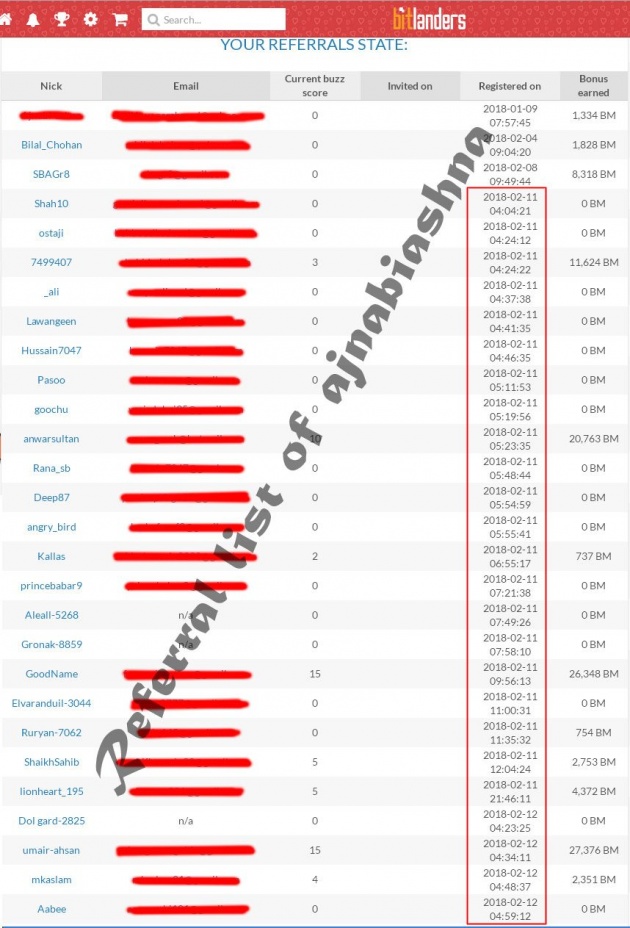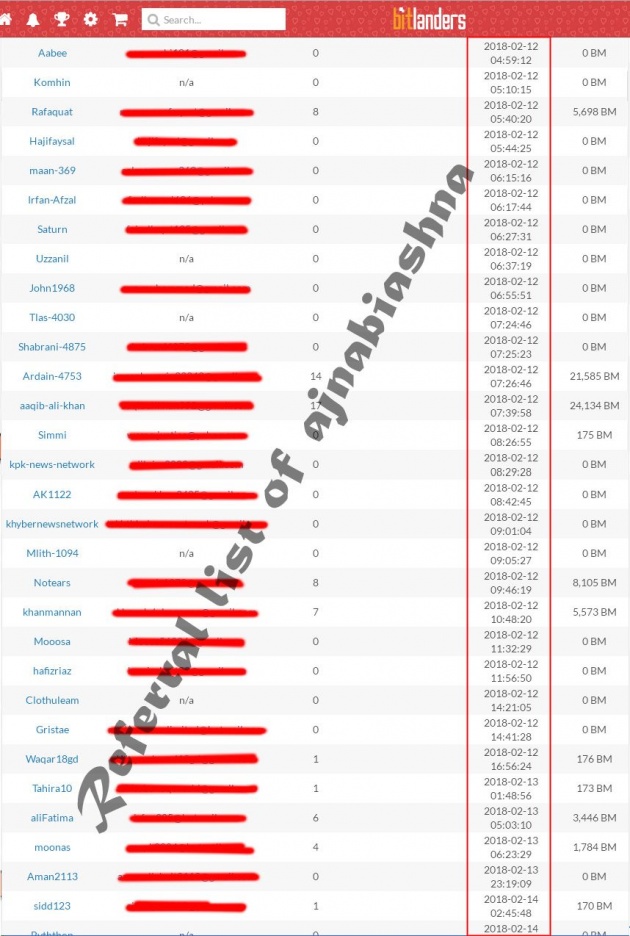 (Photo captured from bitlanders website and edited for this blog)
These are only some of my referrals but the list is too long, just note the joining date and time, I am getting these referrals from above mentioned tips. You will get more referrals by following these tips and find your own ways too.
MOST IMPORTANT:
Now you have some referrals in your bitlanders account. GOOD. But this is not the end of story, here is a most important part after getting referrals into bitlanders.
Don`t leave your bitlanders referrals alone, here is a big responsibility to train and guide your referrals. As most of them are totally new at this plate form, so they don`t know anything about it. it is your responsibility to guide them, told them about bitlanders in a good manner, also recommend them to read bitlanders FAQ section, because most of newbies banned or suspended their account just because of breaking rules and plagiarism.
Remember: Success of your referral will give you change to earn more here, so help your referral to grow, Their earnings is your commission. Don`t lose them by ignorance, push them to be active, help them to earn more here.
Good Luck for your earnings. I have wrote some other useful blogs about bitlanders, read them too from here.
Working with bitlanders as a newbie
Working with bitlanders as a newbie (Part-2)
Working with bitlanders as a newbie (Part-3) A complete Guide
and the most important blog for quick earnings.
TIPS FOR QUICK EARNINGS IN BITLANDERS
Remember: Helping each other will give you a chance to earn more.
Wish you good luck for your earnings.
If you like this blog just give me a feedback. It will be appreciated,
Thank you
Ajnabiashna