HOW TO MAKE BUTTER FROSTING CAKE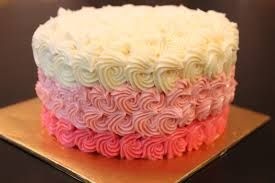 Today I will share with you how to make butter frosting cake.Try this cake at auspicious Eid ul Fitar and enjoy.

INGREDIENTS

FOR SPONGE CAKE:

Eggs: 4
Flour: 1 cup
Vanilla essence 1 tsp
Caster sugar: 1 cup
Baking powder 1 tsp
FOR BUTTER ICING

Butter: 1 cup (unsalted)
Sugar syrup to moist cake
Vanilla essence: ¼ tsp
Icing sugar: 1 ½ cup
Pink color: few drops

HOW TO MAKE:

First of all beat eggs, and gradually add sugar in it until it becomes light and fluffy.
Then add vanilla essence, sieve together flour and baking powder, carefully fold in the sieved flour.
Now pour it in a greased 8 inch round tin, and bake it for 25 minutes on 180 degree C.
Remove and cool on a wire rack.
For Butter Icing:

For butter icing, beat butter add icing sugar till it becomes double in volume.
Then add vanilla essence and divide the sponge cake in 3 layers.Then take sugar syrup and moist each layer of cake.
Now spread this butter icing on all layers.
Then cover whole cake with pink butter icing and keep in the freezer till it becomes firm.
Cover the sides of the cake with cake crumbs and decorate the top with pipe butter cream.
Delicious butter frosting cake is ready.