Overcoming Insecurity
Insecurity is the monster that sits inside of us and taunts from time to time. None of us are perfect and all of us have faced moments of insecurity at some time in our lives. Nonetheless there are those who are constantly plagued by insecurity. Insecure people believe that they are not good enough, they will never measure up to anything and that they need to do more to receive love and acceptance from others. This forces them to live all their life hiding from people or wearing a mask and act like a totally different person. This feeling of insecurity takes away the simple joys of living.
It was believed that insecurity was more common among women than men. However recent studies show that the gap is closing down. In reality even though as a generation we are more educated, earning more, and our standard of living is much higher we are a more insecure generation than our ancestors ever were. We are constantly on the edge and rattled about what the future holds for us. The good news is we can overcome insecurities. This blog shows you ways of handling feelings of insecurity.
Insecurity kills all that is beautiful. - Demi Lovato

Image credit JerzyGorecki via Pixabay
Definition of insecurity
According to Wikipedia - Emotional insecurity or simply insecurity is a feeling of general unease or nervousness that may be triggered by perceiving of oneself to be vulnerable or inferior in some way, or a sense of vulnerability or instability which threatens one's self-image or ego.
Video credit Talk Therapy Channel via Youtube
In the following Querlo Chat How to overcome insecurity we will discuss the following topics:-
Reasons for insecurity
Signs of Insecurity
Effects of insecurity
How to overcome insecurity
Life after overcoming insecurity
Please join me on this chat.
There is no such thing as perfect security, only varying levels of insecurity. - Salman Rushdie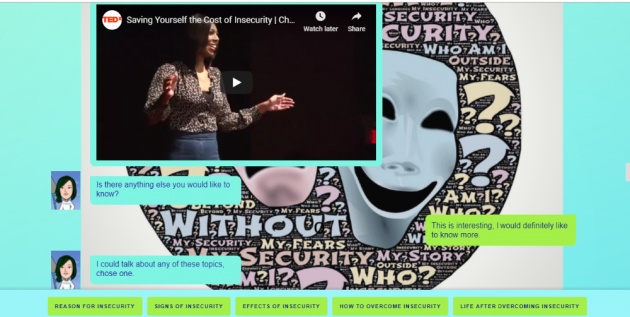 Image credits: screenshot of the Querlo chat by Sofs - How to Overcome Insecurity
Concluding Thoughts
Insecurity steals the simple joys of living. It is important to overcome insecurity and learn to accept ourselves for who we are with ours flaws and failures. When we learn to adjust our perspective and see ourselves in the light of reality we begin to accept and appreciate ourselves for who we are. It is important to realize that no one is perfect, no matter how perfect they seem from outside. We need to see ourselves as people who have scope for improvement not as finished products. Commitment to self-improvement helps bring back a feeling of security and the joy of living.
This blog is published in the AI platform of bitLanders' C-blogging. Learn more about it in the quoted box below:
The future of blogging - The bitLanders C-blogging


bitLanders, the worldwide blogging platform, introduces the future of blogging "The bitLanders C-blogging", Conversational AI blogging by Querlo powered by IBM Watson and Microsoft Azure with the purpose to provide bloggers the possibility to communicate and establish a conversational relationship with their readers.

Thanks to the world's most prompt technology - Artificial Intelligence, powered by Querlo's conversational AI technology.

Querlo integrates the DeepQA Artificial Intelligence functionality of IBM Watson and Microsoft – a collaboration which sets Querlo apart from other solutions in the market.

Information from: "The bitLanders C-blogging" New Double Bonus Reward topics
Thank you for taking the time to read and participate in this Querlo chat blog.
Written for Bitlanders
by Sofs
Image credits for querlo chat and references
Image credits Johnhain via pixabay (Love me child - Used in chat Box)
Image Credits Johnhain via Pixabay (Mask image used as background for Querlo chat edited by sofs)
References: Study on Gender Differences in Implicit Self-Esteem Following
a Romantic Partner's Success or Failure by Kate A. Ratliff, University of Florida and Shigehiro Oishi, University of Virginia published in the Journal of personality and social Psychology 2013 Vol. 105, No. 4, 688 –702
Would you like to share your thoughts and earn through Bitlanders? Click here and claim your $1 reward on signing up.