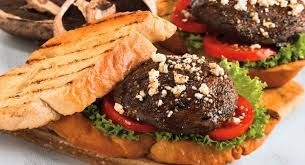 Ingredients:
1) 8 Portebella Mushrooms
2) 6-8 Cloves Garlic, Minced
3) 1 tbsp Black Pepper, freshly ground
4) Olive oil to drizzle

Method:
Rinse mushrooms and pat dry, then cut off and chop the stems. Mix chopped stems with garlic and pepper. Reserve. Place mushrooms on grill and cook till done. Deglaze pan with some wine and transfer to a small saucepan. Add mushrooms stems and simmer till reduced to half. Drizzle over mushrooms and serve.