Film Annex is a film distribution and blogging platform. It means that filmmakers can blog in addition to uploading videos, and also that writers and users can write articles and monetize their work. All users are rewarded based on their BuzzScore, a scoring system that quantifies their ability to share their work and influence their audience on social media. It also takes in consideration the number of movies they have, and most importantly for writers, the quality of their blogs.
All blogs published on Film Annex are reviewed and rated by our editorial team. You will find the best blogs on the Annex Press. Having a blog featured in the Annex Press will increase the user's BuzzScore. But how to reach the level of quality required to be featured and get the best rating? You will find below a list of items that our editorial team look at when reviewing the blogs, so you know what to work on in your next articles.
Google does not allow duplicate content, and we get penalized by Google for publishing duplicated (copied, plagiarized....) content on Film Annex and Women's Annex. We give our writers and filmmakers one warning for the first infraction, but after that we reduce your revenue by 50%. PLEASE DON'T COPY CONTENT.

- Keywords: use some keywords relevant to the topic of your article. Make sure you have keywords both in the title and the body of the blog. Bold them.
- Links: link some keywords to other blogs and/or videos on Film Annex, and external sources.
- Videos: embed videos from Film Annex directly into your blog. Click on the "chain" icon on the top left of the player to copy the embed code.
- Pictures: add pictures relevant to your blog's topic.
- Make sure your article isn't too short (at least 2-3 paragraphs), doesn't only contains pictures or videos, and doesn't have grammatical mistakes.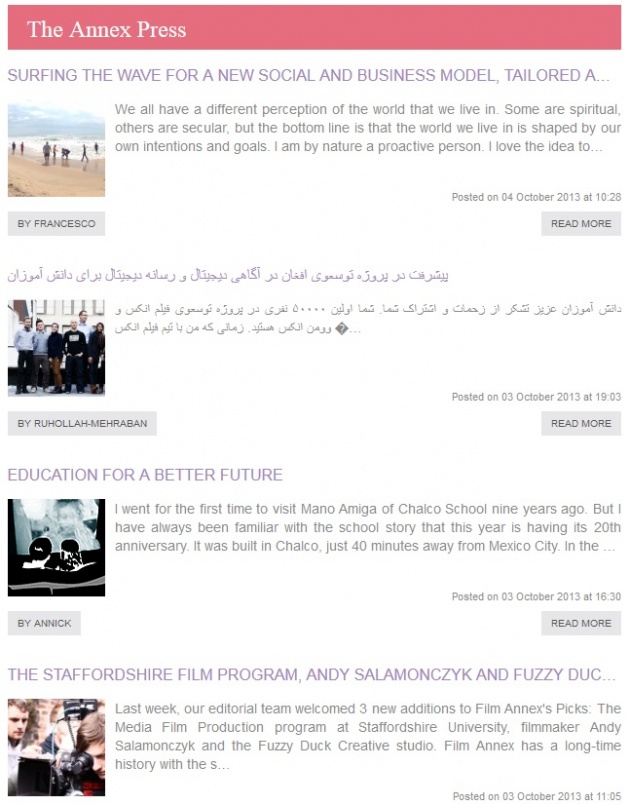 Browse the Annex Press articles to see what the level of quality is in the current contributors' blogs and get inspired.
Follow the Annex Press on Twitter so you don't miss the new articles.